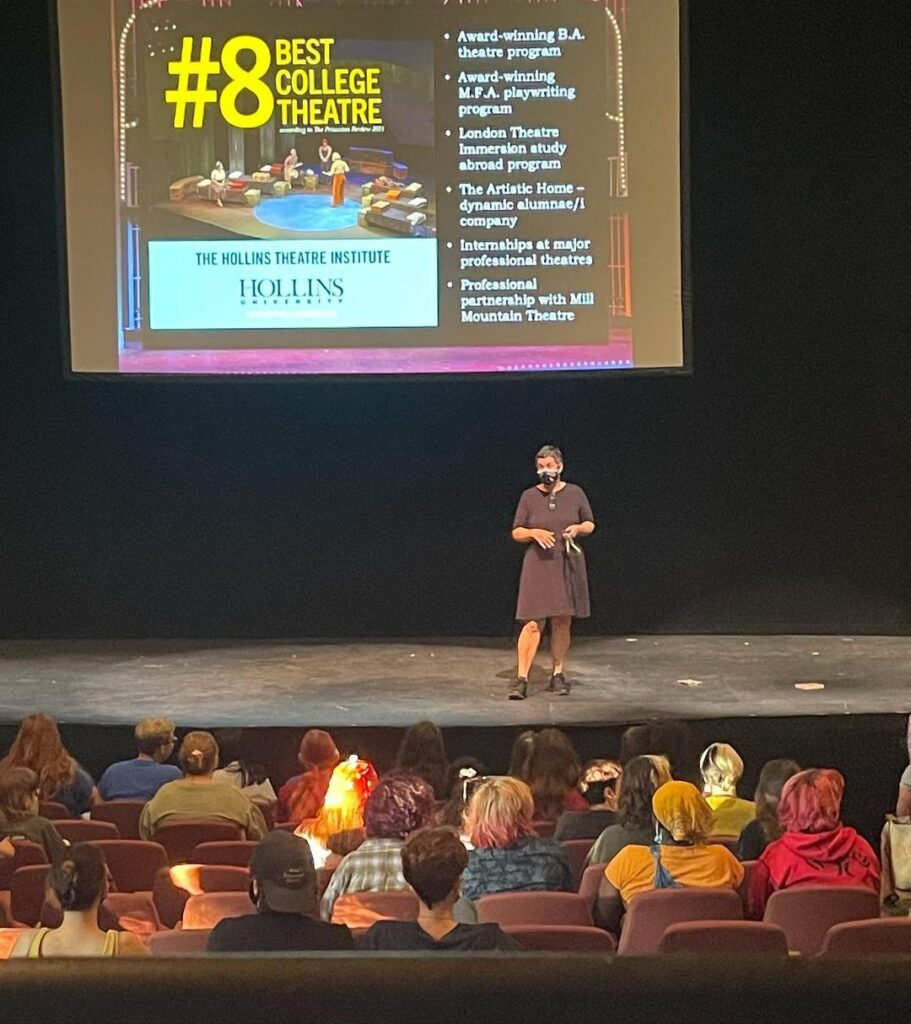 The Hollins theatre department is a creative community, and we embrace this identity in the classroom, the rehearsal hall, the scene shop, and on stage. We engage in the development of theatre artists, thinkers, and leaders looking to change the future of American theatre. Hollins theatre students actively help to shape departmental vision, policies, and programming, and are encouraged to create student-generated work that expresses their personal creative vision.
Tracks
Theatre Major
Theatre major students at Hollins take part in every aspect of theatre production. This includes acting, musical theatre, design, directing, stage management, and technical production. The theatre major has a flexible structure allowing students to focus in one of three areas: acting/directing, design/technology, playwriting/history/dramaturgy, or any combination of these three. It's also designed to make it easy to double major.
Theatre Minor
The minor is compatible with many other majors. These include business, communication studies, dance, English, film, history, and philosophy.
Certificate Programs
Musical Theatre Performance Certificate
Musical theatre is one of the most exhilarating art forms on the planet. The unique combination of acting, singing, and dancing allows performing artists to carry audiences to extraordinary heights. At Hollins, the musical theatre performance certificate offers a toolbox for the student who knows musical theatre will somehow be part of her future, as she prepares to walk into the spotlight on a stage she has built with her own tools.
Certificate in Arts Management
This certificate in arts management connects your major in one of the arts with career interests in various fields of arts management. You'll take courses in business and communication studies, complete two internships in an area of arts management, and create a final project. You can meet the certificate in arts management requirements through prudent choices in your general education courses and electives without adding to your total credit hours. Contact us today to begin the process of earning your certificate in arts management.
Facilities
Our charming 550-seat proscenium theatre is remarkably intimate with an automated rigging system and industry-standard light and audio equipment.
We also have a 99-seat black box theatre that serves as an acting studio and workshop space, as well as fully-functioning scenery and costume shops.
The Artistic Home
At Hollins, you'll find a unique community that enhances, supports, and inspires the work and training of dynamic theatre makers, both during and long after your time at Hollins. We call it The Artistic Home.
Passionate alumnae/i.
Hollins has one of the strongest and most ferociously loyal alumnae/i networks in the country, and through this truly unique entity, theatre grads are invited to make Hollins their artistic home.
If you were an active participant and contributed to the undergraduate or graduate theatre programs at Hollins, you are invited to become a member of the Artistic Home, along with former faculty and guest artists.
Connections, connections, connections.
Talented and accomplished alumnae/i return to act, direct, choreograph, build, and design alongside undergraduate and graduate students in main stage, studio, and festival productions, sharing advanced skills and experience, while creating a heighted learning atmosphere for everyone involved. They help maintain the outstanding level of the award-winning work for which Hollins Theatre has become known.
Highly qualified members of The Artistic Home often return as visiting faculty and guest artists to teach regular classes, master classes, and workshops. They combine their understanding of the Hollins experience with their expanded skills to contribute in a way no one else can.
As they move forward, alumnae/i of the Hollins Theatre Institute produce, create, experiment, and celebrate their work in the world, pulling together in cities across the country, while receiving support from the Artistic Home. Current projects in Los Angeles, New York, Minneapolis, and New Orleans involve pockets of graduates who join forces to make theatre on their own terms.
Members of the Artistic Home actively participate in fundraising to support the company as well as the dynamic programs of the Hollins Theatre Institute.
To connect with the Artistic Home, email: artistichome@hollins.edu.
Elliot Peterson (she/they) graduated from Hollins in 2016. They spent a summer at Heritage Theatre Festival, two lighting apprenticeships (one at Orlando Shakespeare Theater in Florida, and another at Olney Theatre Center in Maryland). Elliot has since been the master electrician for the pre-Broadway run of the Tony-award winning musical A Strange Loop, and is now working full time as the lighting supervisor at Woolly Mammoth Theatre Company in Washington, D.C.
Tatiana Durant is a non-binary, queer theatre artist and activist. Since graduating from Hollins, they have been working with the St. Louis Black Repertory Company as a first year technical theatre and teaching fellow. The Black Rep is dedicated to providing a platform for creative expressions from the African American perspective that heightens the social and cultural understanding of audiences.
Hollins Theatre Institute
The Hollins Theatre Institute is a place where Hollins University's multiple-award-winning theatre programs come together under one umbrella, creating a synergy that affords unique opportunities for innovative theatre artists. Undergraduate and graduate students join with faculty, alumnae/i, and numerous distinguished guest artists to create an atmosphere where possibilities are ignited and passion burns.
Hollins Theatre Institute Internships
HTI provides exciting internships at some of the country's Tony Award-winning regional theatres, including:
Additional internships are also often arranged at other theatres around the country with the assistance of HTI and Hollins' Career Center, including:
During Hollins' London Theatre Semester Abroad, students have the option of interning at one of several professional theatres in London.
Student Work
Kennedy Center American College Theater Festival (KCACTF)
Every year, we actively participate in KCACTF. In recent years we've had three productions selected to be showcased at the regional festival and compete for the top honors at the national level as well as multiple original scripts. Our students compete regularly with some of the finest college talent in the country for the Irene Ryan Scholarship Award.
Some of the many past honors received by the Hollins Theatre Institute include:
2022: Two students won awards from KCACTF-Region IV for their work on The Skriker in Fall 2021. Elizabeth Dion '22 received the Stage Management Fellowship Award and Nabila Meghjani '22 won the Heart of the Art Award in Costume Design.
2021: Anna Johnson '21 received the Kennedy Center Award for Excellence in Sound Design for her work on Hollins Theatre's production of The Curious Incident of the Dog in the Night-Time, which was presented virtually in October 2020.
2018: Todd Ristau and the Playwright's Lab received the Kennedy Center's highest award, the Gold Medallion, for "extraordinary contributions to the teaching and producing of theatre."
2013: Meredith Levy '12 (M.F.A. '18, playwriting) received the National Partners of the American Theatre Playwriting Award (considered a gold medal) and the regional David Shelton Award for her original script, Decision Height.
2013: The Kennedy Center awarded the Hollins Theatre production of Natasha Trethewey's (M.A. '91) Bellocq's Ophelia with the equivalent of four silver medals for production of a new work, performance and production ensemble, scenic design, and choreography, the last by Lexi Martin Mondot '12.
Theatre department chair Ernie Zulia (retired 2021) was named outstanding teaching artist by KCACTF.
Hollins Playwright's Lab and No Shame Theatre
Hollins Theatre provides a home for the Playwright's Lab, our dynamic M.F.A. graduate program in playwriting, and undergraduates have the opportunity to work with our renowned faculty to explore playwriting at the undergraduate level, and can pursue a concentration in this area. Many undergrads test their writing muscle at No Shame Theatre, a national phenomenon founded by Hollins professor Todd Ristau. This late-night showcase attracts large crowds and artists from throughout the region.
Ten-Minute Play Festival
Undergraduate students write and present new works every year. The annual Ten-Minute Play Festival has dozens of students working together every fall to create a sold-out event that has the campus buzzing for days. Senior thesis projects occupy the spring semester and range from fully mounted productions of traditional published scripts to original work written, adapted, or devised by students.
Southeastern Theatre Conference (SETC)
Every March, students from Hollins accompany faculty to SETC, which is the largest theatre conference in the nation. Students are able to participate in diverse workshops as well as audition and interview for summer theatre employment.
Guest Artists and Instructors
Theatre Season
2022-23
SPRING 2023
SENIOR THESIS PRODUCTION: THE PICTURE OF DORIAN GRAY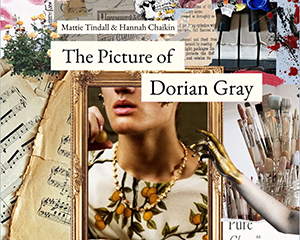 Adapted for the stage by Mattie Tindall and Hannah Chaikin. Based on the novel by Oscar Wilde. Directed by Mattie Tindall.
Based on the 1890 novel of the same name by Oscar Wilde, the play tells the story of a man who, upon having a portrait painted of himself, longs to remain young and beautiful forever. He discovers that his wish has come true and that his actions, however immoral, have little effect on his charm and appearance. He quickly becomes consumed by vice. As time passes, however, the portrait transforms to parallel the ugliness of his nature, revealing the fragility of beauty and youth.
March 10-12 at 7:30 pm
Location: Hollins Theatre Main Stage
Admission: Admission is $5 for the general public, $3 for non-Hollins students with ID, and free to current Hollins students, faculty, and staff. Masks are not required unless guests are showing any symptoms related to COVID-19, the flu, RSV, or a cold.
---
SENIOR THESIS PRODUCTION: TO THE MOUNTAINS, A MUSICAL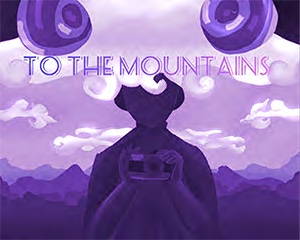 Written by Lillian Savage. Codirected by Wendy-Marie Martin and Alaya Lewis.
Welcome to Hollins University…. just not the one you know! In To the Mountains, Milo and Riley uncover the secrets of Hollins' famous ghost stories. An original musical written and composed by Lillian Savage, this show features an explosive cast of characters, captivating music, and a story to tell across the ages.
April 14-16 at 7:30 pm
Location: Hollins Theatre Main Stage
Admission: Free and open to everyone. Masks are not required unless guests are showing any symptoms related to COVID-19, the flu, RSV, or a cold.
---
SENIOR THESIS PRODUCTION: TOWERING ISSUES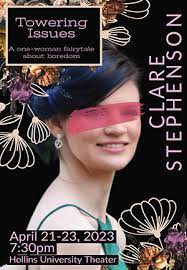 Written and performed by Clare Stephenson.
A one-woman fairytale about boredom.
April 21-23 at 7:30 pm
Location: Hollins Theatre Main Stage
Admission: Free and open to everyone. Masks are not required unless guests are showing any symptoms related to COVID-19, the flu, RSV, or a cold.
---
SENIOR THESIS PRODUCTION: BUMBLES BIG ADVENTURES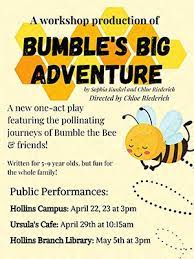 Written by Sophia Kunkel and Chloe Riederich. Directed by Chloe Riederich.
Bumble's Big Adventure follows a honeybee, Bumble, on a quest to find a bee balm flower, but they meet lots of new friends on their journey!
April 22-23 at 3:00 pm
Location: Forest of Arden (Rain: Hollins Theatre Main Stage)
Admission: Free and open to everyone. Masks are not required unless guests are showing any symptoms related to COVID-19, the flu, RSV, or a cold.
---
WINTER 2023
2023 HOLLINS-MILL MOUNTAIN WINTER FESTIVAL OF NEW WORKS
---
Produced by Hollins Theatre Institute and Mill Mountain Theatre.
I Live to Tell
Written by Sarah Cosgrove. Directed by John Bergman.
"The radiologist wants to speak with you." That short collection of words sends Elizabeth into a world full of chaos where no place on Earth feels safe. In a deeply personal, generous, and honest conversation with the audience, Elizabeth shares her struggle to maintain her own identity in the midst of a life-changing diagnosis.
January 12-14 at 7:30 pm, January 15 at 2 pm
Admission: $10 general public. Free to current Hollins students, faculty, and staff. Masks are not required unless guests are showing any symptoms related to COVID-19, the flu, RSV, or a cold.
Tickets: Online at https://bpt.me/5676573 or at the door.
Interview with Sarah Cosgrove and John Bergman on WDBJ-7, January 10.
---
Grave Mistakes: A Haunted Love Story
Written by Ben Abbott. Directed by Amy Lytle.
When Bob dies and starts haunting his son's attic, he finds it's already occupied by Eloise, a ghost from the 1920s who isn't exactly thrilled about sharing her space. Before moving on, Bob desperately tries to get one last message to his son Ray, who may or may not be in love with housemate Molly, who may or may not be in love with Ray but she definitely has to finish writing her novel–except that first they must fend off a landlord and paranormal investigator who want to evict them and turn the house into a certified haunted vacation rental. Death and love have never been more complicated–or more hilarious.
January 19-21 at 7:30 pm, January 22 at 2 pm
Location: Hollins Theatre Main Stage
Admission: $10 general public. Free to current Hollins students, faculty, and staff. Masks are not required unless guests are showing any symptoms related to COVID-19, the flu, RSV, or a cold.
Tickets: Online at https://bpt.me/5676655 or at the door.
---
The Dragon Butcher
Written by Richie Cannaday. Directed by Todd Ristau.
The royal dragon butcher has just been relieved of his duties, and his head. Enter LaCrox, a simple butcher charged with the task of butchering a dragon, and pleasing the queen. The clock is ticking, and LaCrox will have to learn the ropes quickly, or else his head will roll as well. But will the long-held secrets of the kingdom be LaCrox's doom or his ticket to salvation?
January 26-28 at 7:30 pm, January 29 at 2 pm
Admission: $10 general public. Free to current Hollins students, faculty, and staff. Masks are not required unless guests are showing any symptoms related to COVID-19, the flu, RSV, or a cold.
Tickets: Online at https://bpt.me/5676672 or at the door.
---
FALL 2022
MAIN STAGE PRODUCTION: EVERYBODY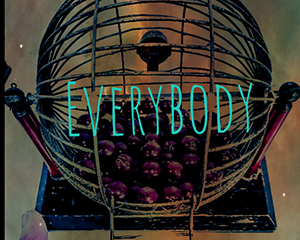 Due to extenuating circumstances, the performances of Everybody for October 6-9 have been canceled.
Written by Branden Jacobs-Jenkins. Codirected by Lauren Brooke Ellis and Jé Hooper.
Finalist for the 2018 Pulitzer Prize, this modern riff on the 15th-century morality play Everyman follows Everybody (chosen from amongst the cast by lottery at each performance) as they journey through life's greatest mystery—the meaning of living.
"Everyman is no barrel of laughs, being a morality play about death. Everybody tells the same tale, with equal emotional heft; but it is not only provocative and involving, it is also funny. Wildly funny, in fact." –The Huffington Post
October 6-9* at 7:30 pm
Location: Hollins Theatre Main Stage
Free and open to everyone. (Masks required for admission.)
Tickets: Online at brownpapertickets.com or at the door.
*October 9: Sensory Friendly Relaxed Performance: Sound levels and lighting effects will be minimized. Doors to the lobby will remain open. Audience members are encouraged to stand up and move around during the performance as needed.
---
FIRST-YEAR READING: FRANKENSTEIN (A MODERN ADAPTATION)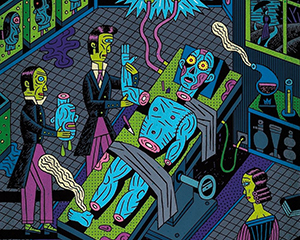 Written by Danielle Mohlman. Based on the novel by Mary Shelley. Directed by Wendy-Marie Martin.
When Mary Shelley sits down to write Frankenstein, she's 18 years old with everything to prove. Her husband, the poet Percy Shelley, is too in his head to notice his wife's phenomenal talent. She's grieving the death of her infant daughter. And in this era of gothic literature, no one wants to believe that the darkness on the page mirrors the storm in her own head. That is, until her mother shows up. The only problem is, Mary Wollstonecraft died when Shelley was just 10 days old. This adaptation of Mary Shelley's classic novel explores monsters and the women who create them. It's a play that asks the age-old question: How far would you go to outrun your ghosts?
October 28-30 at 7:30 pm
Location: Botetourt Reading Room
Admission: Free and open to everyone. (Masks required for admission.)