People: The Key to Your Career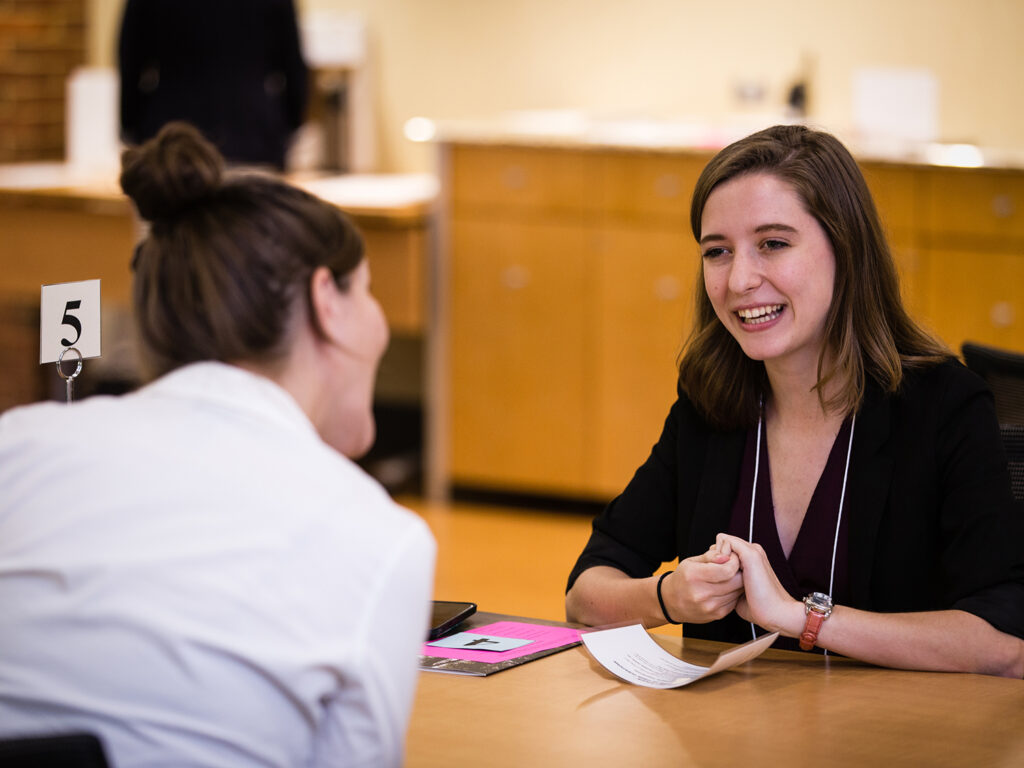 We believe in the power of connections for our students as they seek to launch a career. Career and Life Design at Hollins can coach you to build relationships with Hollins alumnae/i, employers, and professionals in your field of interests so that you can reap the benefits of internal referrals. By connecting with like-minded professionals, you create a network of support that can guide you during and beyond your time at Hollins.
Our Invitation to You
From day one, we partner with you on your career journey at Hollins, engaging you in your career learning and growth through personalized coaching, meaningful connections, and transformative experiential learning, such as internships and summer research.
Our collaborative approach involves alumnae/i, employers, professionals in fields of interest, faculty, and staff to create vibrant networks of support, empowering Hollins students to thrive as they apply relevant and impactful learning all along their career pathways.
Join us in an ongoing conversation about you and your career options.
Questions?
The Career and Life Design staff is ready and eager to support, advise, and connect you with resources as you develop your career path!
career@hollins.edu
540-362-6364
Relationships First. Then Resumes Can Follow.
97%
of Class of 2022 graduates, within 6 months of graduation, were employed, accepted to graduate school, participating in a service/volunteer program, or serving in the military
502
career coaching sessions with Hollins students during 2022-23 academic year
(2023 Career Advising Survey and Report)
7% → 40%
A study by SilkRoad found that employee referrals accounted for only 7% of all job applications, but they contributed to over 40% of all hires
Source: SilkRoad, "Sources of Hire 2017," 2017
> 97%
of Hollins students survey respondents felt more confident and motivated to advance their careers after experiencing an advising session with our professional staff
(2023 Career Advising Survey and Report)
The Three Phases of Career Prep at Hollins
As a Hollins student, you can engage in a continuous cycle of career learning and application. We're here to join you in that process of career management that extends beyond standard career preparation.
Explore

At Hollins you will explore many options, and it's no different with your career. Our welcoming career coaches can help you reflect on your values, needs, and career goals through career coaching sessions or our career events throughout each semester.

Move beyond job titles by using our Challenge Deck to determine which human challenges really resonate with you. From there we can coach you on how to arrange informational interviews with alumnae/i and others who are tackling those challenges in their careers.

Connect your academic learning, campus activities, and experiential learning with your potential career pathways through our Core Career Competencies. We'll show you how.

Experience

Even as a first-year student, you can participate in an internship experience for academic credit through our FYI program in Roanoke. Our Signature internships for sophomores, juniors, and seniors provide paid housing and a stipend. We also support students who want to find or develop their own independent internships.

The Experience phase includes even more: Summer research, campus employment, summer jobs, global learning, campus leadership, and involvement in student groups are all experiences that help you build your career. Through our career coaching, you can learn how to document and articulate that experience in ways that employers can understand.

Excel

In the Excel phase, you focus on the tools, activities, and strategies you need to apply to actually land an internship or a job and to launch your career.

From mastering the genres of resume, cover letter, and interview to developing your personal brand and creating vibrant networks of support from alumnae/i, employers, and professionals in your target fields, we're here to coach you along the way and provide career learning events and clear content to help you set and reach your goals.
Career Coaching
Join us for a career coaching session to find out why nearly 98% of the students we coach come away feeling more confident in their ability to further their career development after experiencing a career coaching appointment.
Our career coaches help you to explore the rich possibilities of career journeys, set goals, and connect with alumnae/i, employers, and others so that you can both learn more and gain internal referrals for internships and for launching your career.
Connect with Hollins Alumnae/i Network
Your starting point for building career-related relationships with Hollins alumnae/i network starts with the Career Connection Conference. C3 brings Hollins students together with alumnae/i and select employers to engage in breakout sessions related to career exploration and informational interviews.
Prior to C3, Career Development and Life Design offers coaching to help students make the most of both the breakout sessions and the informational interviews with alumnae/i.
Career Connection Conference events take place two times per year in November and March.