Dates and details for the 2023 C3 Conference will be posted Summer 2023!
C3 has been a vibrant and valued annual event at Hollins for over a decade. The conference is organized by the Career Development and Life Design team in coordination with the Alumnae Relations Office. C3 seeks to bring the campus community together with our nationally-recognized network of alumnae/i as well as other outside and regional professionals for an unforgettable professional development experience.
Questions?
Want to know more?
2022: "The Winding Path"
See the Hollins alumnae/i network in action during Hollins University's 11th Annual Career Connection Conference (C3) taking place Thursday and Friday, September 29-30.
This year's conference theme is The Winding Path. Career is no longer linear but rather an accumulation of skills and life experiences. Learn from alumnae/i conference leaders who will showcase the lifelong power of a liberal arts education, share their insights on life and work, and help students connect to others in their networks. Whether you are a first year or a senior, a double major or undecided, career-ambitious or career-confused, there is a place for you at Hollins C3!
The C3 curriculum showcases the versatility of the liberal arts, with a cross-sector, interdisciplinary approach to each session topic. The program emphasizes expansive and broad conversations, offering points of access for all students, including those who are still discerning their career or academic goals. Sessions fall into one of four themes:
Insights from the Field: industry-based discussions featuring various roles within a given field
Driven by Mission: Discussions feature conversations around mission, personal values, and purpose
Navigating the Process: Discussions cover the how to's of career exploration and transition
Interactive Connections: Focused 1:1 exchanges between students and alumnae/i in the form of speed networking
---
Keynote Speaker
Sarina Saturn
Sarina Saturn (she/they) is a bicultural CHamoru and Indian woman, mother, spouse, scientist, educator, and scholar-activist. She received her Ph.D. in neuroscience and specializes in the biology and psychology underlying emotions. Saturn's body of work centers on the roots and development of compassion, social justice, intergenerational trauma, post-traumatic growth, emotional healing, and community building. She is currently a community scientist at Program Design and Evaluation Services which is situated in the Oregon Health Authority's Public Health Division and the Multnomah County Health Department. She focuses on addressing health inequities and disparities in Black, Indigenous, People of Color (BIPOC), and other marginalized communities. Before this, she was a professor at both large state and small liberal arts universities in Oregon. Saturn also serves as editor for The ADVANCE Journal for Individual and Institutional Transformation for Social Justice and board chair for UTOPIA PDX by Queer and Trans (QT) Pacific Islanders which serves QTBIPOC communities. Saturn pursues all community work with a culturally sensitive, antiracist, trauma-informed, intersectional, and equity lens. During time away from work, Saturn enjoys spending time with family and friends, traveling, cooking, eating, dancing, cultural celebrations, and enjoying nature's beauty.
---
Assessing Identity in the Workplace
Dev Cuny '02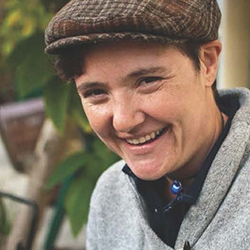 Dev Cuny M.Div. (they/them) is a class of 2002 Hollins graduate who identifies as a white, nonbinary speaker, educator, chaplain, and restorative justice facilitator.
Cuny works in multiple capacities to support young people at the intersection of oppression, trauma, and mental health. This includes serving as an advisory member for the #Born Perfect Campaign to End Conversion Therapy where Cuny has spoken out against religious trauma in media outlets such as the Huffington Post, The Guardian, VICE, a promo for the film Boy Erased, and a TEDx talk titled: "What Elvis Taught a Conversion Therapy Survivor about Love."
Cuny also works at Seneca Family of Agencies, partnering with school districts to address systemic inequities by building school cultures centered in racial equity, trauma-informed care, social emotional learning, and healing-centered engagement.
As an openly queer minister, Cuny has provided spiritual support in prisons, hospitals, hospices, and churches. Part of their faith-based activism includes sitting on the associate board of Covenant House California to help end houselessness and sex trafficking that disproportionally impacts BIPOC and/or LGBTQI+ young people.
---