Earning your major or minor in mathematics or data science has both intrinsic beauty and wide applicability. It also strengthens critical thinking and analytical problem-solving skills.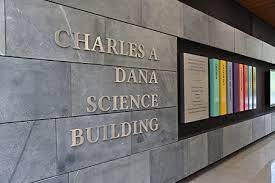 Tracks
Mathematics Major (B.A./B.S.)
Mathematics & statistics students are well educated in calculus, linear algebra, statistics, algebra, and analysis. They learn to apply mathematical concepts to problem solving. Additionally, they are immersed in the development and communication of applied and theoretical mathematics.
Mathematics Major with Data Science Concentration (B.S.)
Combining courses from mathematics, computer science, and statistics, the data science concentration prepares students for a wide variety of jobs, not only in the tech sector but in virtually every sector. Data has become a primary commodity for many different types of businesses, and our graduates are prepared to meet the challenges and reap the rewards of an exciting data science career.
Mathematics Minor
Those who minor in math acquire a broad, comprehensive background in pattern recognition and problem solving. Students learn calculus and algebra, but they take just one of the required major-associated lab classes.
Data Science Minor
The minor in data science is suitable for students majoring in any field, from the natural sciences to the social sciences, to the humanities or the arts. The fact is that virtually every area of the economy has been affected by the explosive growth of data in recent years. The data science minor provides students with the essential skills necessary to join the data-driven workforce in their field of choice.
Senior Research Experience
Majors take a two-semester Senior Seminar where they pick a topic and research it, under the guidance of faculty mentors. Past topics include tensors, Legendre polynomials, projective geometry, statistical analysis of the impacts of hurricanes on fish assemblages in St. John, the Pythagorean music scales, a network analysis of the Hollins basketball team, support vector regression, using data science techniques to analyze financial markets, and big data applications to public policy, computational geometry, knot theory, hidden Markov model and stock price prediction, sphere packing, tetrahedron packing, Penrose tiling patterns, and nonlinear differential equations models for interacting species, bias in facial recognition.
[The mathematics faculty] nurture every single student who comes through. [Associate Professor of Mathematics Julie] Clark has been my advisor since I declared. She's been an amazing mentor and she's wickedly smart. Seeing a woman who is just so successful in her career, it was so inspiring. I'd never really seen that before in academia.
"I chose to be a math major because of the wonderful professors at Hollins, and I knew it was a degree that would get me a job. If I had gone anywhere other than Hollins, I might not have loved math and analytical thinking as much because math can be intimidating. But at Hollins, I felt comfortable exploring this field."
Recent Internships for Science and Math Majors at Hollins
Hollins students majoring in social sciences have recently engaged in internships with the below as well as dozens of other industries and institutions:
American Psychological Association, Washington, DC
AnthroTronix, Silver Spring, MD
Banfield Pet Hospital, Roanoke, VA
Botetourt Veterinary Hospital, Inc., Troutville, VA
Cambridge Dialysis, Cambridge, MD
CancerCare, New York, NY
Carilion Clinic, Roanoke, VA
Cedar Ridge Veterinary Hospital, Arnett, OK
Chesapeake Bay Foundation, Annapolis, MD
Children's Hospital of Pennsylvania, Philadelphia, PA
Clay Creek Equine Veterinary Services, LLC, Avondale, PA
Commonwealth Lab Consultants, Inc., Richmond, VA
Dan Reumann Lab, University of Kansas, Lawrence, KS
Environment Massachusetts, Boston, MA
Friends for Life Organization, Memphis, TN
International Primate Protection League, Summerville, SC
Meharry Medical School, Department of Pediatrics, Nashville, TN
Mill Mountain Zoo, Roanoke, VA
National Down Syndrome Society, New York, NY
National Waste & Recycling Association
Oneida Healthcare Center, Oneida, NY
Salem VA Medical Center, Salem, VA
Kumar & Associates, Inc., Denver, CO
Merritts Creek Veterinary Center, Huntington, WV
National Park Service, Grand Canyon National Park, AZ
New York Botanical Garden, New York, NY
Piedmont Pets Veterinary Care, Warrenton, VA
Reconstructing Hope, Washington, DC
Roanoke City Police Department, Roanoke, VA
Rockefeller Institute, Albany, NY
Rockfish Wildlife Sanctuary, Shipman, VA
Scoodic Institute at Acadia National Park, Winter Harbor, ME
St. Francis Service Dogs, Roanoke, VA
St. Jude Children's Research Hospital, Memphis, TN
Southwest Virginia Lacrosse Association, Roanoke, VA
Talesend Farm, Somerset, VA
The Nature Conservancy, Arlington, VA
The Mount Sinai Hospital, New York, NY
Treatment Action Group, New York, NY
U.S. Forest Service, Roanoke, VA
Virginia Zoo, Norfolk, VA
Virgin Islands Environmental Resource Station (VIERS), St. John, Virgin Islands
Woods Hole Oceanographic Institution, Woods Hole, MA
Students Apply Math to Many Professional Fields
Majors earn graduate school placements in mathematics, forensic science, medicine, and law. Hollins majors have gone into many diverse fields including:
Accountants
Actuaries
Art historians
Archeologists
Data scientists
Defense analysts
Doctors
Economists
Financial planners
Investment analysts
Programmers
Quantitative analysts
Statisticians
Teachers
Hollins Students Pursue Advanced Degrees
Below is just a small sampling of acceptances into graduate, medical, veterinary, and allied health schools attended by science and math majors from Hollins:
Graduate Schools
James Madison University
North Carolina State
University of Florida
University of Georgia
University of Maryland
University of Virginia
Medical Schools
East Carolina University
Edward Via Virginia College of Osteopathic Medicine
Mercer University
University of North Carolina
University of Texas
Virginia Commonwealth University
Temple University
Veterinary Schools
Colorado State University
North Carolina State University
University of California – Davis School of Veterinary Medicine
University of Georgia College of Veterinary Medicine
University of Pennsylvania School of Veterinary Medicine
University of Tennessee College of Veterinary Medicine
Virginia-Maryland College of Veterinary Medicine (Virginia Tech)
Allied Health Graduate Programs
Doctorate of Physical Therapy, Radford University
School of Pharmacy, Virginia Commonwealth University
Physician's Assistant Program, Arcadia University
Pennsylvania College of Optometry, Salus University