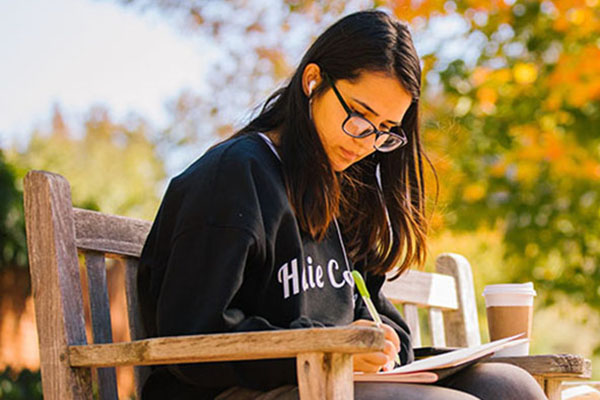 Whoever said poetry doesn't pay must've never applied to a poetry competition. Case in point, Hollins University announced this week the first- and second-place winners to its 57th Annual Nancy Thorp Poetry Contest. The international competition for young women in high school recognized six talented writers, awarding the top prize to Samiksha Gaherwar of Lambert High School in Suwanee, Georgia, for her poem "slavish numerals."
"I'm deeply honored to receive this award and incredibly excited at the opportunity to attend the Hollinsummer creative writing program," said Gaherwar. "Thank you for [fostering] appreciation and love for poetry in my generation!"
In addition to free tuition and housing for the university's 2021 summer creative writing workshops, Gaherwar will also receive a $350 cash prize and publication in Cargoes, Hollins' student-run literary magazine, plus the option to receive a renewable scholarship of up to $5000 a year, should she choose to enroll at the university. 
Hollins also recognized six second-place poems, each of which will be published in Cargoes. In a rare occurrence, two of those poems were submitted by the same student, Chaerim Kim-Worthington of North Hollywood, California, who received a separate "double-winner" prize of free tuition and housing for Hollinsummer. The other second-place winners will receive a $500 scholarship applicable toward those same summer programs. 
"It was a very competitive contest this year," said Jessie van Eerden, associate professor of English and creative writing at Hollins and contest coordinator. The 57th edition received a total of 968 poems written by 607 contestants (each contestant could submit only two poems). The young writers hailed from across the United States, D.C., Puerto Rico, and 18 countries abroad, including some as far-flung as Taiwan, Germany, New Zealand, and Kazakhstan. "[Gaherwar] ended up sending me an email that was really over the moon," recalled van Eerden about the first-place winner's response. "She was just so humble, too, and that struck me, that she was kind of taken by surprise to have her work recognized." 
Picking a winner for the contest during the pandemic was no easy task either. The first round of judging took place in person, and because of COVID restrictions, van Eerden and only around a dozen undergraduate and graduate students were responsible for winnowing those initial 968 poems down to a pool of just 21. The final round of judging took place via Zoom on February 24, involving more than 60 faculty and students in Hollins' English and Creative Writing Department.
"It's been lovely to support so many high school young women in the process," van Eerden said.
Here is the full list of winners:
First Place:
Samiksha Gaherwar
Lambert High School
Suwanee, GA
"slavish numerals"
Second Place:
Ashley Bao
Cab Calloway School of the Arts High School
Wilmington, DE
"greenville, ms"
Chaerim Kim-Worthington
Harvard-Westlake School
North Hollywood, CA
"modern greek student falls in love with ancient greek student"
and "on wasps"
Sarah Mohammed
The Harker School
San Jose, CA
"Spit & a white man's bruised fist"
Gaia Rajan
Phillips Academy
Andover, MA
"Killing It"
Olivia Yang
Phillips Academy
Andover, MA
"Etymology of Loss"
Jeff Dingler is a graduate assistant in Hollins' marketing and communications department. He is pursuing his M.F.A. in creative writing at the university.