The Office of Spiritual/Religious Life and Belonging is committed to creating safer and inclusive spaces that encourage all religious expressions and exploration. We strive for our students, faculty, staff, and local partners to have brave conversations around the topics of spirituality and social justice as well as personal and collective growth. It is our goal to curate community in such a way where every person feels like they belong. Come and journey with us as we think out loud together!
Rev. Dr. Kaiya Jennings
University Chaplain and Director of Belonging
About Our Chaplain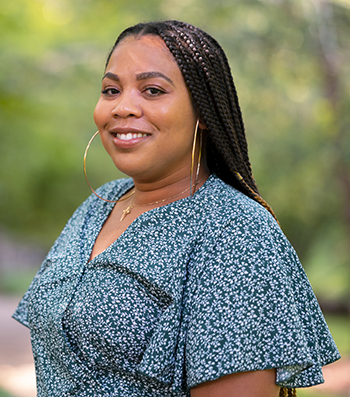 Kaiya Jennings is from Suffolk, Virginia. On June 10, 2012, she was licensed in ministry and ordained on December 30, 2018. She is a 2011 graduate from Virginia State University where she received a Bachelor of Science degree in psychology and is a graduate of the Samuel DeWitt Proctor School of Theology at Virginia Union University, where she earned her Master of Divinity degree. She is also a graduate of Boston University where she obtained her second master's degree in religion, culture, and personality in Spring 2016.
In 2022, Jennings graduated with her Doctor of Ministry from Duke Divinity School in Durham, NC, where her research focus was on Black Clergywomen and Congregational Leadership. She has spent several years working in the nonprofit and government sectors, helping communities get access to a variety of resources. Currently in higher education, she is passionate about curating spaces of inclusion and belonging for students, faculty, and staff.
Jessie Ball duPont Chapel
The Jessie Ball duPont Chapel stands beside the library as a reminder of the spiritual nature of academic values, and to emphasize the connection of head and heart. The chapel, the smaller meditation chapel, and the prayer room are open daily for meditation, prayer, or a quiet place for reflection.
The chaplain also presides at special campus occasions and services, such as Family Weekend, Hollins Day, Opening Convocation, Baccalaureate, Commencement, and Sharing the Light: A holiday celebration in story and song. Expanding on the longstanding tradition of the Hollins White Gift Service, this candlelight event of music, readings, and dance celebrates the spirit of the holiday season, and welcomes the diverse traditions of our community.
Events
Talkback Thursdays
This is a weekly event where all students gather to have conversations about real life issues, while having fun! Here we work through hard questions while reaching solutions, if possible, together. Food will be served weekly.
Celebration Corner (year-round)
A table in the foyer of the chapel will be decorated for major holidays and celebrations by student organizations. On the table there may be games, traditional foods, and snacks, along with small giveaways.