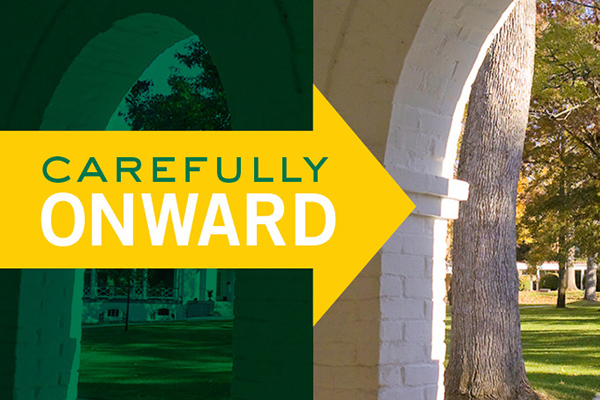 Hollins University Interim President Nancy Oliver Gray has shared further details on the school's progress in preparing to resume in person instruction in late August.
The update follows Hollins' announcement on June 12 that the university would reopen as a residential campus this fall, starting classes on August 31 and ending in-person instruction on November 20, the Friday before Thanksgiving. After Thanksgiving, there will be one more week of remote instruction (November 30 – December 4), followed by Reading Day (December 5) and five days of virtual exams and projects (December 6 – 10). The last day of fall term will be December 10. The change in the calendar allows students to leave campus before Thanksgiving and not return until the university's January Short Term begins. Fall Break, originally scheduled for October 15 – 16, has been cancelled, and classes will take place during that period.
"Although the nature of the COVID-19 pandemic means that these plans may have to change, we are preparing carefully and working to ensure our plans align with our institutional mission and the Culture of Care philosophy that helps to guide us," Gray said.
Hollins' updated plans include the following:
Student move-in and orientation
Hollins is implementing a phased move-in schedule for residential students and extending the number of days during which students may return to campus in order to adhere to physical distancing requirements and maximize community safety. A phased and hybrid orientation model will be offered that includes in person and online activities.
Plans to ensure the well-being of community members
Students and employees are required to wear face coverings (facial shields or masks) in campus interior spaces, including classrooms. When outside, community members are required to wear a face covering whenever it is difficult to maintain six feet of physical distance. Students and employees will be provided one washable face mask, a thermometer, and hand sanitizer, and will be expected to monitor their own health daily via a checklist of symptoms, including a temperature check. Students will be tested for COVID-19 at the Student Health and Counseling Center if they are symptomatic or have been in close contact with someone who has tested positive. After being tested, residential students will be quarantined in the Williamson Road Apartments until test results are known. Symptomatic employees will be required to stay at home and expected to contact their health providers for further guidance.
Teaching modalities and changes to classrooms
Classes will be taught during the fall term using a variety of teaching modalities including in person (while allowing for permitted students to learn remotely); hybrid, meaning partially in person and partially online; and completely online. "Offering a variety of delivery methods helps to reduce overcrowding in classroom spaces for health and safety purposes and to accommodate individual needs," Gray explained. "Regardless of the teaching modality, we are committed to offering the interactive and close-knit Hollins community experience." The layout of classrooms will be adjusted to ensure six feet of physical distancing between students in classroom spaces and between the students and the instructor. The use of shared objects in classrooms and lab spaces will be minimized, and increased emphasis will be placed on cleaning and disinfecting in all campus buildings.
Adjustments to residence life and dining services
Dining services will be open for residential students only. The exercise room/weight room and pool in the gymnasium will be available to students only.
Policy changes related to campus visitors and events
Only current Hollins students, faculty, and staff are permitted within any building. No outside visitors or guests, including family members, may enter campus buildings other than prearranged essential institutional partners and vendors, and guests of the admission office. Events and public spaces such as the Eleanor D. Wilson Museum and the Wyndham Robertson Library are closed to outside visitors. Performances held on campus will be exclusively for the Hollins community following physical distancing guidelines. The general public will not be allowed to access the main part of campus or any campus buildings, but they are permitted to walk the loop road following proper physical distancing and face covering protocols.
"Throughout the summer, our COVID-coordinating campus team will continue to work diligently to address additional details and complexities," Gray said. "As plans are finalized, they will be shared with the campus community."
Read in its entirety Interim President Gray's June 30 update to the campus community on how Hollins is getting ready for the fall term. Additional information on the university's plans to reopen can be found at www.hollins.edu/onward.