Hollins University's Wyndham Robertson Library (WRL) welcomed students, faculty, staff, and members of the Board of Trustees for a celebration of the people, services, and spaces of the newly renovated facility.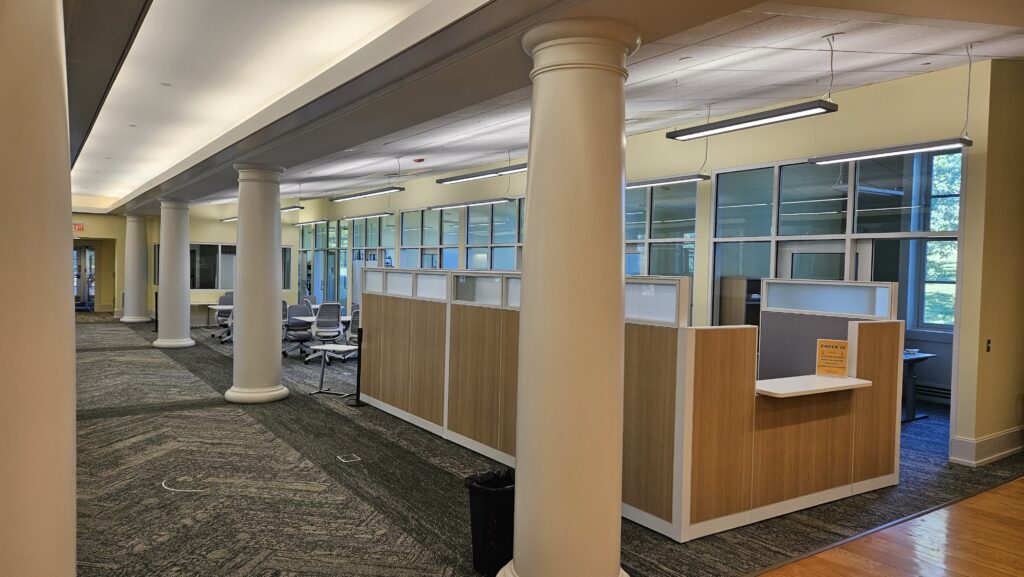 WRL hosted an open house and ribbon cutting on October 20 to "share in a festive reaffirmation of the library's key mission and its expansive vision as a place of inclusion and belonging," said Nora Kizer Bell Provost Laura McLary. "Wyndham Robertson Library is the heart and soul of Hollins and has always been an inspiring space for discovery. Now, its key function as a resource and learning hub takes on an expanded meaning, creating more access and support for our community."
Over the summer, space was reallocated in WRL for student success-oriented resources to provide students with a singular point of access, enhancing collaboration among programs that are housed there. Staff members working with students who need help navigating student success resources can now more effectively ensure seamless coordination between and among programs housed in the library.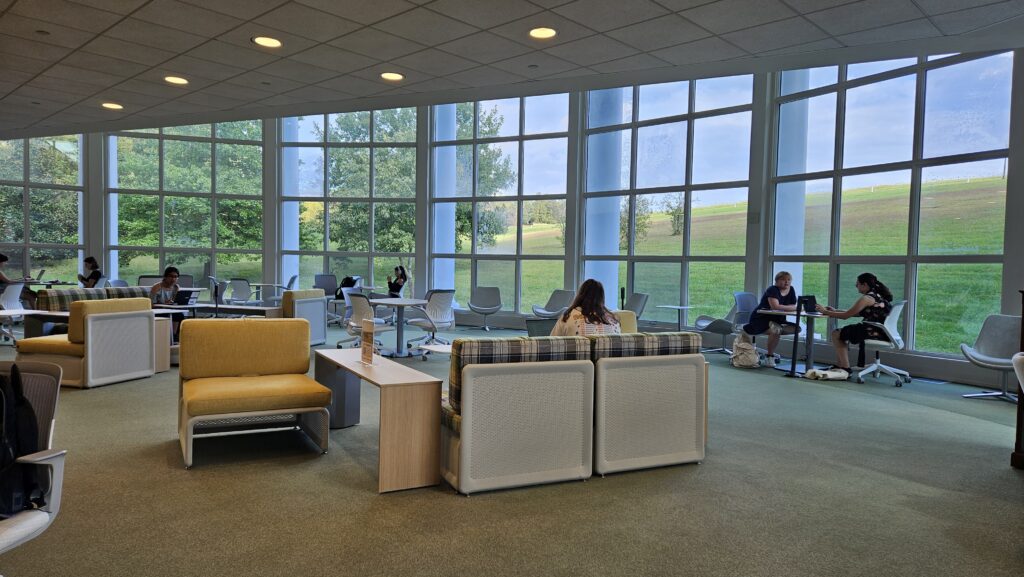 The centerpiece of this change is The Green, Hollins' new integrative learning commons. Headquartered on the library's first floor, The Green "provides a highly visible, inviting gathering space for all," McLary explained. "Career mentorship; global learning opportunities; resources for low-income, first-generation, and BIPOC and international students; and academic support networks are all located here."
The renovations also include enhanced and varied study spaces on all floors. "The library is still a space for contemplation, study, and encounter," said McLary, "and comfortable new furniture chosen by students fits a range of needs, creating a variety of spaces for everything from collaboration to quiet retreat."
In addition, new classroom space, library storage space, and a podcasting studio are located on the ground floor. On the library's second and third floors are offices for the vice president for student success, well-being, and belonging; associate vice president for student success; executive director for diversity, equity, and inclusion; director of student accessibility services; and Title IX coordinator.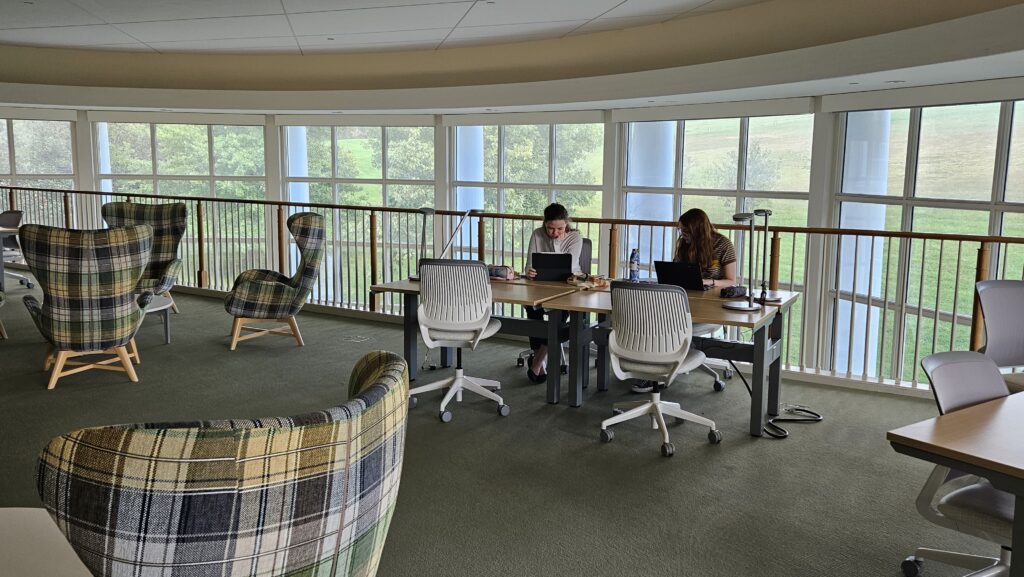 McLary praised WRL for being "at the forefront of adapting to changing cultural and social needs. While it will always be a place for books and print materials, it also offers digital tools and an expanded vision of how the library can be a source of learning. Now, it is also home for staff who serve as resources, mentors, and guides, helping students access the full range of learning experiences at Hollins."

Top photo (from left): President Mary Dana Hinton, Nora Kizer Bell Provost Laura McLary, Executive Vice President and Chief Operating Officer Kerry Edmonds, and University Librarian Luke Vilelle participate in the October 20 ribbon cutting ceremony at Wyndham Robertson Library.