Sara Clark '25 says she's "always been a big theatre person," but when she arrived at Hollins, she was facing a dilemma – albeit a very happy one.
"I was mainly an actor in high school, but in my junior year I started playing around with the idea of doing costuming over acting," she explains. "I didn't know for sure which one I wanted to do, and that's why I chose Hollins. The theatre department here allows you to come in and do everything, explore all areas of theatre. The bigger schools that I applied to make you pick one: technical work or acting. You can't do both."
In the first semester of her first year, Clark worked on the costume crew for Hollins Theatre's fall production, The Skriker. From her first day, "I learned so many things. It was such a welcoming environment, and the hustle and bustle of everything was so attractive to me." The following term, Assistant Professor of Theatre Suellen Coelho recommended that Clark serve as the designer for a senior thesis show called The Jupiter Bird. For Clark, the process of defining the costumes and helping the playwright figure out what they wanted was a breakthrough in terms of the theatre activities she wanted to pursue. "I just fell more and more in love with what I was doing," she recalls. "At least once a day I would say, 'I love my job.'"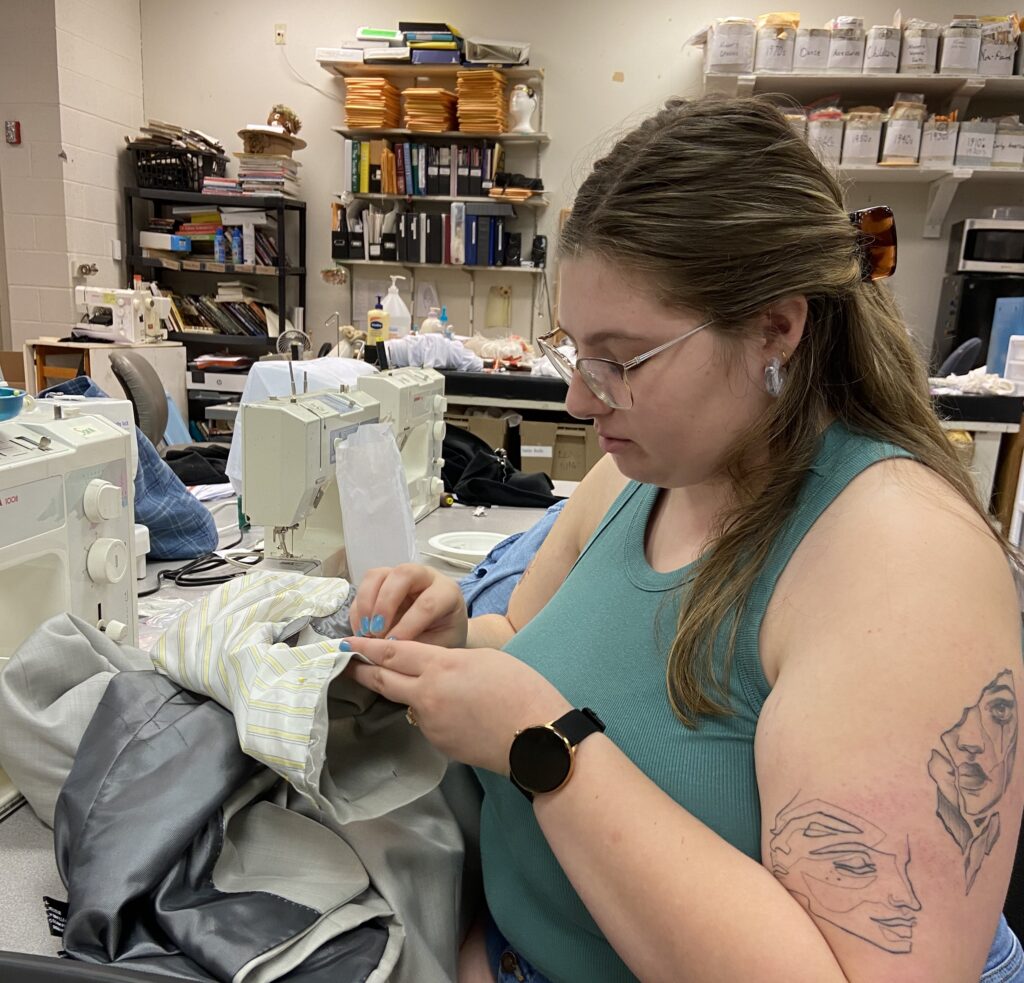 Last January, Clark was exploring her options for possible summer internships, and she focused on one of her cherished experiences from high school. She and a friend attended several theatrical productions such as The Sound of Music and Mamma Mia at Shenandoah University in Winchester, Virginia, located near her home in Fauquier County. "The quality of the shows was fantastic, and I would think, 'Oh my gosh, I want to do this. I want to be a part of this someday.'" She discovered that the Shenandoah Summer Music Theatre provided several internship positions in costume design, and after her application submission and an interview with the production director, she was offered an internship as a stitcher (assembling and sewing full costumes) and assistant designer.
"I was so excited," Clark says, and she wanted to spend the coming months honing her abilities to ensure she made the most of the opportunity at Shenandoah. At the time she was accepted into the internship program, Clark was in the midst of an independent study project, guided by Coelho, in which she designed costumes for a production of The Picture of Dorian Gray, staged in March on the Hollins Theatre Main Stage.
"When I was done with the show, Suellen said, 'We're going to take the rest of this independent study and crank out the stitcher skills you're going to need this summer.' It was so beneficial, and I am so grateful. On my first day at Shenandoah, Suellen's voice was in my head, and I kept hearing all the tips and tricks she had told me. I realized I was the only stitcher, for example, who could perform advanced skills such as draping, and I was doing it as a rising college junior. The college seniors who were on the crew couldn't do it. That independent study really paid off. I was super prepared for this internship."
Over the course of two months at Shenandoah (May 30 – July 30), Clark worked on three productions: Jersey Boys, Hello, Dolly!, and Joseph and the Amazing Technicolor Dreamcoat. Jersey Boys relied heavily on suits and dresses that were already in stock, so much of Clark's work on that production focused on alterations such as fixing sleeve lengths and pant cuffs. But she and her two fellow stitchers also got to "build a dress from scratch, which was fantastic," she says. "The dress was only used for one scene, a 20-second-long song, so it was a short window, and a lot of work was done for that short window. But it was so cool to see the dress we made out on the stage."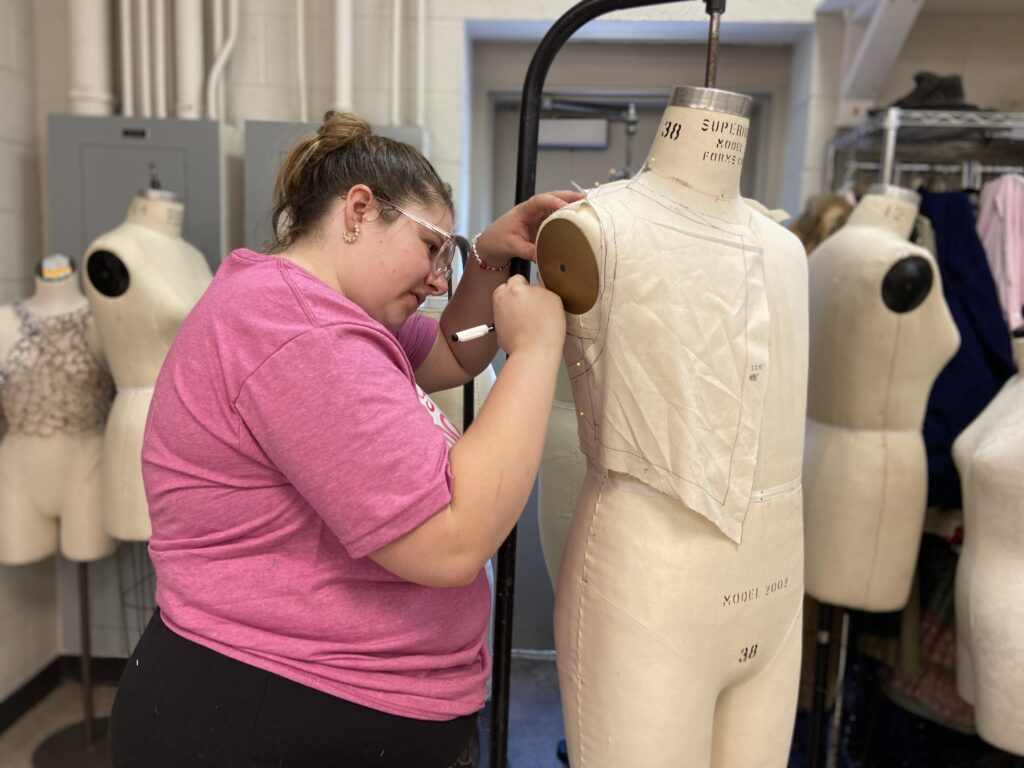 During the production of Hello, Dolly!, Clark served as assistant designer and got to work closely with two accomplished veteran Broadway actors: Jessica Sheridan (who has performed with Liza Minnelli and Bette Midler and is now appearing with Hugh Jackman in a new revival of The Music Man) and Thom Christopher Warren (whose Broadway credits include 15 years with Disney's The Lion King and the revival of Once Upon a Mattress starring Sarah Jessica Parker).
"Working with those two was fantastic," Clark says. "They taught me so much about industry standards regarding union rules and regulations, being a professional, and how to balance friendships and work relationships."
Clark believes this type of internship was "the perfect environment in which to grow" and a valuable reminder that theatre work "is not a walk in the park. You come in at 10 in the morning and sometimes you don't leave until 11 at night. It's exhausting and sometimes stressful, but you learn how to manage those feelings and get the job done. It was absolutely a great first step."
For the January 2024 Short Term, Clark is planning on applying for an internship at the renowned Wolf Trap in Vienna, Virginia ("a friend of mine worked there and had an amazing experience"). Currently, the junior theatre major is enjoying a busy but gratifying Fall Term: She's designing costumes for a senior thesis production and even returning to her acting roots as she takes on a prominent acting role (and makes her own costume) in Hollins Theatre's production of Goodnight Moon: The Magical Musical, based on the classic children's book by Margaret Wise Brown, Hollins class of 1932.
Clark is eager to enter the workforce as soon as she completes her undergraduate degree. "What I want to do my senior year is apply for as many jobs as possible in my field so that by the time I graduate, I have a set plan and am ready to go. I just want to get out there, jump right in, and learn as much as I can."

Top Photo: Sara Clark '25 (left) with Assistant Professor of Theatre Suellen Coelho