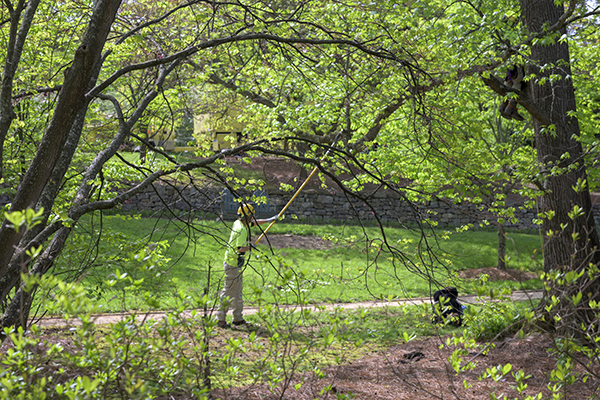 Hollins University's Beale Memorial Garden is one of nine historic locations in the commonwealth chosen by the Garden Club of Virginia (GCV) to receive restoration work donated to the conservation and preservation federation by Bartlett Tree Experts.
Beale Garden was established in 1930 in honor of Lucy Preston Beale, an 1864 Hollins graduate, by her daughter, Lucy Beale Huffman, who was also a Hollins alumna. GCV has funded Beale Garden since the area was dedicated, one of the nearly 50 projects to hold that distinction, and collaborated closely with the university to revitalize the garden in 2004. The partnership between Hollins and GCV continues to this day.
Bartlett is providing tree work along with a financial gift to GCV in recognition of the organization's centennial celebration this year. The company became interested in GCV's mission and its restoration and preservation efforts in particular after a representative participated in a recent GCV Restoration Committee Maintenance Workshop, an every-other-year program that seeks to educate and inform those on the ground at each restoration site.
Since its first restoration in 1929, GCV has used proceeds from its signature event, Historic Garden Week, to fund the ongoing renewal and protection of Virginia's historic public gardens and landscapes, along with a research fellowship program for graduate students in landscape architecture. The GCV's Restoration Committee, consisting of 15 members from the 47 clubs that make up the federation, oversees management of the proceeds from Historic Garden Week and serves as a liaison to the restoration properties throughout Virginia.