Painter and art educator Ying Li, whose work lies at the intersection of abstraction and representation, has been named Frances Niederer Artist-in-Residence at Hollins University for Spring Term 2024.
Each year, Hollins' artist-in-residence program brings to campus a nationally recognized artist who produces work and teaches a special seminar. The program honors Niederer, a beloved art historian who taught for many years at Hollins.
Li uses high volumes of oil paint, bold colors, and calligraphic lines to depict beauty, complexity, and ephemerality in nature. Her training in Chinese painting and calligraphy has helped her form a brushwork that is both free and disciplined. Working from a deep engagement with the material and visual possibilities of painting, her goal is to convey a visceral connection with place and environment.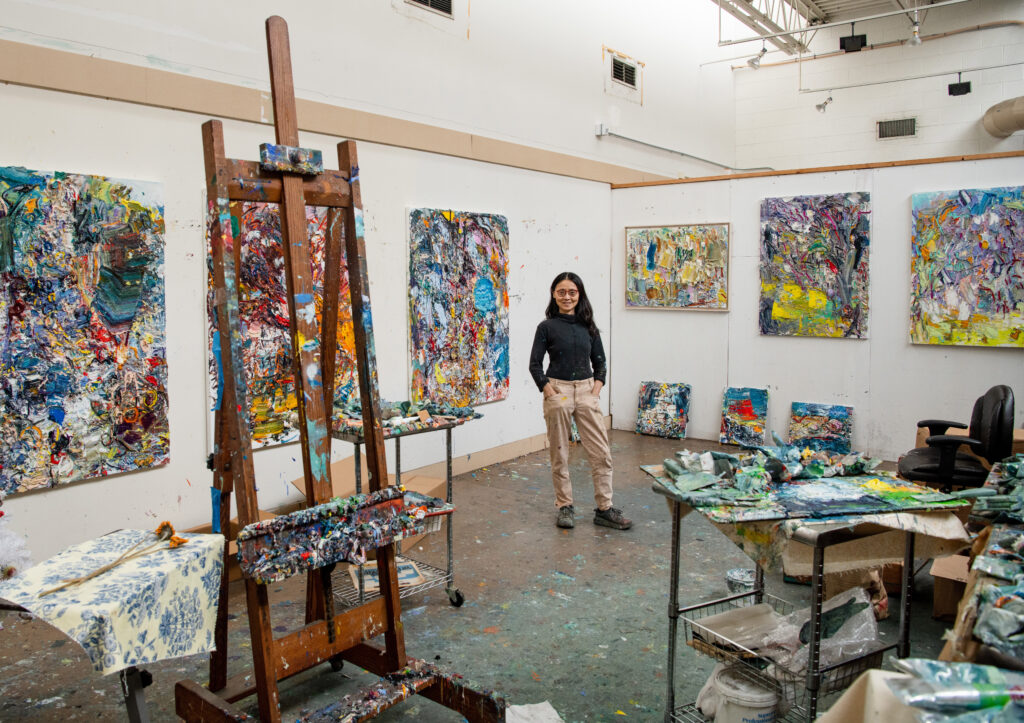 Born in Beijing, China, Li immigrated to the United States in 1983. She holds a B.F.A. from China's Anhui Normal University and an M.F.A. from the Parsons School of Design in New York's Greenwich Village. Currently, she is the Phlyssa Koshland Professor of Fine Arts at Haverford College in Pennsylvania.
Li has exhibited her works at museums, galleries, and schools in New York City, Washington, D.C., Philadelphia, and Portland, Maine. Internationally, her paintings have been showcased in Switzerland, Italy, Ireland, and France. She has previously served as the Donald Jay Gordon Visiting Artist and Lecturer at Swarthmore College; artist-in-residence at Dartmouth College; the McMillan Stewart Visiting Critic at the Maryland Institute College of Art; Ruth Mayo Distinguished Visiting Artist at the University of Tulsa; and as a visiting artist at the American Academy in Rome.
Winner of the Edwin Palmer Memorial Prize and Henry Ward Ranger Fund Purchase Award, both from National Academy NYC, Li's works have been reviewed in The New York Times, The New Yorker, Art Forum, Art in America, New York Sun, The Philadelphia Inquirer, Hyperallergic, artcritical, and The Washington Post, among others.