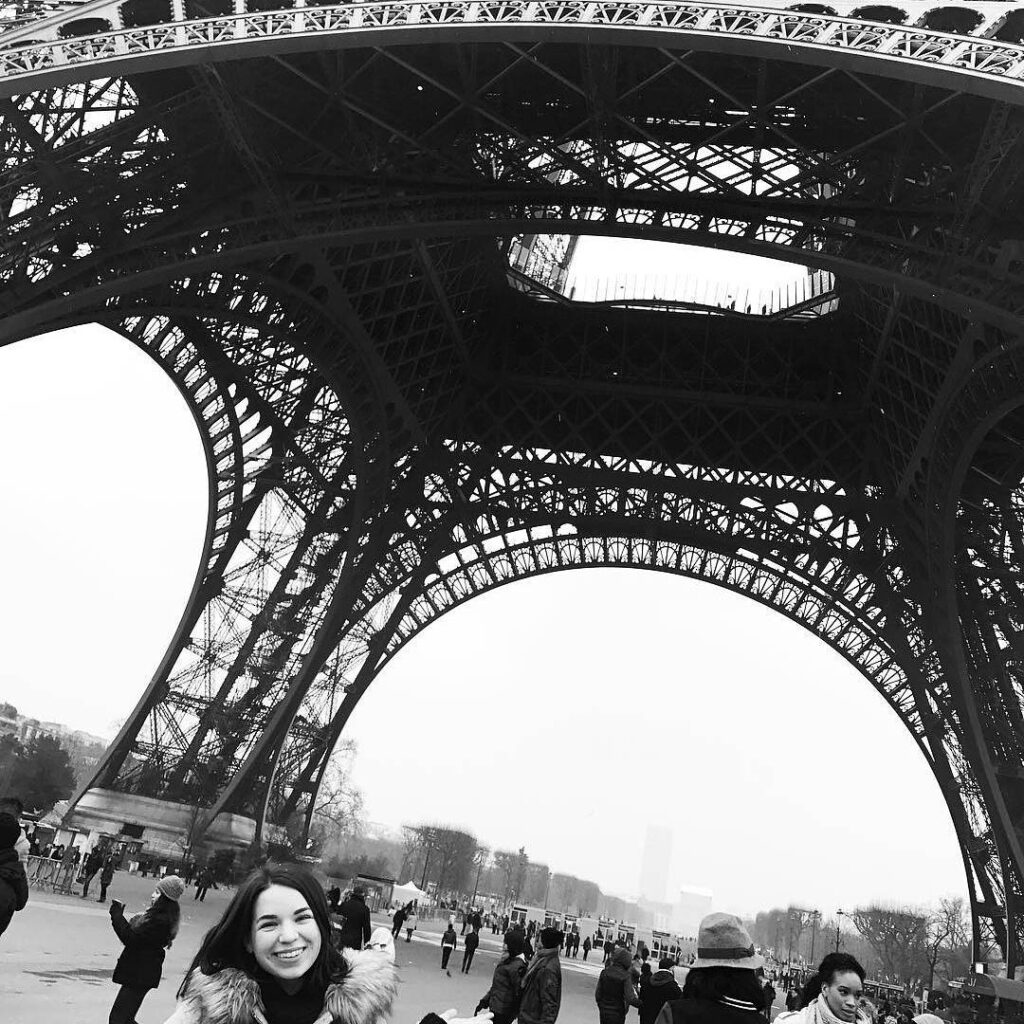 We are excited to announce that Hollins is partnering with the Institute for the International Education of Students (IES Abroad) to create Hollins in Paris. This program will provide study abroad opportunities for our students in the City of Lights and beyond.
Through customized programming, Hollins students are able to enroll in either IES's French Studies or Business and International Affairs programs for a full semester. These programs offer a broad range of courses in language and cultural studies, business, international relations, communication studies, sociology, women's studies, political science, art, and film, to name a few. Regardless of whether a student has advanced French language abilities or has just had one year of French language study, she can benefit from these diverse programs, which foster challenging and rewarding language training both in and out of the classroom.
Through its custom-built Hollins in Paris – Business and International Affairs track, students will be able to enroll in classes at the American Business School in Paris. Many of these courses have already been approved for major and minor credit. Internships are also available to students with sufficient French proficiency at art galleries, marketing firms, non-governmental organizations, and other venues. Hollins in Paris offers exciting excursions and extracurricular activities, including field trips to locations such as Normandy, Versailles, and Fontainebleau.
Students in either track will participate in homestays, giving them an opportunity to develop their French fluency both in the classroom and at home, and to immerse themselves in the culture and
Tracks
French Studies
Full language immersion for French majors and minors
Students in this Paris program take courses at the IES program center, as well as at local universities. All courses are taught in French, and are designed for students with an intermediate to advanced language proficiency. Students can take courses in a number of subjects, including (but not limited to) Art History, Film Studies, Literature, and Political Science.
Business and International Affairs Program
Courses available in French and English, and open to all majors
Students hoping to take business and international studies courses will likely find this custom-built program a perfect match for their interests, though participation in this program is not limited to those majors. IES courses are taught in both English and French, and cover a wide variety of topics, from Parisian architecture to France's history with Islam and the Middle East, intercultural management to sustainability, and more. As part of this custom-designed program, students can also take courses at the American Business School in Paris.
Program Information
Immersion track students must have two years of college-level French (or the equivalent) and a GPA of at least 3.0.
English/French dual language track students must have a year of college-level French (or the equivalent) and a GPA of at least 2.5.
Program fee includes:
Tuition
Accommodations and meals
All-inclusive visa advice/help
Comprehensive health insurance while abroad
Orientation program on the Hollins campus and in Paris
Field trips, excluding theatre tickets
Questions?
The Global Learning Hub is located on the first floor of the Wyndham Robertson Library and welcomes you to drop by!
abroad@hollins.edu
540-362-6214
800-511-6612
Fax: 540-362-6693
Living in Paris
Students live with Parisian hosts to experience daily life in Paris and hone their conversational French. We have a variety of placements, so you choose to live with hosts who match your lifestyle.
"My room is a mélange of beautiful antique furniture and has an enormous window that fills the room with light. Paris, I think, could be my city. I could easily see myself in a little apartment in Montmartre or near the church of St. Genevieve."
Select link in Lower Single Testimonial block