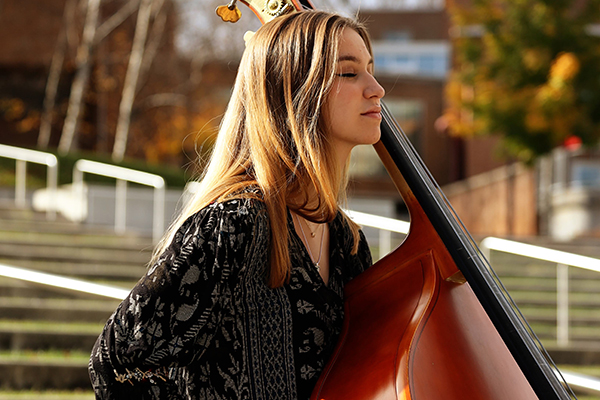 Hollins University fosters an environment where young women have the opportunity to become leaders, decision makers, and cultural shapers.
Last fall, Hollins announced a new scholarship that prioritizes lifting the burden of private college tuition for students with financial need. Designed for students living in the Roanoke Valley region, the Hollins Opportunity for Promise through Education (HOPE) scholarship program supports young women who wish to pursue a Hollins degree with zero tuition debt.
We are excited to introduce another recipient of the HOPE scholarship program: Sydney Light, a senior at Roanoke's Patrick Henry High School. We sat down to chat with Sydney to discuss the scholarship and what it means to her and her family.
Q: Tell us about yourself: Where do you go to school, what do you do for fun?
I am currently a senior at Patrick Henry. I play stand up bass at my school, in the Roanoke Youth Symphony Orchestra, and with my praise team at church. I've been playing since I was in sixth grade. A big reason I was drawn to Hollins was due to their prestigious fine arts programs.
I love dance, I've been dancing since I was two years old. I've also been a member of a competitive dance team for the last six years. I take dance classes for all genres including ballet, jazz, contemporary, hip hop, tap, and modern dance.
I am a certified lifeguard and swim instructor at the YMCA. I love teaching children. I learned how to swim at the YMCA so it's my way of giving back. Swim lessons really do save lives, and I teach all ages. However, I mostly teach children.
When I want to relax, I enjoy going to Starbucks to just sit and be. I really like to color and play my bass when I get stressed out, too. I have a zero-period class at school where I can come in and play my instrument, and that's really relaxing.
Q: What are you thinking about studying at Hollins?
My intended major is psychology, but I'd like to double minor in music and dance because I want to keep progressing and learning through the programs offered at Hollins. I'm interested in psychology because being a person who has anxiety, I want to learn more about helping others who also have a mental illness.
Q: What made you choose Hollins?
I applied to eight different colleges because I wanted a wide range of options. I went to Hollins on a tour and just fell in love with the campus, it's gorgeous. One of the professors came and talked to me and made me feel like I was right at home. I feel like it's a very inclusive school because of the student-to-professor ratio; I'm a visual and hands-on learner, so that kind of attention will help me along my journey. I thought about going to other schools out of town, but I visited Hollins and it clicked; it felt right. The study abroad program really piqued my interest because I haven't really traveled very far; the farthest being Georgia. I'm ready for a new chapter and I feel like Hollins is the perfect place to do start.
The faculty and advisors I've met really solidified my decision, they were knowledgeable about what classes I'll have to take and my workload. I felt safe and supported like I was in good hands so I didn't have to stress. I'm really excited to start my journey at Hollins.
Q: What made you decide to apply for the HOPE scholarship?
It was a combination of personal and financial motivation; I really want to represent my college well. When I found Hollins University, I knew deep down that I wanted to go there but never actually said it out loud. When I found out about the HOPE scholarship, all I had to do was fill out this little form and I thought, "That's it?" Then I found out I got it, and it was an easy decision from there on out.
Q: When you learned you got the scholarship, how did you feel?
I submitted my application for Hollins, expecting to hear back in a few weeks. Dance had me very preoccupied so I just let everything flow. When I finally checked my email, I saw that one of the advisors had emailed me introducing herself and suggested I come up for a tour. When I toured the campus and met with my advisor, my biggest question was, "If I do this, how much money will I have to pay?" I currently live with my mom and don't have a relationship with my father, so financial planning is really important to me. Dance is not cheap so I have been employed since I was sixteen years old. I wanted to help my mom pay for dance class tuition, costumes, and other necessities.
My advisor mentioned the HOPE scholarship and helped guide me to apply for other scholarships to help pay for more things, too. I filled out the HOPE scholarship form, got it, and cried. It's a big deal for me and I'm extremely proud of myself.
Q: What does the HOPE scholarship mean to you and your family?
For me, it's a huge weight lifted off my shoulders. Everything is super expensive and I lack some of the financial resources available to others; so for me and my family, it's a big deal. My mom cried when she found out, she's very proud of me and the person I am. COVID was a very difficult few years for me. I had surgery, I couldn't finish my dance season, I barely touched my instrument, and the world was very small. I've had a lot of close friends pass away these past two years, so it's been rough. But I'm glad I have people to talk to at Hollins and places I can go to get help. I already feel very loved at Hollins.
Q: What extracurricular activities are you looking at getting involved with at Hollins?
I think I'll start by getting involved with volunteering. Right now, I'm in the National Honor Society at my school and I like to help out. I'd like to take advantage of the study abroad program, too. I'll likely get involved with clubs pertaining to the music and dance programs. All the things I do now, I'd like to take with me; that was the most important thing to me when I was looking for schools.
The Power of HOPE
From psychology to dance and music, to helping those in need, there is no doubt Sydney will pave her own path of self-discovery and success at Hollins University.
If you are a young woman living in the greater Roanoke Valley and desire a college degree, but worry that the cost of tuition puts this dream out of reach, you have HOPE, the Hollins Opportunity for Promise through Education. Visit our HOPE program website to learn more about the requirements.