You have big dreams.
Find out where you can take them.
The Knowledge For Freedom (KFF) Summer Program is for young women who are rising high school juniors or seniors, and who are curious about college life. It's an opportunity for students to live on campus, explore their interests in the liberal arts, meet with faculty, and discover new opportunities for their future.
How to Apply
Apply directly as a student or nominate someone as a counselor, teacher, or mentor through a referral form.
Application or referral deadline: February 1, 2024
Have more questions? Contact us!
Madeline Aliff
Director of Admission and Recruitment Operations
aliffmt@hollins.edu
540-362-7496
About the Program
Where women empowerment meets possibility.
This immersive, two-week liberal arts program allows young women to experience life as a college student. Sponsored by a grant from The Teagle Foundation, the program is provided at no cost to participants and gives them an opportunity to study and build connections with students and professors who are invested in their growth.
Start your application today.
July 14 – 27, 2024
Application or referral deadline: February 1, 2024
Additional Benefits
Support your college search.
The KFF Summer Program also provides extended support for participants in their college search and selection process, which includes:
A letter of recommendation from Hollins faculty
College search mentorship
College application guidance
Education on:

Test-optional admission policies
Binding and non-binding application types
Demonstrated interests

FAFSA submission workshop for families and students
Frequently Asked Questions
How are students invited to attend and identified as 'underserved?'

High school counselors will have an opportunity to nominate students for participation or consult with Hollins University regarding individual student applications.

Does it cost me anything to attend?

Participation is completely free to participants, including housing and food expenses for the duration of the two-week program.

How large is the program?

The Knowledge for Freedom (KFF) program is capped at 20 students.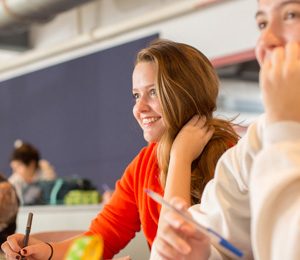 "I really enjoyed getting to stay on campus and experience college as if I actually went there. The activities were also very fun, and the professors were great."
Select link in Lower Single Testimonial block