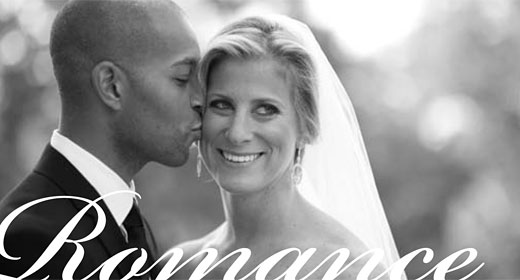 True Romance
Talk about pressure. Capturing the many moments of a wedding day is a job not for the faint of heart. There's a lot riding on photographs that will be placed on the mantle, plastered across Facebook, and passed down for generations.
By Sarah Achenbach '88
Award-winning wedding photographer Gigi de Manio '88 approaches such monumental subject matter with the eye of a photojournalist, the observation skills of a psychologist, the soul of an artist, and the heart of a romantic. Clients for her documentary-style, typically black-and-white photographs include the owner of the Boston Red Sox, Chelsea Clinton and husband Mark Mezvinsky, and couples from the northeast United States to Florida. One of 2010's top celebrity weddings, the Clinton/Mezvinsky nuptials propelled de Manio's work into the media spotlight with the cover of People magazine and images splashed on the six o'clock news nationwide. (The wedding was also photographed by Clinton White House photographer Barbara Kinney.)
Though de Manio's photographs have appeared in Modern Bride, Grace Ormond's Wedding Style, Vera Wang On Weddings, and other publications, her sought-after talents often take her beyond the bridal suite. In January 2011, she was selected to shoot the décor of the state luncheon and dinner for the White House visit of China's President Hu Jintao. Husband Tim Downing's Design & Co. regularly hires her for its Web and graphic design clients, jobs that seamlessly blend work and home for de Manio. Both she and Downing, a former architect, work out of the home he codesigned in Carlisle, Massachusetts, where they are raising their children: Emily (twelve), Caroline (nine), and Michael (seven).
Today, de Manio hand-picks fifteen or so high-end weddings a year to photograph, an impressive achievement given that she never expected to be a photographer, much less a wedding photographer. And she has Hollins' liberal arts requirements to thank for her success. De Manio and identical twin Jackie de Manio Eberley '88 both chose Hollins after attending a Hollinsummer program. Though their mother, Betsy Cragg de Manio '66, and aunts, Susan Cragg Stebbins '62 and Nancy Cragg Lincoln '60, lobbied hard throughout the twins' childhood in Sarasota, Florida, it was the summer program that clinched their college decision.
Other than snapping the occasional photo during her London abroad semester or on Tinker Day, photography as hobby or career didn't register on her radar. De Manio was fine with her psychology major until Hollins' liberal arts requirements got in the way. "Hollins wouldn't let me graduate until I fulfilled an arts requirement," she recalls with a chuckle. "I can't paint or draw so photography seemed like my only option." Professor Bob Sulkin was offering a basic photography course for fall semester of her senior year. She enrolled, expecting to check off a requirement, not find her calling. "I had an epiphany in the course," she admits. "I really enjoyed psychology but didn't see myself making a career out of it. When I picked up a camera, I realized that this was what I wanted to do with my life."
Everything began to click. She quickly arranged a Short Term photography internship in Colorado, enrolled in an advanced photography course for second semester, and by graduation had been accepted to the Portfolio Center in Atlanta to continue her photography studies. "I fell in love with the magic of images appearing in the darkroom, and I connected to the emotional experience of creating a photograph that really touched other people," explains de Manio, who graduated from the Portfolio Center's intense two-year program in 1990.
With her sights set on becoming a fashion photographer, she moved to New York City—"the hub of fashion photography," she says—and began assisting other photographers to learn the ropes. Two years later, she moved to Boston and continued to be a freelance fashion photography assistant—until a certain bride changed her course on March 16, 1996, the day her twin sister married Rob Eberley.
De Manio juggled maid-of-honor duties with photography. She was not taking photos in any professional capacity—the couple had hired a traditional wedding photographer—but merely as a gift to her sister. "I always thought that wedding photography was kind of cheesy," de Manio admits, so she chose to capture the day's more informal, less posed moments in black and white. The newlyweds were thrilled. "Gigi has a great eye," Eberley says of the wedding album her sister gave her. "Her photographs were so far above what the professional wedding photographer did that it took me three years to even order an album from that photographer. Gigi captured moments no one else saw. Hers are the only photos from my wedding that my family and I look at."
Eberley eagerly showed off her album at work, and de Manio received several calls immediately to photograph other weddings. Still insisting that she wasn't a wedding photographer, she reluctantly agreed to the jobs. Word of mouth spread, and soon she was doing more weddings than fashion shoots. By 1999, de Manio was averaging thirty-five weddings a year and had earned Boston Magazine's coveted "Best of Boston" award for wedding photography. (A decade later, de Manio gave the same supportive encouragement to her older-by-six-minutes sister when Eberley launched her gourmet cookie business, jackiescookie.com, with a closely guarded family recipe; see Enterprising Alumnae article.)
Wedding photography is the perfect match for de Manio's training and passion. "I'm a true romantic and, fifteen years later, I still get the same thrill I got from photographing Jackie and Rob's wedding," she says. "At every wedding, I push myself. Am I getting the stuff that is meaningful, beautiful? Am I digging deep enough?" She also relishes her vocation's constantly changing technology: "With photography, technically you are never 'there.' There is always something new to learn. I love the creative environment where there is never a right or a wrong."
Her psychology and liberal arts background play an important role in her work. "With weddings, I constantly deal with family dynamics. I have to know when to step in and when to hold back. It is a delicate line to walk when dealing with stressful dynamics or just trying to get a bride to relax and be herself." De Manio quickly reads—and respects—complex relationships to document the day. "I have always been driven to figure out why people are the way they are. That's way I majored in psychology. To combine that with photography to capture people forever in a moment in time is exhilarating. The shift of an eye when a groom looks at a bride changes everything."
To see more of de Manio's work, visit demaniophotography.com.