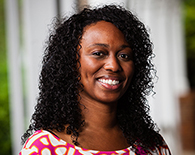 Q&A with Nicole Oxendine '03
This year's Distinguished Young Alumna Award winner has been recognized for her dance expertise and her business and leadership acumen.
A psychology major, Nicole Oxendine earned an M.A. in dance and movement therapy from Columbia College in Chicago. Before and after graduate school, she taught at Hillside High School in her hometown, Durham, North Carolina. In 2014 she was named Spectacular Magazine's Woman of the Year in the emerging leader category. The following year, she founded Empower Dance Studio. Seeing a need to raise funds for dance students who had limited financial resources, she founded Empower Dance Foundation. In 2016 the Durham Business & Professional Chain presented her with its new business award, and in 2017 Empower Dance Studio was a top-four finalist in Independent Weekly Triangle's best dance studio category.
What part has your psychology major played in your roles as dancer, teacher, small business owner, and fundraiser?
I was fascinated with memory, so my concentration was in cognitive psychology. These interests led to designing units and lessons based on movement memory. As a small business owner, I find my psychology major has helped me develop a strong marketing strategy. It also helps me relate better to our customers.
What is movement therapy, and how has that training informed your teaching?
According to the American Dance Therapy Association, dance/movement therapy and counseling are the "psychotherapeutic uses of movement to further the emotional, cognitive, physical, and social integration of the individual." For me, it is the perfect combination of dance and psychology, and I have been able to use this training to become a better teacher.
You were Spectacular Magazine's Woman of the Year in the emerging leader category. What is good leadership to you?
Good leadership is providing guidance while allowing people to have autonomy in their work and process. Leaders are not complacent; they are thinking about the next step and the best way to get there.
When and where were you/are you happiest?
When I am teaching! Especially with children, you must be present and engaged. Sometimes happiness is viewed as what's going to happen next in life and not enjoying the moment. Children enjoy the moment. I am also happy at the ocean.
Who are your heroes/heroines?
My "sheroes" are women who speak up, get things done, and make change in the world.
What is your favorite music to dance to?
I love acoustic music, anything with great vocals. I love the cello and violin. Anyone who plays or sings music with heart and passion—I feel it and want to dance with the same passion.
If you could go back and do one thing at Hollins differently, what would it be?
I think everything I did led me to the opportunities I have now. I wouldn't change anything.
What would you tell your 18-year-old self?
Your life will be exactly what you envision. However, the path to get there will not be the way you think. Every trial and hardship will lead to something great, so be flexible.