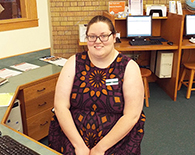 At the Beginning
Kacee Eddinger '14
Kacee Eddinger believes in intuition.
"You've got to think with your head as well as your heart, but I've had what I call 'that good feeling' a couple of times in my life," she says.
Eddinger's inner voice spoke up when she traveled from her home in Colorado Springs to Hollins to get her first look.
"I felt very at home," Eddinger remembers. "A lot of people talk about the welcoming environment they feel when they walk on campus. I definitely felt that. I just had a feeling that Hollins is where I was meant to be."
This winter Eddinger interviewed for a job as a youth services librarian for the Montrose Regional Library district in Colorado. She tuned into her subconscious again. It told her to take the position—so she did. "It's been a dream job for me," Eddinger says.
From a young age, Eddinger knew she wanted to be a writer. By high school, she was also starting to picture herself working in a library. She put down Wyndham Robertson Library as her top choice for a work-study placement her first year. "It was the first choice for a lot of other people as well," she says.
Instead, Eddinger ended up working in the physical plant, where she did lots of data entry. "It's another form of information science," she says, cheerfully.
In her free time, Eddinger, an English and creative writing major, often headed to the Robertson Library, where she preferred studying in a second-floor carrel that sat across from the graphic novel section. During her junior and senior years, she worked part time as a page at a nearby public library. "I got exposed to a lot of the aspects of public librarianship there."
After graduation, Eddinger began an online master's program in library and information science through Kent State University while working at a call center for an insurance company. She graduated in the spring of 2017.
Although she's only been in her current job for a few months, Eddinger feels confident she's found the perfect home for her first professional gig. At Montrose, Eddinger develops children's programming and works on collection development. "I buy lots of picture books," she says happily.
"I'm really excited I'm sort of at the beginning," Eddinger says. "I feel like there's so much more time for me to grow and explore and learn. It's going to be amazing."