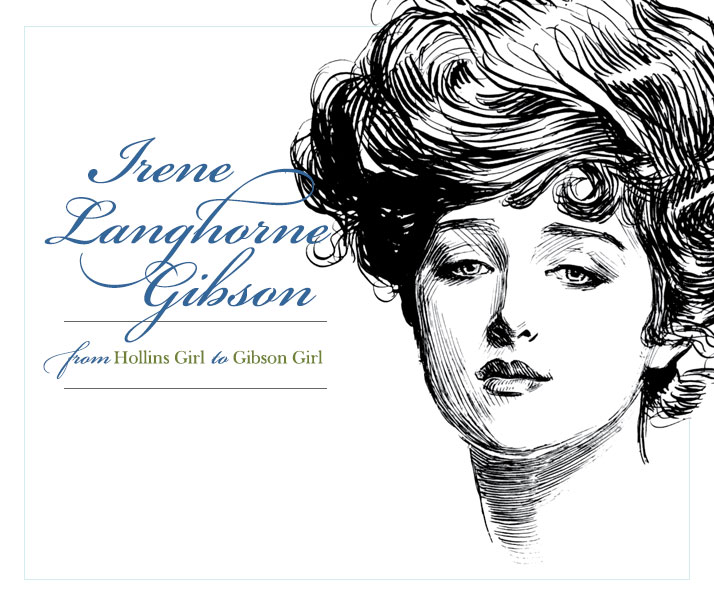 Irene Langhorne Gibson: From Hollins Girl to Gibson Girl
By Karen Adams M.A. '93, M.A. '00, M.F.A. '10
Before Irene Langhorne (1873-1936) married artist Charles Dana Gibson and became perhaps the most famous woman in the country, as the model for America's idealized Gibson Girl, she was, briefly, a Hollins girl.
In 1889, Irene Langhorne arrived at Hollins. Ten days later, she left.
The Langhorne family, originally from Danville, Virginia, had five remarkable daughters: Lizzie, Irene, Nancy, Phyllis, and Nora. They were all known for their personality, some gentler than others, and their beauty. Historians often focus on Nancy, later Lady Astor, who was the first woman to hold a seat in the British Parliament. But at one time, Irene was far better known, first as an admired Southern belle and later as the lovely, graceful Gibson Girl whose image, created by artist Charles Dana Gibson, was everywhere.
Irene's early years had its challenges, however. Her father, Chiswell "Chillie" Dabney Langhorne, struggled financially, and life in the cramped Danville house was difficult. After he began to prosper in the railroad business, he moved the family to Richmond.
Irene's mother, Nancy "Nanaire" Witcher Keene, had grown up on a plantation near Danville. Her early education focused on household management until, at 14, she left for Greensborough Female Institute, in North Carolina. But the Civil War forced her to return home after two years, ending her formal education. In December 1864, at 16, she married Chillie. They eventually had eight children, five girls and three boys (as well as three babies who died), and often struggled to feed them all. In Richmond, however, life improved, and the Langhornes moved in elite social circles.
As Irene grew up, she was noticed for her beauty, and dozens of young men sought her attention. (By the time she married, she had received more than 60 marriage proposals.) In the summer of 1889, at the fashionable Grand Central Hotel at White Sulphur Springs, in West Virginia, Irene took part in dances, dinners, picnics, and other outings among the region's elite.
That autumn, 16-year-old Irene arrived at Hollins as a new student. Records indicate that, for whatever reason, she stayed only 10 days.
There are four documents that show that she attended Hollins. She is listed in the 1889-90 annual register as a student of piano and English language and literature, and as the daughter of C.D. Langhorne, of Richmond. She is also listed in the fall 1889 record book, although there are no grades beside her name. Her name appears in the 1922 alumnae directory, along with Charles Dana Gibson's. And, in 1928, on stationery printed with her New York address (127 East 73rd Street), she sent a letter to Hollins' then-president Joseph Turner, declining his invitation to an alumnae tea. She writes:
Dec. 8, 1928.
Dear Mr. Turner:
As I wrote the ladies, I had another engagement that afternoon. I am especially sorry that we can't have the opportunity to recall old times; I love to be remembered.
I fear my stay at Hollins (10 days) was a little too short for me to take part in anything to do with our Alumnae.
The next time you come to New York do come to see me. It would give me the greatest pleasure to meet you again.
With kindest regards,
Sincerely yours,
Irene Gibson
It's a mystery, even to her own descendants, why her stay at Hollins was so short. She apparently never mentioned it to anyone. "Maybe she was just too busy socially to concentrate on school at that time," said Dana Gibson '88, Irene's great-granddaughter. "She was very popular."
Irene's grandson (and Dana Gibson's father) Langhorne Gibson, Jr., author of The Gibson Girl: Portrait of a Southern Belle, suggested another reason. "Because of their family dynamics, I can understand why she went to Hollins, and I can understand why she left," he said. "There was a lot of tension there at home, and I think her mother wanted to get Irene out of there. Chillie was hard to live with, and he was a rough-cut man who did not value education for women. Nanaire, Irene's mother, was the better influence. I imagine her mother wanted her to attend also because her own education was cut short." It may be that her mother got her to Hollins, he said, but her father brought her home.
In New York in 1894, Irene met Charles Dana Gibson; the next year they married. Although several other women modeled for Gibson Girl images, Irene became her husband's usual muse. She appeared in dozens of drawings and paintings: at the piano, with angelic faces singing behind her; at dances, with young men vying for her attention; golfing and bicycling, often better than her male counterparts. The Gibson Girl was feminine but not passive. She could appear slightly bored at social events but serious about art, literature, and music.
As a young wife, as a mother raising her two children, and even as an elderly woman, Irene was a Gibson Girl: gracious, dignified, charming, flirtatious, trim, active, beautiful, and amusing. She was a proper lady who also could hail a taxi with a sharp whistle, play a rousing piano tune, and hike up a mountainside in long skirts.
While living in New York, Irene dedicated much of her time to charitable causes, especially the welfare of children and, despite her own abbreviated schooling, the education and suffrage of women. According to the Virginia Foundation for the Humanities' Encyclopedia Virginia, she chaired the Child Planning and Adoption committee of New York's State Charities Association for 25 years. She also founded the New York branch of the Southern Women's Educational Alliance, was a member of the Society for Prevention of Cruelty to Children, and helped found and was a director and board member of the Protestant Big Sisters.
Irene returned to Virginia for her final days. As her life neared its end, she wrote: "I don't want to leave this world. It has been so kind to me and so much beauty in it. If one could grasp it all and just be lovely and kind and peaceful and entertaining."
Learn more about Irene's sister Nancy in our web-only feature, Lady Nancy Langhorne Astor.
[hr]
Karen Adams is a writer and editor in Roanoke.