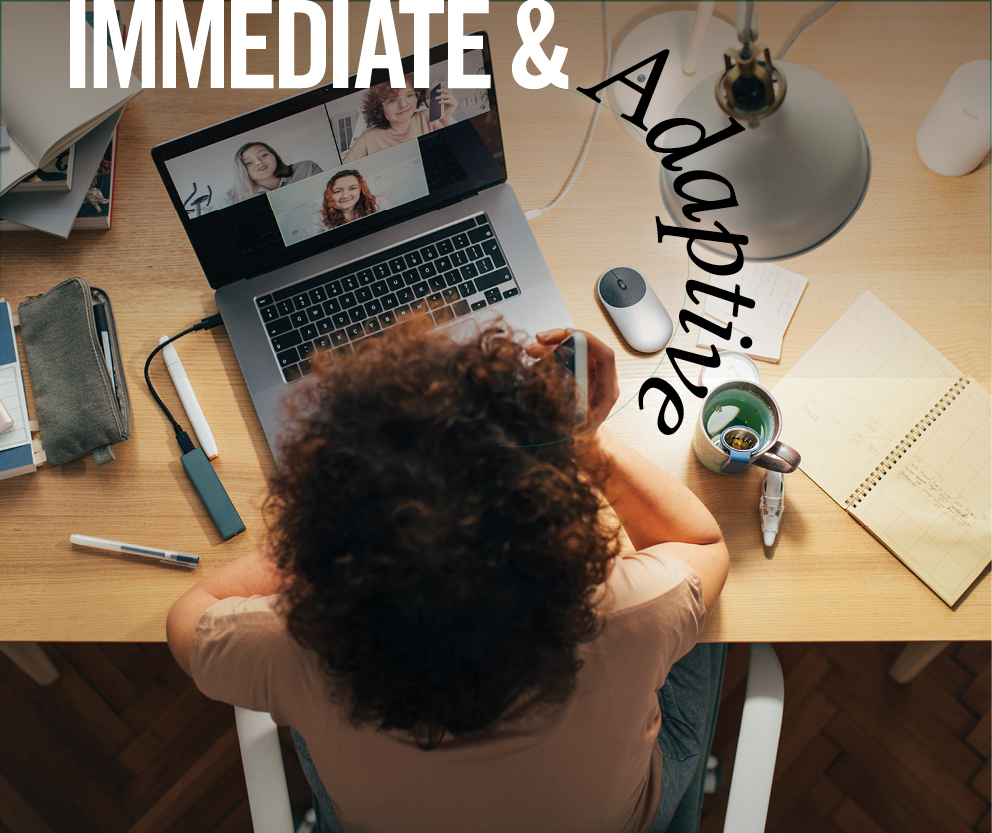 Immediate & Adaptive 
Are Zoom and hybrid classes the wave of the future? 
By Jeff Dingler
While the COVID-19 pandemic has certainly been a game-changer for pretty much every level of society in 2020, one group that had to adapt the fastest were educators and institutions of learning. Last March, when the country entered its first lockdown phase due to the spread of COVID-19, teachers all across the country moved entirely to remote learning or online classes. Most made the switch in a matter of weeks or, in some cases, just days. Since then—almost a year later—educators at Hollins and around the globe have been continuing to adapt to the ever-changing reality wrought by COVID-19. But when it comes to the performing arts in academia, the question remains: How exactly does one teach dance through hybrid classes or present a theatrical reading via Zoom? Hollins magazine asked the directors of three different performing arts programs to find out how they got creative with remote learning. Surprisingly, the results of educating in the era of COVID-19 aren't all doom and gloom.
Playwriting M.F.A. 
In addition to its respected undergrad theatre program, Hollins has a renowned, highly intensive playwriting M.F.A. that meets for six weeks every summer. Unlike a lot of other low-residency master's degrees, which focus more on distance learning, Hollins' playwriting programming offers a truly immersive workshop experience where student playwrights cover a full semester's worth of work in just six weeks. Now imagine trying to do all that online. "There were a tremendous number of challenges to transitioning to full online learning," said Todd Ristau, director of the M.F.A. in playwriting. "But one of the things that we stressed over the summer is that theatre, by its very nature, is immediate and adaptive."  
To Ristau's point, the playwriting program last June and July had its own digital liaison to offer technical assistance and ensure that the program provided an experience for audiences and student playwrights that maintained some of the in-person feel. "We welcomed people into the Zoom waiting room as though it were the actual lobby," said Ristau. "We continued to make references to the experiences as though we were in the theatre building. And it really did help. We even had people remark after our festival of student readings that they didn't remember it as though they were on Zoom, but rather they remembered it as if they were in the theatre." 
Moreover, in addition to being able to "digitize" the summer courses and schedule of events, Hollins' playwriting program was actually able to expand upon some of its offerings. For instance, the M.F.A. turned its unified local auditions—usually restricted to regional Virginia actors—into Zoom auditions, opening up the auditions to a national pool of actors and allowing student playwrights to work with performers from all over the country. "We were also able to get guest speakers that we probably wouldn't have been able to afford before, given the distance [to bring them to Hollins]," added Ristau. That included a Zoom talk by esteemed English musical director Neal MacArthur about his life in the arts, as well as a live Zoom conference on applied theatre, which drew between 50 and 75 people per day. "We're really happy about the way this summer came out," said Ristau, adding that he and the faculty are currently thinking about what online components could still be useful when they return to in-person classes, such as the use of Moodle or Zoom. "Because of COVID-19, we're trying a lot of things that we normally wouldn't have," said Ristau. "And it's a been a productive and useful learning experience for the faculty as well as for the students." 
Dance Department and Dance M.F.A. 
While Hollins' playwriting program may have found a good fully digital approach to remote learning, not all performing arts, or the way they're taught, are created equal. "Obviously, it's been a major adjustment for dance," said Jeffery N. Bullock, director of the dance M.F.A. "It's a communal practice. It's about people being together, and moving together, and I would even say thinking together. That's just how our form operates."  
When the shutdowns hit last March, what complicated Bullock's job even further was that Hollins' dance M.F.A. offers multiple tracks of study: two low-residency degrees and one year-round program with classes over the summer. In addition to this, as chair of Hollins' dance department, he was responsible for the educational experience of the undergraduates as well. "I had some resistance to this notion that we could just keep doing what we were doing but in our houses," recalled Bullock. "So I tried to have critical discussions with my faculty about how we could adjust to everybody's different needs." Bullock mentioned one student who told him that he likely couldn't take a dance class online because he lived in a one-room cabin in the hills in California. "So I was thinking about all those social and cultural kinds of questions about what does it mean to ask people to dance at home in their living spaces," explained Bullock. "And I think we came up with some really good solutions and tried to work through that."  
Bullock took two different approaches. With the undergrad students, the dance program created a hybrid approach to its movement classes, in which students still met in person but were instructed by a teacher or faculty member via Zoom. As for the summer graduate students, Bullock allowed them to determine their own movement routines and then had the student dancers meet weekly online to share experiences and critical thoughts. "Overall, we tried to accommodate different populations and different needs," said Bullock. "Certainly, all the students would prefer that we were together, but under the circumstances, I think we dancers have adapted quite well. It's pushing us as practitioners and as critical thinkers to extend and reimagine what we're already doing—to add to the possibility or potential of what dance can be." 
Speaking of that potentiality, the department still held its annual Fall Dance performance on November 13, only this year streamed on Zoom. Both undergrad and graduate students made digital performances, or dance films, that were edited together for a private online screening. "This was the first go-around where we asked undergrad and grad students to make work via a digital platform, and we weren't sure how it would go," said Bullock. "But it turned out great!"
Screenwriting and Film Studies M.A. and M.F.A. 
As for Amy Gerber-Stroh and Brian David Price, who both codirect the low-residency screenwriting and film studies graduate programs at Hollins, online learning wasn't much of a change for them. "To be honest, when we got the word that we were going to be moving online, it didn't really affect us too greatly," laughed Price. "The writing classes all lend themselves really easily to being on Zoom. Because [regularly] on campus, it's just eight or 10 people sitting around a table and workshopping those pages, and it wasn't all that different when we were on Zoom." 
Last summer's screenwriting program did have to cut one production class  that required utilizing equipment on campus, but the rest of the program's curriculum migrated easily over to the web. Price and Gerber-Stroh were actually able to take advantage of a number of online opportunities that likely wouldn't have been available to the program or its students had they been meeting on campus. For example, every summer the screenwriting program invites a guest speaker to lecture and spend time with the students. This year, because the university didn't have to pay to fly anybody in, the program was able to afford eight guest speakers, including professionals from all facets of the entertainment industry, writers, producers, and agents, speaking to the group via Zoom. Hollins alumnae/i and some undergrads also got to join the talks, another option that wouldn't have been available without the new online component. "And we still had a fantastic wrap party," added Gerber-Stroh. "We sent everybody packages filled with popcorn and other goodies, and instructed everyone to open them at the same time, experiencing the party together even though we couldn't be physically together."  
Gerber-Stroh went on to say that e-learning was already a feature of Hollins' film department that she chairs. "To teach screenwriting, we've had to go online to get working Hollywood writers and other professionals to teach the courses," she said. "So COVID-19 happened, but we were already sort of doing this for a while." 
In fact, going forward, both Gerber-Stroh and Price predicted that online learning would become a regular component of the program's educational offerings. "I think our program, just like many of the others, learned so much through the experience of being online," said Price. "When we go back to campus, we'll continue to utilize all the lessons we've learned and kind of have a hybrid experience going forward." 
"Hybrid's the way to go," agreed Gerber-Stroh. "I think that even if it hadn't been for COVID-19, that's the future of the program and, probably, the future of education in general." 
Jeff Dingler is a current creative writing M.F.A. student and marketing intern.