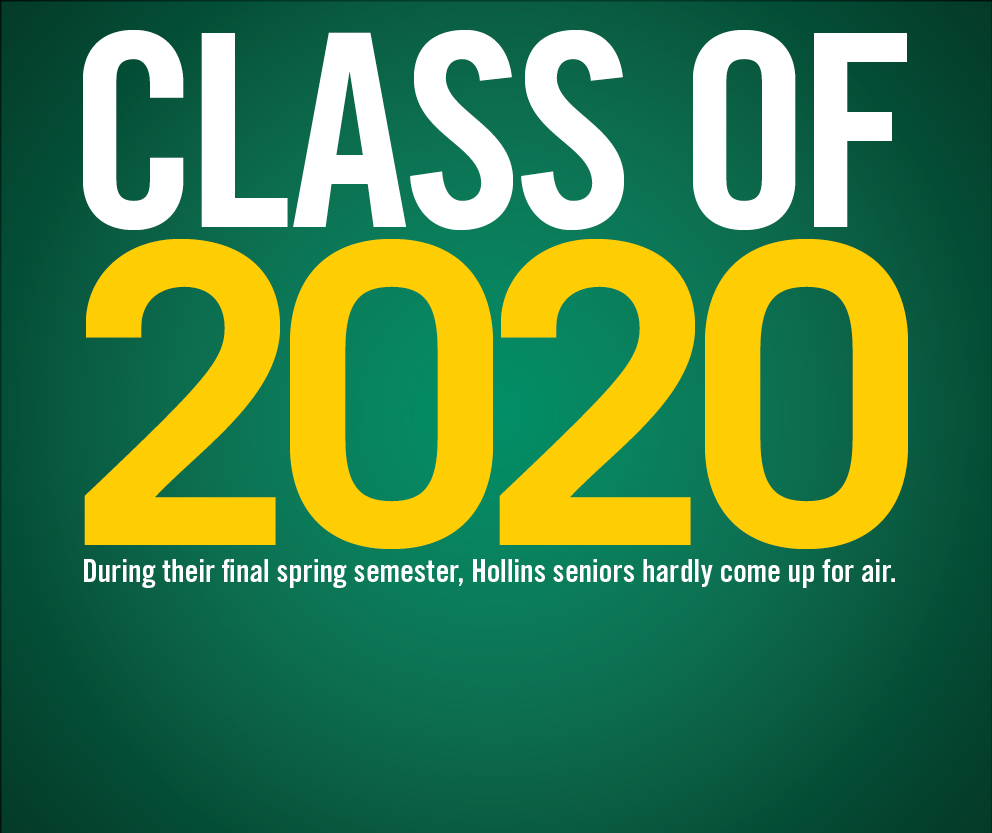 Class of 2020
During their final spring semester, Hollins seniors hardly come up for air. 
By Beth JoJack '98
Hundredth Night. The spring theatre production. One last proofread of that honors thesis. Spring Cotillion. A final trip downtown for a slice at Benny Marconi's. The Senior Banquet. 
Sadly, the 162 members of the class of 2020 didn't get to experience that cyclone of celebrations and goodbyes. Their college careers ended abruptly March 20 when Interim President Nancy Oliver Gray announced classes would be held online for the remainder of the semester to slow the spread of the coronavirus. Commencement had to be postponed. 
When the students returned to their homes to weather the pandemic, it quickly became apparent that their post-Hollins lives might take a different shape than they'd spent four years envisioning. All across the country, governors imposed COVID-19 restrictions, shutting down some businesses and banning public gatherings. The coronavirus crisis prompted an economic downturn which left the country with 20.5 million unemployed Americans in April 2020—a rate of unemployment not seen since the Great Depression. 
A handful of members of the class of 2020 talked about what it was like to graduate from college during such a turbulent year.  
Learning to breathe 
Nya Monroe had big plans for after graduation—plans that required a mouse-ear headband. "I am probably Disney's biggest fanatic," she says.  
Monroe, who majored in creative writing with concentrations in creative writing and multicultural U.S. literature, had signed up to enter the Disney College Program, a five- to seven-month program for college students and recent graduates who want to work at the park, complete some coursework, and live on a Disney campus. 
"They don't accept everybody," Monroe says. "You can only imagine how many people apply. I was fortunate to be one of the few people granted the chance to work with them."  
Not long after Hollins transitioned to online classes, Monroe received an email explaining the Disney program had shut down due to the virus. She shrugged off the sting. "It's a pandemic, so you expect things to fall through because it's unprecedented," she says.  
Even after all these months of social distancing, Monroe remains determined to stay positive. "Honestly," she says, "everything with this pandemic I'm taking as a blessing in disguise."  
As a college student, Monroe maintained a meticulous, color-coded planner. "I am very set on what I have planned," she says. "Everything has an order to me."  
The pandemic forced Monroe to take her intensity down a notch. "I've become more grounded, which is good for someone coming straight out of college because I feel like in school we're like chickens with our heads cut off because we're moving around really fast all the time," she says. "I was able to relax and get a gauge on what I'm interested in and what I want to do." 
For now, what Monroe wants to do is to teach English online to elementary-age kids in China. Because of the time differences, Monroe begins teaching at 5:30 a.m. "As someone who designed their entire college schedule around not getting up before 10 a.m., it's a bit of a struggle," she admits. "But I enjoy it."  
Even so, Monroe plans to spend the next few months thinking about what other avenues she might pursue with her career. "I want to be open to every possibility," she says.

No more normal?  
 "I haven't been able to find a job in my field," says Rowan Cloud, who majored in art history and psychology at Hollins.  
She had hoped to go to work in one of Washington, D.C.'s many museums after graduation.  
Instead, Cloud and her partner Ava Zechiel, also a member of Hollins' class of 2020, moved in with Cloud's family in Elkton, Maryland. A communication studies major at Hollins, Zechiel had hoped to work at a nonprofit after graduation. 
"I was nervous," Zechiel says about making the move. "I didn't know what to expect. I didn't know when anything would get back to normal, if that makes sense." 
When state restrictions eased, allowing retail stores to open in May, Cloud went to work at a gift shop in nearby Chesapeake City, where she'd worked, off and on, since her sophomore year in high school.  
In June, a member of the Chesapeake City District Civic Association approached Cloud with an invitation. A woman who'd been active in their group had recently died. She'd spent years collecting items to include in a museum celebrating the city's history. Would Cloud be willing to help turn the woman's dream into a reality?  
"Chesapeake City's history goes back hundreds of years," Cloud says. "There are a couple of books here and there about Chesapeake City, but nothing where you can walk in and actually learn about it." 
Cloud said yes and recruited Zechiel to help with archiving the hundreds of items already in the collection.  
"Did I think I would be opening a museum at the age of 21?" says Zechiel. "Am I ecstatic about it? Yes."  
At the end of September, the pair had to take a break from their efforts when Cloud's father contracted COVID-19 from a coworker. Both Cloud and her mother tested negative for the virus, but both felt sick. "We were lucky enough to have very mild symptoms," she says.  
Zechiel, fortunately, never tested positive and never experienced any symptoms. "Thank God she didn't get it," Cloud says.  
After quarantining at their house for about a month, the pair again began working with other volunteers to archive items and raise funds for the new museum. The group hopes to open the museum in May. "It's really slow, but we're getting it done," Cloud says.  
While both women have enjoyed working to preserve the city's history, they feel like their lives have been put on pause. "Nothing is back to normal, and we're this far out," says Zechiel.  
"I love my hometown," Cloud says. "But it is time for me to move on to D.C." 

Dog days 
Grace Miller spent 2020 with the cutest possible traveling companions, ranging from the tiniest Pomeranian to a 150-pound mastiff to a kitten so fluffy she looked like a miniature cloud.  
Miller, who double majored in psychology and theatre at Hollins, decided to put her plans to get a master's degree in drama therapy on hold during the coronavirus crisis. Instead, she's helping her father run his pet transport business.  
"A few weeks ago I went to North Dakota," says Miller, who lives in Woodbridge, Virginia. "I've been down to Texas, up to Maine, down to Florida, and everywhere in between."  
The business, cheekily named Let Pop Do It!, took off during the pandemic. "Everyone is stuck at home," Miller explains. "They all decided, 'I have six weeks to train a puppy or kitten.'"  
It didn't hurt that Miller's unconventional father recently blew up on TikTok (@ralphmilleriii), where he regularly showcases the cute animals he's transporting. "Business has been booming," Miller says.  
For most of her work hours, Miller is in the car with the animals. When she does get out, she always wears a mask. She figures her work is safer than a lot of other jobs. Plus, it's fun.  
"I get to see a lot of cool places in the country," she says. "I get to meet a lot of cute animals. Just last week we were dropping off a dog in Naples, Florida, and I got to see the sun set on the Gulf of Mexico, so that was really beautiful." 
Her favorite transports so far? Six St. Bernard puppies who needed to get from Kentucky to Pennsylvania. "They're just such little hams," she says.  
As much as she enjoys the work, Miller sees this as a temporary pit stop. "I'm planning on working for him until COVID-19 calms down, and I can do grad school the way I want to instead of doing it online or under COVID-19 restrictions," she says.  
Miller feels less sad about graduation being postponed than missing out on spending the last weeks at Hollins with her friends. "We thought we had so much more time, and we had so many things we wanted to do," she says.  
That said, Miller makes a point of not dwelling on what she lost. "I feel like if I put too much energy into being negative about anything and everything, I'm just going to end up bitter," she says. "So I'm trying to keep a positive outlook. It's just hard sometimes when I'm traveling around the country and I still see people without masks." 

Virtual learning 
When Hollins closed the campus in March, Josepha "Epa" Cabrera returned home to Saipan in the Northern Mariana Islands. She visited with her family until August, when Cabrera, who double majored in business and economics at Hollins, moved to Rhode Island, where she's now working toward a master's degree in public health at Brown University. 
So far, all of Cabrera's courses have been taught virtually. "I feel like I'm part of the program, but I also feel a little disconnected just because there's not that personal connection," she says.  
Classmates sometimes gather for socially distanced picnics, and Cabrera lives with two other students. Still, her days often seem to bleed into one another. "It's difficult to just be on your computer the entire day," she says.  
Cabrera is a Gates Millennium Scholar, which is a prestigious program that provides financial aid for undergraduate and graduate studies for promising students of color. Eventually, she plans to complete a Ph.D. in public health, but she'll probably take a few years off to work in the public health field after finishing her master's. Long term, Cabrera hopes to work as a global infectious disease analyst or a database administrator for global public health research. 
It's been interesting, she says, to be studying the many factors that affect human health while watching the U.S. government battle COVID-19. "Politics has played a huge role in it," she says. "I think COVID-19 could have definitely been handled in a different way." 

Keep going 
 Kalyn Chapman wanted to begin climbing that career ladder after graduation. "My dream job would have been event planning for the big rodeos that go on across the country," she says.  
But then, COVID-19 prompted the world economy to plunge into recession. Chapman, who double majored in business finance and economics at Hollins, decided to return to the Wyoming ranch where she'd worked the summer before. 
"I pretty much took people on trail rides," she says. "I was 30 minutes outside of Yellowstone, so that was pretty cool."  
In Wyoming, Chapman could sort-of pretend the world was still normal, but that ended when she returned home to West Jefferson, North Carolina, at the end of the summer.  
"When I was in Wyoming," she says, "they're so rural there and spread out that I forgot about it sometimes. And then, coming back home, it was kind of like waking back up and seeing 'Oh, this is still going on.'"  
Chapman feels lucky she was able to find a job working remotely in billing for a multispecialty medical practice group. "Working in my pjs is always a plus," she says.  
That said, Chapman hopes to soon be able to move into a career in the event planning field. She's currently completing a remote internship with the National Western Stock Show, where she's helping stage a virtual art exhibit and sale. "I'm hoping the internship will lead to bigger things and be a gateway for my career," she says.  
While Chapman acknowledges the year has been difficult, she also wants her Hollins classmates to keep their chins up.  
"A lot of people focus on the negative parts of what has happened," she says. "But we all did make it through it. And there's a way to keep trucking and see this thing to the end, even if life doesn't look exactly the same as it did when we started."  

Staying Positive 
 Like a lot of members of Hollins' class of 2020, Victoria Trumbo goes out of her way to be positive when asked what it was like to see her college graduation postponed due to an unprecedented, worldwide pandemic.  
"The bitterness—and I say bitterness lightly—was definitely not being able to have family around and really celebrate the journey that led me to graduation," says Trumbo, who majored in English with concentrations in creative writing and multicultural U.S. literature. 
A virtual offering, titled "A Prelude to Commencement," made by Interim President Nancy Gray and members of the Hollins faculty and staff also helped ease the sting, Trumbo says.  
"It was a joy to get the individual message from President Gray and to see my name scroll across the screen," Trumbo says. "It was still very fun even though, yes, I would have enjoyed the party celebration that would have happened in person, but it just gives me something even more wonderful to look forward to when it's safe to gather with family and friends." 
Trumbo's journey toward earning her college diploma included a short detour.  
After high school, the Broadway, Virginia, native attended Roanoke College for a year before dropping out. "It was not the right time, nor the right place for me to be pursuing an undergrad degree," she says.  
Over the next four years, Trumbo worked in retail and food service. Then, one day, she had an epiphany: "I think I'm ready to go to school." 
As a high school student, Trumbo had toured the Hollins campus. She decided to visit again.  
During her trip, Trumbo met with Mary Ellen Apgar '12, M.A.L.S. '19, then the director for the Horizon program. Apgar told Trumbo she would make a perfect fit in Hollins' Horizon program for adult women.  
While it wasn't christened with the Horizon name until 1987, Hollins launched the program for nontraditional-age women who'd put off obtaining their bachelor's degrees to work or raise a family back in 1974.  
Horizon students get extra support from Hollins' faculty members and staff who understand the needs of students who've taken a break from formal education. It's a symbiotic relationship, as the Hollins community also benefits from the perspectives of Horizon students who, over the years, have ranged in age from twentysomethings to senior citizens.  
"The experiences and thoughts and ideas they bring to the classroom really help to enrich the environment," says Patty O'Toole, Hollins' vice president for student affairs and dean of students.  
For Trumbo, being a part of the Horizon program meant she felt like she fit in from her first day on campus—even if she was a few years older than many of her classmates. "I had the great privilege of getting to know some absolutely wonderful human beings," she says of her Horizon compadres, who often hung out in Eastnor, the stately two-story brick house on campus where the program is housed.  
While Horizon students all bring different experiences and backgrounds to Hollins, Trumbo says she and her peers in the program shared so much in common. "It was that aspect of it, the community aspect, that's probably one of my favorite things."  
After working for a few months as the interim director for student engagement programs at Hollins, Trumbo moved to Pittsburgh in August to begin work toward a Master of Fine Arts in creative writing at Chatham University.  
"The program is wonderful," Trumbo says. "It's similar to Hollins in that it's a very intimate, small cohort of students and faculty, which I love."  
Although classes have been held over Zoom, Trumbo, who wants to eventually write and teach at the college level, feels connected to the other students and her professors.  
"The faculty have all been wonderful and so understanding that this semester is not like anything else we've ever experienced," she says. 
Beth JoJack '98 lives and writes in Roanoke.