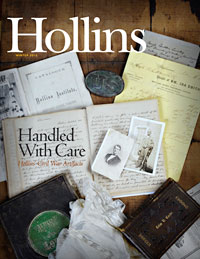 Editor's note: Winter 2012 issue
As the country marks the 150th anniversary of the Civil War, we at Hollins are taking stock of the institution's own small role in the story. In this issue, Karen Adams (who holds two Hollins M.A.s and one M.F.A.) collaborated with Beth Harris, special collections librarian for the Wyndham Robertson Library, to produce "The Lasting Importance of Ephemera," a story about some of the war memorabilia in the Hollins archives.
The rest of the issue touches on a few of the things that make Hollins so endlessly fascinating: an essay by President Nancy Gray about what's next for the institution, now that we have successfully ended a record-breaking campaign; a moving essay about the power of poetry by Professor of English Eric Trethewey; a profile by an alumna who writes for a living (Sarah Achenbach '88) about one of her classmates, who take photographs for a living (Gigi deManio); and an essay by Professor of History Ruth Alden Doan about a faculty reading group that, Ahab-like, pursued the meaning of an enduring classic: Moby-Dick.
A reminder about the class letters section: for now, those can only be found in the printed edition of the magazine.
Please e-mail me with your questions or comments.
Jean Holzinger M.A.L.S. '11
jholzinger@hollins.edu
Editor