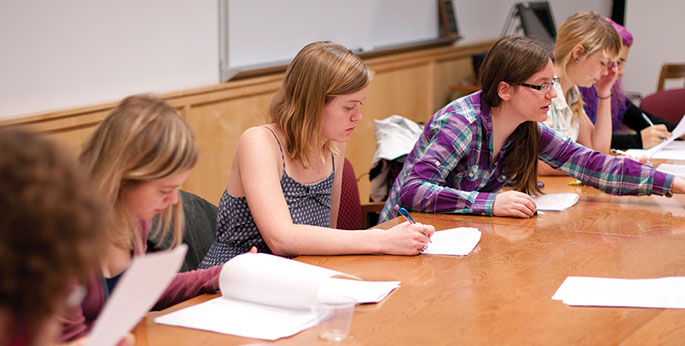 The first round of judging took place in January. Undergraduates and M.F.A. students assessed more than 1,100 poems.
This year marks the 50th anniversary of the Nancy Thorp Poetry Contest, inspired by a gifted writer who died too young.
By Eve Strillacci M.F.A. '13
In the opening poem of her book, A Face Upon the Sun, a collection of poems and notes compiled by her parents upon her death, Nancy Thorp wrote, "The only fear I have left is that/you will not understand me." Hollins students and alumnae may know the name of Nancy Thorp, but probably not her story. What follows is a look at a woman who died too soon, but whose love of poetry has inspired other young writers for 50 years.
Born August 31, 1938, Thorp was the second child of Jane and Francis Thorp of Philadelphia and younger sister to brother Tilman Ramsey Thorp. She attended the Germantown Friends School, where she was a member of the choir, and as an older student the editor of The Pastorian, the school's literary magazine. It seems that even from an early age Thorp wrestled with and rejoiced in the struggle that unites Hollins students: the longing to connect.
Thorp was enrolled at Hollins from 1956 to 1958. She participated in choir and drama, but the fledgling writer dedicated the most passion to her creative writing courses, many taught by Professor Louis D. Rubin, Jr., who would later help Thorp's parents assemble her posthumous book. In a letter to Dean Mary Phelgar Smith (from the university archives, housed in the Wyndham Robertson Library), Jane Thorp voiced concerns that her daughter could be a bit "lazy" when not compelled to work, but Nancy Thorp proved herself to be a fervent student of writing. She was a staff member for Cargoes, Hollins' literary journal,and kept notes and drafts of poems and essays, many of which have been preserved in A Face Upon the Sun.
Thorp's keen mind and agile sense of humor — as well as her sensitivity and compassion — are evident in her writings. In a 1959 letter, she wrote to Dean Smith requesting a transcript of her "dreadful grades," and in an exit survey for Hollins she advised that the school "make sure the girls know they are there to learn—not get married. Emphasize the worth of knowledge for its own sake!" Her notebook, also preserved in the Hollins archives, includes many lighthearted musings on everyday life, such as the delightful piece titled "A Responsive Ode on Mustard."
A Face Upon the Sun also showcases Thorp's exploration of more serious themes. Her great joys and apprehensions for the world come through in the short poem "For the Moment Anyway," which she published in Cargoes in 1958. She writes:
For the moment, anyway
Sound was splintered air, which fell
Unbeckoned, on dry olive leaves, and
Steeped itself in stars, silent and swinging.
The unaltered Word, whirling somewhere
In the imperturbable orbit of circumstance,
Waited, and did not wait,
To be mangled, hallowed, and desired.
Thorp left Hollins in 1958, citing "growing pains" in her exit survey, and worked for a year as a hospital secretary in Philadelphia. She then resumed school at the University of Pennsylvania, from which she graduated with honors in 1961. She worked as a public relations writer for radio station WCAU until her death in 1962, at the age of 24. She was killed in an automobile accident just weeks before she planned to return to Hollins for a visit.
Nancy Thorp's Lasting Legacy
Entries for the high school Nancy Thorp Poetry Contest have been flooding in ever since the Thorp family created the contest in 1963. Judges select the best poem, six finalists, and roughly 50 runners-up, choosing from work submitted by students from hundreds of high schools. Female juniors and seniors may submit up to two works of poetry and must have a faculty sponsor from their high school. The winning poet receives $250 and an all-expenses-paid trip to read at the Lex Allen Literary Festival in the spring, as well as publication in Cargoes. Finalists receive $50 and publication in Cargoes.
The Nancy Thorp Poetry Contest has changed over the years. Although it was originally established as a prize exclusively for women, the contest was opened to men in response to Title IX and did not revert to its original regulations until 1993. At times, the contest has been open to freshmen and sophomores, sophomores and juniors, or juniors and seniors, as it is now. The introduction to Thorp's book describes the prize being awarded to a female high school student "east of the Mississippi River," but today the contest receives entries from all over the United States, as well as from several other countries.
In order to keep the contest in student hands, poems are traditionally judged by English majors and graduate writing students. In a 1993 letter to participating high schools, R.H.W. Dillard, then the chair of the English department, wrote, "We're very proud that the contest will be judged, as it has always been, in open debate and discussion among the students… not by a panel of professors or an outside judge."
One goal of the contest is to make young women aware of what Hollins has to offer. Some contest winners have gone on to be Hollins students, and even Hollins faculty. Cathryn Hankla '80, M.A. '82 was a second-place contest winner in 1976. She is now a Hollins professor of English and the author of several books. Julia Johnson '93 was a second-place winner in 1989 and is now an associate professor of English at the University of Kentucky. Donna Shoemaker '70, a second-place winner in 1965, served as a contributing editor for the Johns Hopkins alumni magazine and was for more than 22 years the editor of the Alumni Magazine Consortium. And Karen Osborn '79, this spring's Louis D. Rubin, Jr. Writer-in-Residence, won the campus prize while she was a student.
Compelled to Speak
When one is away from the university, it is easy to fear the world will let literature, and poetry in particular, fall by the wayside. But one Wednesday in February, up to my elbows in the first round of the 1,100+ Nancy Thorp Poetry Contest entries received in January, I banished that fear forever.
As an M.F.A.candidate at Hollins, I was given the opportunity to help judge last fall's contest, the 50th since it began. After a quick breakfast I passed several hours in pleasant company, reading and rereading entries from a bulging box faculty supervisor Elizabeth Poliner had heaved onto the table early that morning. The entries were touching, honest, skillful commentaries from high school students who, like contestants before them, most likely believed that writing is a way of thinking, a way of connecting, the key to understanding life.
Through the warm blush of sugar and caffeine, I began to feel a sense of déjà vu. I knew these poems. I knew these girls. They were speaking to me in the voices of my sisters, my young cousins, my childhood friends. They, just as Thorp wrote in "Dies Irae," felt "compelled to speak." And what could be more important to the nascent mind than the act of self-expression?
Poetry matters to them, and so it continues to matter to us.
2013 Nancy Thorp Poetry Contest Winner
Oncology
The bones are swimming to the surface
of your skin like fish.
I say this instead of the word
that hooks in my throat and would mean we can
no longer ignore this. I was not scared
until I saw your back, your shoulder blades nosing
the skin, rising for air.
Victoria White
Milton Academy
Milton, Massachusetts
Originally published in the 2013 Cargoes; reprinted with permission from the author and editors. Hollins' first literary magazine, Cargoes strengthens the campus literary community by providing students the opportunity to publish their work and extends its reach through hosting an annual national undergraduate competition in both fiction and poetry.
Eve Strillacci is an M.F.A. candidate in creative writing with a specialization in poetry. She is from West Hartford, Connecticut, and comes from a long line of teachers and storytellers.