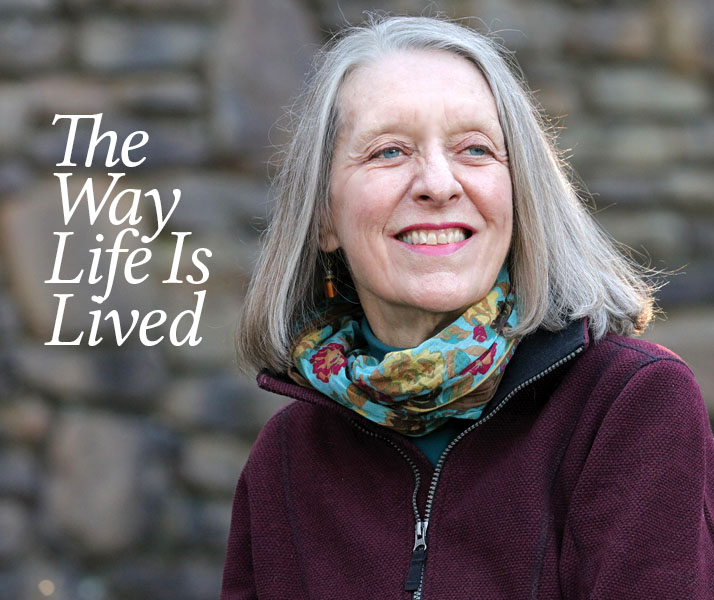 The Way Life is Lived
In her new memoir, Mary Carter Bishop M.A. '89 brings to light a family secret and explores the pressures—cultural, religious, and economic—that kept it hidden so long.
By Martha Park M.F.A. '15
In her application to the graduate creative writing program, Mary Carter Bishop asked Hollins to unbolt her brain. Writing for newspapers had locked her into a "tight, utilitarian prose," Bishop says, "and for good reason. Our readers are in a hurry."
For two decades, Bishop had been climbing the journalism ladder: from writing obituaries at The Richmond News Leader, to graduate school at Columbia University's School of Journalism, then to work at the Charlotte Observer, and finally the Philadelphia Inquirer, where Bishop was assigned to a team of reporters covering the Three Mile Island nuclear disaster.
"Our editors put a small army of reporters and photographers on the story for weeks," Bishop says, "We tracked down workers, meeting them at their homes when they got home from work, sometimes in the middle of the night." The Philadelphia Inquirer staff, including Bishop, was awarded a Pulitzer for their work. By 1982, ready for a break, Bishop rented a cabin outside Lexington, Virginia. "I hadn't planned to stay, but I did," she says, "and I never returned to big-city journalism."
When Bishop was offered a position at what was then The Roanoke Times & World-News, covering Lexington and surrounding counties, she jumped at it. "I didn't know much about it, but my savings had run out," Bishop says. After working for papers in larger cities, Bishop wasn't sure there'd be much news to cover. "I'd forgotten that wherever there are people, news is all around and lots of it runs deep."
Bishop ran a one-woman bureau out of Lexington until her move in 1987, which brought her to Roanoke, and to Hollins. "The reading as well as the writing at Hollins woke me up," Bishop says, "From the back of [Professor of English] Richard Dillard's American lit class, I marveled at his mind, his wit, and his casual, self-effacing style. In writing workshops with [English professors] Cathy Hankla ['80, M.A. '82], and Jeanne Larsen [M.A. '72], I wrote my first and only short stories."
Bishop published one of those short stories in Elvis in Oz: New Stories & Poems from the Hollins Creative Writing Program, an anthology that featured writing by such Hollins graduates as Annie Dillard '67, M.A. '68, Madison Smartt Bell M.A. '81, Natasha Trethewey M.A. '91, Jill McCorkle M.A. '81, and Lee Smith '67. The protagonist in Bishop's story, "Offerings to Jackie O," was inspired by her half-brother Ronnie, a brother she didn't know she had until she was in her early 30s. While applying for a passport, Bishop discovered her mother's secret there in the government paperwork—that the quiet, lanky boy who'd once slept in the barn was not a cousin, as she'd been told, but her mother's first child, conceived when her mother was a teenager.
Ronnie was 10 years older than Bishop and had spent much of his childhood with a foster family or in a boys' home, but when he was a teenager, he spent some time in Keswick, Virginia, where Bishop's parents worked in the estates of wealthy heirs and heiresses. Bishop finally reunited with Ronnie during her first semester at Hollins, visiting him in the Vinton barbershop where he worked.
When she returned to the newsroom, Bishop says, "I probably was more observant in my reporting, with a keener eye and ear, than I was before Hollins." Her career after Hollins saw several highlights: In 1989, Bishop received a George Polk Award for her coverage of illegal pesticide use; in 1995, The Roanoke Times published her special report on the history of urban renewal in Roanoke—a devastating, blow-by-blow account of a community all but leveled by racist housing policies and displacement; and in 2001, Bishop won a federal grant to do research on eugenics survivors. "I left the paper and never went back," she says. "I interviewed about 30 survivors and planned to write a book about them."
But when her elderly parents' health began to fail, Bishop stepped back from her research in order to care for them until they passed away. When Bishop returned to her work, she wondered where to focus her attention. Ultimately, she settled on Ronnie. "Other people have written about eugenics; if I didn't write Ronnie's story, nobody would ever know about him," she says.
Don't You Ever takes its title from the instruction Bishop's mother gave Ronnie never to call her "mama." And though there's nothing Bishop could have done to change Ronnie's fate, she takes responsibility for his abandonment, caring for him in the last years of his life, through a rare hormonal disorder that caused his limbs and his facial features to grow long and distorted (a fact illustrated poignantly by Ronnie's driver's license photos, included in the book's chapter headings, which show his face changing dramatically over time).
All of Bishop's writing—whether journalism, fiction, or memoir—exemplifies a reporter's eye for accuracy and clarity, and a novelist's attention to the psychological import of objects, clothing, gestures, and expressions. These gifts are just as evident in Don't You Ever, from Bishop's description of her mother's thick, fleshy ankles and her pronunciation of words like pretty (priddy) and sweetheart (swee-dart); her father's droopy eyes, love for animals, and his childhood nickname for Bishop—Pie, short for Sweetie Pie—the nickname Ronnie still used when he and Bishop first reunited in his Vinton barbershop.
Bishop knew her brother for only three years before his death, but his story troubled her own, casting into new light everything closest to her: her home, her family, and her life's own trajectory out of poverty and the lush hills of Keswick. As she got to know Ronnie, Bishop toed the line between reporter and sister, curious about Ronnie both as a subject and as long-lost family, someone at once totally unknown and strangely familiar.
"If Mom and Ronnie were here now and read the book," Bishop says, "I think they'd quibble over details, but I believe they would feel vindicated by their stories being out there. Ronnie would probably say: 'Pie, what the hell you writing about me for? Don't you have anything better to do?' And I'd say: 'No, I don't.'"
Bishop notes that her time at Hollins affected her decisions as she crafted her memoir. "Dillard back then talked a lot about how American writers are stuck in a structure of the narrative arc in the middle and an ending that neatly ties up all the loose threads. This, of course, is not the way life is lived." Dillard's comments were ringing in Bishop's mind as she wrote the book's final lines. It's an ending that does not offer any conclusions or tidy lessons but feels true to the way Bishop is still—and might always be—thinking about her family, their story, and her own.
Martha Park is a writer and illustrator from Memphis, Tennessee. She received an M.F.A. from Hollins' Jackson Center for Creative Writing and was the Philip Roth Writer-in-Residence at Bucknell University's Stadler Center for Poetry.