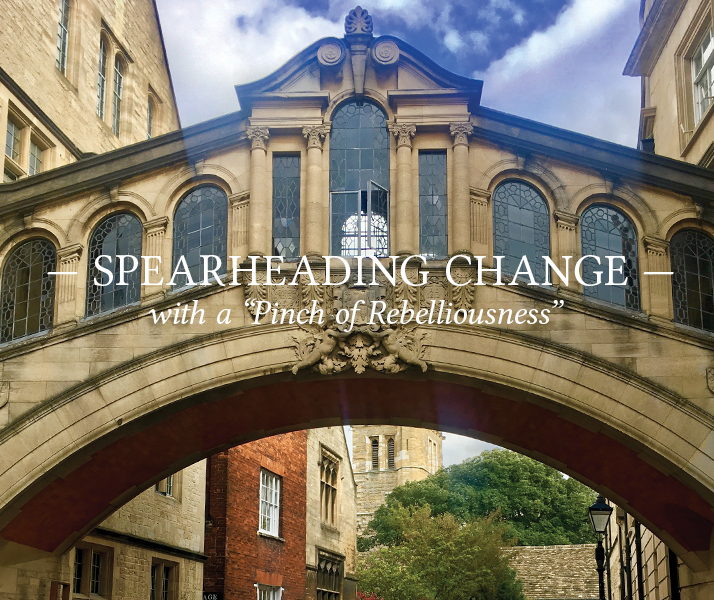 Spearheading Change — with a "Pinch of Rebelliousness"
Bivishika Bhandari '13 hopes to use her graduate studies at Oxford as a springboard to further women's rights and environmental activism in her home country.
By Jeff Hodges M.A.L.S. '11
In 2008, Nepal's newly formed Constituent Assembly (CA) voted almost unanimously to bring to an end the country's monarchy, which had ruled the Himalayan nation for hundreds of years. In its place, the CA established a federal democratic republic that divided the country into different states with autonomous governments to augment a centralized federal government.
As the proposal for putting the republic into effect stated, "Nepal has turned into an independent, indivisible, secular, inclusive, federal democratic republic with sovereignty and state authority vested in the people."
Eleven years later, Bivishika Bhandari, a native of Nepal who graduated from Hollins with a degree in gender and women's studies (GWS), says her home country still has much work to do to make that proclamation a reality.
"Although power has been reorganized to local bodies, the political system continues to exclude women and nature during developmental planning and decision-making," she explained. "The challenge my country faces is building inclusion. Because of intolerance from local leaders and glass ceilings imposed by those who have been corrupted by a patriarchal mindset, women suffer from a lack of representation."
Bhandari is leading two major projects in Nepal to highlight women's rights and increasing environmental degradation: a social enterprise designed to create jobs for Nepalese women, and a network in which spaces are created where diverse women and girls can talk about taboo issues related to their bodies, gender, and sexuality. "The social enterprise is part of a larger nonprofit called the Himalayan Climate Initiative, which is intended to create a climate-smart world with sustainable solutions," she said. "The challenge for me was to create green employment opportunities for women, and to do that I started and operated stores to promote green products made by women entrepreneurs."
Bhandari trained, mentored, and engaged women in discussions to reimagine what development should look like in Nepal and led campaigns to ban plastic bags. At the same time, she was alarmed by the potential impact of road expansion projects and efforts to build a new international airport, which would result in the unnecessary clearing of millions of trees. "My activism and social entrepreneurial experience opened my eyes to larger cross-cutting issues, especially between women and the environment."
Bhandari was intrigued by the idea of further exploring the interconnectedness between social structures and the ecosystem. She applied to and is currently enrolled in Oxford University's Nature, Society, and Environmental Governance (NSEG) program. This one-year Master of Science degree in the institution's School of Geography and the Environment describes itself as "grounded in the conviction that responses to global challenges requires researchers and practitioners trained in the social sciences, with the ability to think flexibly across disciplinary and sectorial boundaries. This is not an 'environmental policy' programme—it is a programme that will prepare you to grapple with contemporary global challenges from the perspectives of critical social theory informed by a range of disciplines."
At Oxford, Bhandari has been accepted into the Louis Dreyfus Weidenfeld and Hoffman Scholarship and Leadership Program. "As a part of the scholarship, I get placed in an internship after graduation," she says. "The program also offers various seminars to equip scholars with leadership tools."
Bhandari's goal is to help Nepal "re-envision an inclusive developmental system, one that acknowledges the fact that investing in our environment helps grow a green economy and a harmonious community. We are rich in biodiversity and wildlife, and there are many ways in which we can prosper by conserving and working with nature."
She believes her Hollins experience and especially her GWS education are the foundation of her motivation to foster collective work on a solution whenever there is a problem and wherever inequalities and injustices are systematically embedded.
"I was never the number-one student in my class, but I am a passionate, dedicated, and action-oriented person with a pinch of rebelliousness who learns best from experiential engagements. Hollins provided me with a nurturing and inspiring space where I could come into my own, and GWS helped me to be courageous, compassionate, and wise. The department enabled me to understand how power structures permeate political structures, and that personal is political.
"I really began to see the implications and strength of that perspective when I returned to Nepal after graduation, and I used it to inform my work and push the women's rights and empowerment movement further. I hope to be able to do the same after my graduate studies at Oxford."
Jeff Hodges is director of public relations.