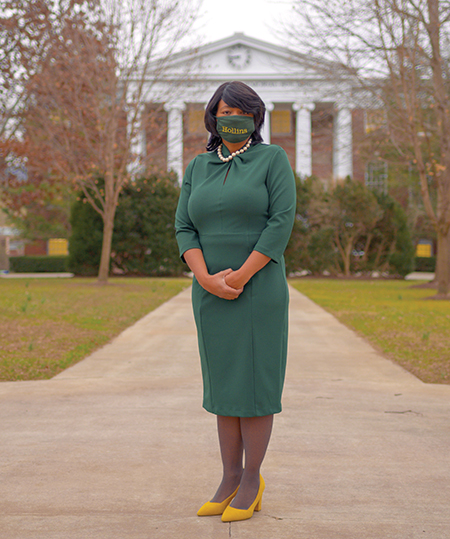 President Mary Dana Hinton's Big Vision for Hollins 
A strong liberal arts advocate, Hinton also plans to focus on educational equity and reimagining how the university serves future students.  
By Jeff Dingler 
When Hollins' new president, Mary Dana Hinton, Ph.D., first attended an all-women's educational institution back in high school, the moment was nothing short of life-changing for her. "It was in that space at St. Mary's (School in Raleigh, N.C.) that I developed the belief that I'm not in competition with other women, that another woman's success is actually my success," Hinton told Hollins magazine. "Even if we don't believe the same things, I need to support and cheer for other women. I've held on to that, and it's helped me not see life as a zero-sum game." 
Now Hinton is bringing that equitable attitude, and years of experience in educational administration, to Hollins as the school's 13th president and the first Black woman to lead the university. Officially taking over in August 2020, Hinton commands the helm of the nearly 200-year-old institution at an interesting juncture in its history—during a once-in-a-century pandemic that's demanded swift and significant restructuring of campus spaces and adjustments to a greater online learning component, and also in the midst of some of the worst political tension and racial unrest the country has seen in decades. In spite of these formidable obstacles, Hinton pushed ahead not just with Hollins' regular schedule of classes for the fall term, where 30 percent of courses were taught virtually and roughly one quarter of students attended remotely, but also with events and other plans to make educational equity one of the centerpieces of her presidency. "My mission in life is around educational equity," explained Hinton. "I want any person who desires an education to be able to get the deepest, richest education that they can." 
So what exactly does educational equity translate to on Hollins' campus? Alumnae/i and students should look to two key events that took place during the Fall 2020 semester. First was a special dialogue, part of the university's Distinguished Speaker Series, held on September 22 between Hinton and bestselling author of The New Jim Crow Michelle Alexander. During their hour-long, virtual sit-down, which was livestreamed via Zoom to the full Hollins community, Hinton and Alexander discussed the 10th anniversary of The New Jim Crow in addition to racial tensions in the U.S. and social activism both on and off college campuses. The second important event that Hinton helped spearhead was Leading Equity, Diversity, and Justice Day (Leading EDJ) on October 23 (see article on page six). This first-of-its-kind, all-day conference included 35 different "sessions" of seminars, talks, and discussions, all related to the inaugural year Leading EDJ theme of racial justice and presented by guest speakers and members of the university community. Classes were called off, and all employees were granted the opportunity to participate in the day. More than 550 students, faculty, staff, alumnae/i, and trustees participated.  
"I'm proud of what our community was able to accomplish with Leading EDJ," said Hinton about the new initiative. "Inclusion impacts every single student we serve, and if we don't address issues of inclusion, we are not helping our students thrive. They're going to be leaders, community members, volunteers, teachers, and doctors, and for them to do any of those things well, they have to be able to see that inclusion is essential. So we are going to talk about it a lot, and that's not about my personal agenda—that's about how Hollins prepares students to be successful. That's a priority much like embracing the liberal arts is a priority, much like amplifying women's voices is a priority." 
Started in 1842, originally as Valley Union Seminary, Hollins became Virginia's first chartered women's college just a decade later, making it one of the oldest women's colleges in the country. And Hinton knows her stuff when it comes to women's education. In addition to her time at St. Mary's School—Hollins' new president hails from the Tar Heel State—Hinton spent the previous six years as president of the College of Saint Benedict (Saint Ben's) in Saint Joseph, Minnesota, an all-women's college partnered with the all-men's Saint John's University. Under her leadership, Hinton helped complete a comprehensive fundraising campaign, which ended up raising $110.4 million for Saint Ben's, the largest fundraiser in the school's history. Hinton was named president emerita upon her departure from Saint Ben's. 
Securing a sustainable financial position, leading a national conversation about the enduring value of the liberal arts, and enhancing Hollins' market position—leadership tasks familiar to Hinton—are priorities in her work at Hollins. And, Hinton notes, there is a special leadership call as it relates to Hollins and inclusion. Hollins has long wrestled with the role of the enslaved in its founding and how to incorporate that legacy into its history. Hinton encourages the work of engaging that acknowledgment and embracing the steps needed to reconcile our past as we look to our future. "And that's really going to be my goal moving forward: To recognize our legacy and to figure out what our future needs to be. What do we owe our mission, our history, and ourselves as we plan for a vibrant future?" 
Regarding that future, Hinton is planning on turning Leading EDJ into an annual, campus-wide happening. She's already met with faculty and university leaders to look at feedback from this year's event and to figure out next year's theme and schedule. Also, in December and January, Hinton held a series of discussions with faculty and staff about a new, ambitious campaign to imagine "who we need to be" to serve the next generation of students. 
"We're in a wonderful moment for Hollins," said Hinton about this new project, which is still in its early planning stages, "a moment when we can take our 179-year legacy of courage and inclusion and reimagine it for the changing national demographic makeup of college students." For the undergraduates, Hinton said, that entails examining what the university's diverse and talented students need to thrive, especially given that the next generation of students will have had their educational progress meaningfully disrupted due to COVID-19. For the small but eclectic group of graduate programs at Hollins, Hinton said that the school must reimagine how these programs are supported and how to more meaningfully engage with graduate students and faculty. Hinton even wants Hollins to reimagine its place in the broader Roanoke region. "When we think about being inclusive, part of that has to do with our location in Roanoke, being an active part of that community," said Hinton. "Because I firmly believe that private education is and must be a public good." 
Having made educational equity a priority throughout her career, Hinton does not view this campaign or its goals as hers and hers alone. Far from it, actually. "I have the privilege of leading that conversation and cultivating and stewarding that vision but, ultimately, it will come from the Hollins community and the faculty, staff, and students, both at the graduate and undergraduate levels," said Hinton. "However we emerge out of this crucible moment, it will be a reflection of everyone in the community, not a single leader, because I believe a leader's responsibility is to help a community live up to its grandest aspirations. That will be my job, and I'm really excited for that work."  
"So we are going to talk about it a lot, and that's not about my personal agenda—that's about how Hollins prepares students to be successful. That's a priority much like embracing the liberal arts is a priority, much like amplifying women's voices is a priority." 
Jeff Dingler is a current creative writing M.F.A. student and marketing intern.