Overnight Sensations, Lasting Partnerships
Sometimes the best ideas take shape under a little pressure. Cue Todd Ristau, who designed and founded the Playwright's Lab at Hollins University, Hollins' playwriting M.F.A. program, and has served as program director since its launch in 2007. Back in 2006, however, Ristau was still working as a literary associate at Mill Mountain Theatre (MMT) and was tasked with a last-minute creative quandary.
"Mill Mountain Theatre was trying to figure out some kind of fun event to get community members and donors involved in new, nontraditional ways," said Ristau. "They were going to do something like a talent show, and I was asked to come up with something different." At the same time, Ristau was forming the playwriting master's program at Hollins, an intensive three-year degree emphasizing new-play development. "I wanted to steer [this new event] in the direction of everything that Mill Mountain wanted involving lifting up and celebrating new plays."
So Ristau took a little inspiration from some other theatre projects and came up with the concept of Overnight Sensations, a festival of original "timed" plays, all written, rehearsed, and staged within a single day. "I was under the gun to come up with an inventive idea," said Ristau. "So I took that feeling of being under the gun and incorporated that into our event."
Every summer since, six playwrights are randomly paired with six directors. The writers and directors then draw from a hat different prompts and pre-selected casts, and the playwrights have to come up with ten-minute plays overnight, which the theatre troupes, composed of actors and non-actors alike, present the following evening. These Overnight Sensations have become a must for the Blue Ridge summer theatre crowd. "It's a great immersion into the madcap mania that is any theatrical festival," said Ristau. "We just do it in a micro-brewed way."
"It's a terrific thing to have a collaboration between an academic theatre and a professional theatre so we can both contribute to the ongoing development of new work and each other's success."
Perhaps best of all, Overnight Sensations is completely free, "friend-raising not fund-raising," as Ristau puts it. The festival of mini-plays also serves as community outreach by casting Hollins students, faculty, and guest artists as well as lots of local talent and public figures such as former Roanoke Mayor Nelson Harris, local TV personalities Keith Humphry and Natalie Faunce Soucie, and even Mark Armstrong, artistic director of New York City's The 24 Hour Plays, one of the original timed theatre projects.
The creative collaboration didn't stop there, however. In 2013, Ristau worked with Producing Artistic Director Ginger Poole to launch the Hollins-Mill Mountain Winter Festival of New Works, which, true to its name, produces new, compelling works every January at MMT. (The last two years were held online because of the pandemic.) Many of the plays are selected from the Playwright's Lab, and a dozen or so guest professionals are invited to watch the staged readings and offer feedback to the student writers, directors, and performers. "One of the great things about the partnership is that it allows our students to get some experience in a professional theatre space," said Ristau.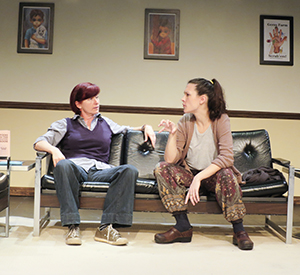 The Winter Festival of New Works actually evolved out of the sudden success of one work from the Playwright's Lab: Samantha Macher's Brechtian comedy The Arctic Circle (and a recipe for Swedish pancakes). "Jason Goldberg, founder of Original Works Publishing, was one of the guest artists," recalled Ristau. "He was so impressed by the play that he pledged to publish it as soon as it got at least six performances in a real theatre with a review in a legitimate paper." So Ristau approached his old friends at MMT and produced the play on the Waldron Stage. Famed Off-Broadway director Robert Moss, who was Hollins faculty at the time, volunteered to direct. Moss was equally bowled over. Renowned for having debuted numerous now-famous plays at his Playwrights Horizons Theatre in NYC, including Stephen Sondheim and James Lapine's smash hit musical Sunday in the Park and George and Alfred Uhry's classic comedy-drama Driving Miss Daisy, Moss brought The Arctic Circle to the Playwright's Horizon Theatre School in a space they call The White Box.
"We think of The Arctic Circle as the first Winter Festival, even though we didn't call it that then," said Ristau. "Based on that initial success and partnership between MMT and the Playwright's Lab, we decided why don't we just make this an ongoing thing, and we started doing a few shows at Mill Mountain every winter."
Since then, the Winter Festival of New Works has fostered other plays that have won awards and commendations and gone on to have successful runs in New York, Los Angeles, and beyond. In all, the Hollins-MMT collaboration has staged more than 120 individual works in the last 17 years. And even though Ristau is currently immersed in this summer's Overnight Sensations, he's already looking ahead to the next Winter Festival, which for the first time in two years will take place in person and also at Hollins Theatre.
"It's just a deeply meaningful and naturally evolving partnership," said Ristau about the relationship between MMT and Hollins. "And it's a terrific thing to have a collaboration between an academic theatre and a professional theatre so we can both contribute to the ongoing development of new work and each other's success."
By Jeff Dingler M.F.A. '22, a recent graduate of the M.F.A. in creative writing program.