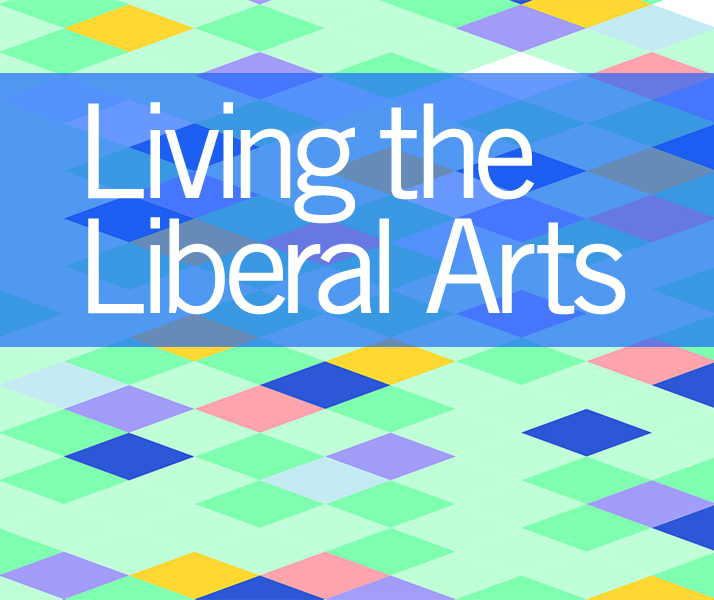 Living the Liberal Arts
Today's outcome-oriented, bottom-line-driven world tends to value a college education focused on a specific career. Given that bias, liberal arts institutions must continue to make the case for their brand of broad-based education, the kind that undergirds careers and the training a student might seek in graduate and professional school—not to mention a satisfying life of the mind.
Here we try to make that case, starting with an introductory essay by Professor of History Joe W. Leedom. Sarah Achenbach '88, an English major who has worked in various roles in higher and secondary education, while continuing to write the occasional book and article, profiles four alumnae who majored in one field and found careers in other fields, not unusual for the liberally trained student. "I am in learning mode every day," says Amanda Miller '86 in her profile.
Couldn't ask for more from a liberal arts graduate.
The Elements for a Richer Life
he financial crash of 2008 highlighted the importance of reliable employment: Many people slipped from the workforce and have found it very difficult to regain a foothold. In this stark world, a college education soon began to be seen as the key to a good job: In fact, "it is a prerequisite for the growing jobs of the new economy."*
But a liberal arts education is not intended as an elaborate entrance exam for a specific job—something that distinguishes the philosophy major from the person who trains in hospitality management, for example. Peter Paul Vergerius, who provided the ideology of a modern liberal arts education (in 1402), said instead that liberal arts are "adapted to all times and to all circumstances, to the investigation of fresh knowledge or to the re-casting and application of old." This makes it possible for liberal arts graduates to work in fields that have little direct relationship to what they studied because, in a sense, all subjects are related to all others. The core values of a liberal education—clear thinking, clear writing, and clear speaking—are equally valuable in all fields.
If liberal arts are good at fitting you into the job market, they're also good at fitting you into a different world. A liberal arts education encourages students to create values that work for them, rather than ones they work for. It may well be more important to raise happy children, or volunteer for useful organizations, than it is to seek preferment and promotion. The simplest way to balance different needs and different ethics is to study them, and live them, in the context of the liberal arts.
So one value of a liberal arts education is in the employment it helps you secure; but it is a lifelong education because it provides the elements for a richer life. Someday you will find yourself at the beach or on the bus, surrounded by people reading the latest James Patterson book, and you will be reading The Mill on the Floss. This doesn't make you better; but George Eliot will surprise and delight you your whole life, while Patterson's readers rush to get to the end. Recognizing the proportions (1:1.6) doesn't mean you're more awed by the Parthenon than your fellow tourists, but that you may appreciate its art even more. And if you know the relationship of the golden rectangle (1:1.6) to the Fibonacci series to the chambered nautilus, you've encountered, and entered, the world of the liberal arts.
*www.whitehouse.gov/issues/education/higher-education
Joe Leedom's love of pure liberal arts education happened to land him a really good job at Hollins.

What are the liberal arts?
The term comes from the Latin artes liberales, which means (according to dictionary.com) "works befitting a free man"—today it would be free person—broadly educated to be a contributing citizen. The word arts comprises the whole range of subjects—humanities, social sciences, natural sciences, mathematics, and creative arts—taught at liberal arts colleges.

Thriving in a Multifacted World
Justine Treadwell '01
Diplomat, U.S. Department of State
Major: English
ypical of a college first-year student: When Justine Treadwell fell in love, she fell hard. A Hollinsummer alumna, she chose Hollins for its creative writing program, concentrating almost exclusively on creative writing and English. By sophomore year, Treadwell was president of Grapheon, Hollins' literary society, passionate about poetry, and close to the English faculty. "Those relationships were so important to me," she says. "When I started college, I didn't know what I was capable of. I just blossomed at Hollins."
She knew she wanted an abroad experience—what better inspiration for a poet than to travel the world? Craving an intense cultural challenge, Treadwell spent the fall semester of her junior year in Kenya with the Vermont-based School for International Training. A few weeks into the program, she broke her ankle and became ill with intestinal disease. Hospitalized and unable to travel, Treadwell recuperated and then volunteered at an AIDS orphanage in Nairobi. After becoming close with a baby dying of AIDS, she questioned her English major and began dreaming of a career in international public service or public health. "When I returned to Hollins, I thought about changing my major, but I had practically met all the English requirements," she recalls.
Sticking with her first love, she ventured across Front Quad to take some political science courses. There she discovered the same support and mentoring she had with the English faculty (who were wholly behind her new passion). By first semester of her senior year, her Peace Corps application was submitted (with a request to return to Africa).
Life post Hollins has been a fulfilling series of passport stamps. She spent six years in Africa, first as an HIV worker in Malawi with the Peace Corps and then as a health policy advisor in Tanzania, experiences that crystallized her next move: "I became more interested in the connection between different policy issues—health, democracy, education, the environment, food security. We had money for AIDS programs but no money for clean water. I also noticed that the U.S. diplomats based in our embassy worked these issues from a broader platform and were in the room when history was taking place."
She returned stateside, enrolled in Tufts University's Fletcher School of Law and Diplomacy, and passed the U.S. foreign service exam during her first semester. Her first position in the State Department after receiving her M.A in 2009 was working in Washington, D.C., on U.S. bilateral relations with East African nations.
Treadwell requested Haiti for her next assignment, arriving in 2011 after learning French and Haitian Creole (she also speaks Kiswahili and Chichewa) at the State Department's National Foreign Affairs Training Center in Arlington, Virginia. In December 2012, she received the State Department's Superior Honor Award for her work facilitating dialogue among Haitian government officials, elite factory owners, and workers who were fired for trying to unionize. "This was a historic event," says Treadwell, who now is stationed in D.C. working on U.S.-Turkey bilateral relations. "The workers were rehired, and the result gave workers across the country hope. Everything I'd done up until then prepared me for that. Because of my education, I can look at the big picture and drill down to the driving factors causing an issue. Hollins taught me to push myself into new experiences, to discover who I am at my core."

Amanda Miller '86
Vice President and Publisher, John Wiley & Sons
Majors: Art History and French, Phi Beta Kappa
or Amanda Miller, charting her perfect career had nothing to do with vocation, vocation, vocation. It was all about location, location, location. A year into her first job after graduation, working in arts management in her hometown of Toledo, Ohio, Miller took her first trip to New York City to visit a friend. "I had an overwhelming feeling of coming home," she recalls. Three months later, she moved to New York with two suitcases and no job. "It's the bravest thing I've done in my life."
It wasn't her first time in a big city that felt like home. She spent a joyous junior year on Hollins Abroad­–Paris, a perfect fit with her love for and double major in French and art history. She also managed to pack in plenty of business and economics courses at Hollins, which she figured would be important in her career aspirations in arts management.
But a yen for the City That Never Sleeps changed that dream. Two days after arriving in New York, she went to a job agency and got placed immediately with Van Nostrand Reinhold, a publishing company. "I had never considered publishing, but it turned out to be a perfect fit," says Miller, who serves on the Hollins Alumnae Association's Board of Directors. She was offered the job of an editorial assistant and left five years later as acquisitions editor.
In 1995, she joined John Wiley & Sons as senior acquisitions editor, and today is vice president and publisher. Miller manages a large editorial team that publishes textbooks on such topics as architecture, interior design, preservation, construction, mechanical engineering, industrial engineering, and project management. "My liberal arts education and art history training is perfect for publishing," she explains. "A big part of my job is gathering and interpreting vast amounts of information to figure out what is relevant."
Just as her love for New York hasn't waned, neither has Miller's passion for the constantly evolving field of publishing. "Technology has changed how we deliver and think about content," she says. "My mission is to get knowledge into the hands of people who can do something with it." And her French background has come in handy: "My year in France and my fluency have given me sensitivity to cultural difference and awareness, so important when working for a global company." While she never dreamed that she would work for a company supporting the construction and design industries, she has yet to meet a challenge her liberal arts tools couldn't handle. "I am in learning mode every day. My Hollins education taught me how to learn, to think critically, and to communicate. These are fundamental tools to any career or major."

Catherine Wannamaker '96
Senior Attorney, Southern Environmental Law Center
Received Hollins' Distinguished Young Alumna Award in 2012
ometimes to figure out where you're going, all you have to do is look where you've been. Catherine Wannamaker's childhood on a farm in South Carolina inspired a love of science and the natural world, particularly the coastal waterways. Listening to her farmer father talk about environmental and agricultural issues instilled a passion for communicating about science and planted a seed about the importance of policies.
At Hollins, her initial plan was to combine all these interests into a double major in creative writing and biology. Wannamaker loved words as much as science, but as her course work progressed, she got more and more interested in and involved with biology. Professor Renee Godard helped to steer her course. "She had a massive enthusiasm and passion for ecology and conservation and a nontraditional view of what to do with a science degree," Wannamaker says.
With her degree in biology, Wannamaker's next logical step was graduate school, specifically an M.S. in zoology at North Carolina State University, but the experience left her questioning her path toward a Ph.D. "My thesis on low-dissolve oxygen on the Noose River in North Carolina tackled a real-world problem in environmental science, but after about a year I felt that all my scientific work was going into a black hole," she explains. "The policymakers weren't going to see it. I wanted a more practical application and wanted to shape policy."
Graduate degree in hand, Wannamaker won a fellowship on Capitol Hill, where she worked for two years on the National Oceanic and Atmospheric Administration's Commerce, Science and Transportation Committee. It was policy at the top level, but to have a real impact, she would need a law degree. Next stop: Stanford Law School.
Today Wannamaker is a senior attorney in Southern Environmental Law Center's Atlanta office. Her work focuses on litigation and covers many subject areas, including coastal and wetlands litigation. The skills she honed through Hollins' liberal arts program have served her well on the Hill, in the lab, and in court. "The value is being exposed to so many different fields and options in the curriculum," she says. "At a big university, I would have been on a purely scientific track. I've shifted around and found a niche that blends my science background, writing, and advocacy work. It's helped me to see that the world is a blending of different fields and expertise. The world doesn't work on a singular track."

Sandra Frazier '94
Founder, CEO, Tandem Public Relations and Marketing
Major: History
andra Frazier based her choice of major on three factors: the quality of Hollins' history courses, the strength of the department's faculty, and her father's opinion that history was an excellent foundation for any field. Twenty years later, it's proven a solid decision (and spot-on advice from Dad), even if she's never worked directly in a history-related field.
"It was excellent career prep," notes Frazier, who has worked in corporate and public relations since graduating. "I gained strong research and writing skills, and in the seminar-style classes, I learned to deal with criticism and to collaborate. Every day in my career, I work with people to come up with a solution."
Frazier graduated in December 1994 with every intention of going to business or law school. First stop, though, was home to Louisville, Kentucky, to be with her terminally ill father. After he died, she did apply to graduate school, just not in the fields she thought she would. In 2001, Sandra graduated from Boston University's College of Communications with an M.S. in mass communications and public relations.
She's worked with high-profile clients—Reebok, Arthur Andersen, John Hancock, and Louisville Slugger/Hillerich & Bradsby Co., to name a few—and for companies such as State Street Corp. and Doe-Anderson. "I had a number of jobs focused more on writing, editing, and managing events, but I realized that I liked being with an agency," says Frazier, who has served as a member of the Hollins Board of Trustees since 2003, in addition to a number of other philanthropic roles in Louisville.
What she didn't anticipate during graduate school was starting her own business, which she did in 2005 when she founded Tandem Public Relations and Marketing. "When I was working for an ad agency, it dawned on me that I could do this myself—as if it was that easy. Two weeks into it, I realized that it was going to be a little more challenging," she says, chuckling.
The Hollins history curriculum wasn't the only take-away for her role as entrepreneur: Her professors and the alumnae role models she met at Hollins proved to be case studies in how to demand the most from the people with whom she works while garnering respect and instilling motivation.
Flexibility is another key outcome of a liberal arts education, Frazier believes. "A liberal arts experience teaches you that every day is a different day, an important lesson when you manage people and need to be flexible," she says. "You learn what you thought you would do isn't what you end up doing, but you also learn that it's not the end of the world. Hollins taught me to have a passion for learning, and with that as a foundation, you really can't go wrong."
Sarah Achenbach is director of communications for Garrison Forest School in Baltimore. She is a frequent contributor to Hollins magazine.

Liberal arts graduates on the job
Liberal arts majors close the salary gap
In the immediate years after graduation, graduates with baccalaureates in humanities and social sciences earn $5,000 less than those with professional and preprofessional degrees.
At peak earning ages (56-60), they earn $2,000 more (about $66,000).
One of the explanations for the higher earnings is that 40 percent of humanities and social sciences majors have graduate degrees by the peak earning ages.
Science and mathematics majors earn about $87,000 at peak earning ages.
Source: Inside Higher Ed, "Liberal Arts Grads Win Long-Term," January 22, 2014, referencing the report by the Association of American Colleges and Universities/National Center for Higher Education Management Systems, January 2014.
Liberal arts graduates have what employers want
Innovation is a priority:
95% of employers say they give hiring preference to college graduates with skills that enable them to contribute to innovation in the workplace.
It takes more than a major:
93% of employers say that a demonstrated capacity to think critically, communicate clearly, and solve complex problems is more important than a candidate's undergraduate major. More than 75% want higher education to place more emphasis on critical thinking, complex problem solving, written and oral communica­tion, and applied knowledge.
Broad learning is expected:
80% of employers agree that, regardless of their major, all college students should acquire broad knowledge in the liberal arts and sciences.
Students need liberal and applied learning:
Employers strongly endorse educational practices that involve students in active, effortful work—practices including collaborative problem solving, research, internships, senior projects, and community engagements.
Education for this century:
When read a description of a 21st-century liberal education, 74% would recommend this kind of education to a young person they know as the best way to prepare for success in today's global economy.
Source: Hart Research Associates, "It Takes More Than a Major: Employer Priorities for College Learning and Student Success" (Washington, D.C.: Association of American Colleges and Universities, 2013).