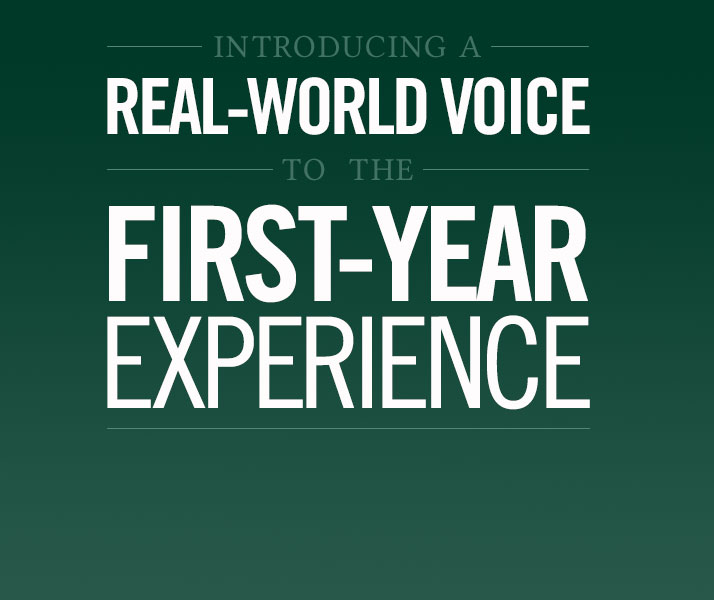 Introducing a Real-World Voice to the First-Year Experience
By Jeff Hodges M.A.L.S. '11
In 2006, a faculty committee chaired by then-Dean of Academic Services Alison Ridley was given an assignment crucial to the university's reaccreditation: identify an aspect of student learning and develop a plan to improve it.
Guided by Wayne Markert, who at that time served as university provost, the committee wanted to do more than fulfill a requirement; it sought to launch an initiative that would be transformative for Hollins students.
When the committee members looked at their charge, "the first thing that struck us was that all our so-called 'signature' programs such as internships and study abroad were closed to first-year students. There was nothing specific for them to help them get going," recalls Associate Professor of History Peter Coogan. "We also figured out our first-year students were coming out of high school needing help with writing and thinking. What made sense to us was a program that focused on the first-year experience."
To ensure that the initiative's impact could be accurately assessed, Coogan says Markert wisely advised the committee to emphasize academics instead of cocurricular activities as the program's centerpiece. "So we developed the idea for a series of first-year seminars that featured a set of common pedagogical goals. We figured if everyone had the same approach, there would be consistency across the seminars, and that would create a sense of cohesiveness."
Hollins' first-year seminar program (FYS) was thus conceived, and it has proved quantitatively and qualitatively to be an outright success. The university's scores in a number of National Survey of Student Engagement categories have improved dramatically, in some cases (including students accepting responsibility for their own role in their education; excitement about learning at the college level; and identifying, evaluating, and using appropriate research skills) far surpassing those of other women's colleges and peer institutions. At the same time, professors and students alike have reported anecdotal evidence to support the quantitative data: one student who wrote a play for her first-year seminar's final assignment went on in her college career to receive a top national playwriting honor from the Kennedy Center American College Theater Festival, while another gained valuable self-confidence when she played before an audience a mountain dulcimer she constructed for a music seminar. "There's just this level of support that has been there in the past, but it hasn't been as organized," says Acting Vice President for Academic Affairs Patricia Hammer.
In the fall of their first year, all Hollins students are required to complete a first-year seminar, which ties in with one or more of the four themes of the strategic plan the university developed in 2006: environmental and cultural sustainability, global and intercultural understanding, creativity, and leadership development. Each seminar is limited to 15 students, and the seminar instructors are the students' advisors for the first year. As noted in the Quality Enhancement Plan that Hollins completed for the Southern Association of Colleges and Schools Commission on Colleges, "These seminars [emphasize] not just the traditional skills of research, writing, and verbal communication, they also [seek] to improve students' passion for learning, their ability to learn collaboratively and to make connections between ideas across disciplines, and their abilities to solve problems actively and creatively."
Coogan, who has served as co-director of FYS since its inception, credits the faculty for making it work. "What we've always done is trust the faculty who teach in the program to steer the ship and take it where they want. Forty-six faculty members representing 23 departments have taught in the program. That shows broad buy-in across campus. Most faculty members see this as something good. They're seeing their first-years are better advised because the advisor is the first-year seminar instructor. They get to look the students in the eye and see when something's wrong."
Hammer adds, "Professors are selected to teach the first-year seminars. They have to apply, they have to have a good idea for a course, and they have to work well with first-year students. We have this core group of faculty who are really engaged and excited."
Coogan offers his greatest praise for the university's upper-class students who have served FYS as student success leaders (SSLs), attending the seminar classes and actively mentoring the first-year students. "The single most successful aspect of this program has been the SSLs," he says. "In almost every case they are not only our best students but our best people. What they have brought to this is a sense of what it's like to be an 18-year-old who is scared and doesn't know how to get things done, who to talk to, or how to even approach a professor. They have made it so much easier for faculty, and when we conduct our assessments, the SSLs always come out as the highest-ranked part of the program."
Cecelia Parks '14 is in her second year as an SSL and was drawn to the program by her own experience as a first-year student. "My SSL helped me to get used to life at Hollins and was wonderful about including me in the things she did. She had a big impact on me."
Parks says her role consists of "a lot of one-on-one academic help and tutoring. Many times the professor will direct a student who's struggling to me, but sometimes it's something I notice and I'll ask the student to come talk to me.
"Being an SSL has been my favorite thing I've done at Hollins. I have a good relationship with the professors that I don't think I would have gotten otherwise, and I made a lot of friends among the first-years I probably wouldn't have otherwise."
Another SSL, Catherine Hensly '14, was also influenced by the student success leader who worked with her first-year seminar class. "It was the first experience I had had with a mentoring situation and it helped break down a lot of barriers."
Hensly compares herself to a "mama bird" in helping first-years through "the process of finding their place on campus, finding what they're good at," and believes that having been both a mentor and mentee will be valuable for her after graduation. "I'm applying for a management program and I'll be interacting with a mentor. Knowing how to navigate and be at ease with that relationship will be huge, and my comfort level has derived from working with and serving as an SSL."
During the 2013-14 academic year, FYS has taken the SSL concept one step further, welcoming alumnae mentors for the first time. According to Coogan, the key messages from these Hollins graduates will be, "'Here's what I'm doing now, here's how I got there. Here are the things I got out of college and how you can get them. Here are the careers you might want to think about that you've never thought about.' They'll be able to connect to students on a more intentional level about thinking through why they are here and what they are doing. Most first-year students aren't ready to think about careers, but what we want them to do is start thinking about the things that should affect their choice of classes and majors."
Employing a combination of face-to-face meetings, Skype video technology, and online and phone contacts to interact with students, the alumnae mentors "offer a real-world voice that complements what the professors and SSLs are saying," explains Brynn Hoffmann '09, one of the inaugural group. "[Professor of History Joe] Leedom told me, 'You're there to tell these people what you could have told your 18-year-old self—what you wish you had done or had known.' I'm less involved in the course material and more focused on inspiring them: 'College is hard, but you are powerful women and you can handle it.'"
Meghan Morse Edwards '06 says she wanted to get involved with FYS to "pay it forward. I just wanted to be able to help some Hollins women like I've been helped." She believes that through the program students can build relationships with Hollins alumnae from the beginning of their college career and maintain them past graduation. "In this day and age, it really is who you know that'll help you stand out among the hundreds of applicants for a job. The sooner our students realize what powerful, wonderful people they can be connected to, the better for everyone."
Echoing Edwards, Stephanie Lohmann '08, M.F.A. '12 is enthusiastic about "this notion of the Hollins network as this physical, tangible thing. When I was in school, we were always told our Hollins sisters are everywhere in the world and no matter where we went, we could tap into that as a resource. But I didn't see it. It was this abstract thing I didn't necessarily feel comfortable tapping into because I didn't know what it was."
Lohmann anticipates the alumnae mentors creating "meaningful interactions with students so when they graduate, this network is something very real to them that they know they're a part of. They've experienced it. It's friendly, it's open, it's exciting."
Hammer describes the first-year seminar program as "rock-solid" and getting stronger as professors continue to gain a better understanding of the needs of today's incoming college students and the alumnae mentor component grows. "At Hollins, we always have faculty say about students over the course of four years, 'Wow, I can't believe how this student has changed from first-year to senior.' Now, the first-year seminar instructors see that happening in just that first semester. The gains may be smaller, but the professors are still able to say, 'She started off here, and at the end of the semester, I could see this kind of growth.' It's very powerful."
Jeff Hodges is director of public relations.

Fall 2013 first-year seminars and their alumnae mentors
[twocol_one]
EARLIEST CHRISTIANITY
Joe W. Leedom
Mentor: Brynn Hoffman '09
EDIBLE POETRY
Thorpe Moeckel
Mentor: Hayley Chambers '06
FASHION FORWARD: DRESS AND ITS REPRESENTATION IN THE VISUAL ARTS
Kathleen Nolan
Mentor: Kara Scott '09
FROM PINHOLE TO SMARTPHONE: ADVENTURES IN PHOTOGRAPHY
Robert Sulkin
Mentor: Ashley Shell Pannell '12
FROM SOLITARY REVERIES TO TREKS ACROSS THE DESERTS: THE LANDSCAPES OF FRANCOPHONE CULTURES
Annette Sampon-Nicolas
Mentor: Stephanie Lohmann '08, M.F.A. '12
GIRLS IN PINK TIGHTS: AN EXPLORATION OF WOMEN ON BROADWAY
Shelbie Wahl-Fouts
Mentor: Kathryn McKellar '05
HOW TO BE A PRESIDENT
Edward Lynch
Mentor: Mallory Potock '09
[/twocol_one]
[twocol_one_last]
HOW TO WATCH TV
Christopher Richter
Mentor: Kadyrose Quigley '08
LEARNING FROM GAIA: NATURE, MYTH, ARCHAEOLOGY, AND THE ENVIRONMENT IN THE ANCIENT MEDITERRANEAN
Christina Salowey
Mentor: Gwen Fernandez '06
MYTHBUSTERS
John Forsman
Mentor: Taylor Marun '09
THINKING LIKE A MOUNTAIN: DISCOVERY, EXPLORATION, AND CONSERVATION OF OUR NATURAL WORLD
Morgan Wilson and Jon Guy Owens
Mentor: Meghan Morse Edwards '06
WAR AND PEACE: EXPLORING RELIGION AND ETHICS WITHIN GLOBAL CONFLICTS AND DEMOCRATIC MOVEMENTS
Jon Bohland and Darla Schumm
Mentor: Kristin Elysse Stolpe '10
WOMEN AND TECHNOLOGY
Edwina Spodark
Mentor: Kerry Kinnison '12
WOMEN/BODIES/VOICES
Julie Pfeiffer
Mentor: Courtney Chenette '09
[/twocol_one_last]