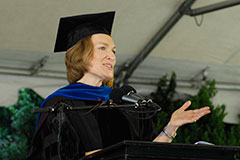 In the Loop: Summer 2012
"A life ahead of continuous discovery"
Commencement speaker Elizabeth Brownlee Kolmstetter '85

"Continuous discovery." That was Elizabeth Brownlee Kolmstetter's wish for Hollins' newest graduates during her commencement speech in May. Kolmstetter is deputy associate director of national intelligence for human capital within the Office of the Director of National Intelligence. Previously, she served as the director for human capital development at the Transportation Security Administration (TSA) of the Department of Homeland Security. An industrial-organizational psychologist, she was one of the first federal employees chosen in 2002 to be part of the creation of the TSA in the aftermath of 9/11.
Following Kolmstetter's address, Suzanne Smith Whitmore '60, chair of the Board of Trustees, awarded her with the degree of Doctor of Laws honoris causa in recognition of her personal and career achievements.
In her speech, Kolmstetter shared four of her own discoveries:
"Be grateful and show it."
"Plan, prepare, work really hard, and be open to the unexpected in life."
"Know and keep your real friends, forever."
"Do what's hardest…even something you don't think you can do."
In the audience cheering on Kolmstetter were her mother, former Hollins president Paula Pimlott Brownlee; her father, Tom Brownlee; and Hollins classmate Linda Bertorelli Jennings, Parents Council chair and the mother of Catherine "Cat" Bertorelli '12.
Read Kolmstetter's entire address, watch a video, and view photos at www.hollins.edu/events/commencement.
---
A "small world" story involving R.H.W. Dillard, an M.F.A. student, and a World War II submarine.
Professor of English R.H.W. Dillard has a photo of himself as a six-year-old in front of a Japanese submarine in the 1940s. It was being transported from city to city to drum up war bond sales, and Dillard saw it in Roanoke. In one of the delightful small-world coincidences that delight storytellers, it turns out that a graduate student in the creative writing program, Ayako Matsushita M.F.A. '12, is the great-niece of the first Japanese POW, captured when his submarine, the one in Dillard's photo, attacked Pearl Harbor. Matsushita's thesis, a collection of poems titled Where the Soil Was Bright Red, was inspired by her great-uncle's memoir. "He published the book (the one I'm holding in the photo) after he came home in early 1946, and I was inspired and startled by reading it," she said. "My poems were based on his experience."
Photo: Olivia Body '08
---
Natasha Trethewey M.A. '91 named U.S. poet laureate
Poems "dig deep beneath the surface of history"
Natasha Trethewey, the daughter of Professor of English Eric Trethewey, was appointed by the Library of Congress as the country's nineteenth poet laureate. She had been named Mississippi's poet laureate in January, a four-year appointment she will continue to hold. She is the Charles Howard Candler Professor of English and Creative Writing at Emory University and served as the 2012 Louis D. Rubin, Jr. Writer-in-Residence at Hollins.
A native of Gulfport, Mississippi, Trethewey won the Pulitzer Prize for poetry in 2007 for her collection Native Guard, which pays tribute to African American soldiers who were stationed near the city during the Civil War. In announcing the appointment, Librarian of Congress James H. Billington (the husband of Marjorie Brennan Billington '52) said, "Natasha Trethewey is an outstanding poet/historian in the mold of Robert Penn Warren, our first Poet Laureate Consultant in Poetry. Her poems dig beneath the surface of history—personal or communal, from childhood or from a century ago—to explore the human struggles that we all face.…She takes the greatest human tragedy in American history—the Civil War, 650,000 people killed, the most destructive war of human life for a century—and she takes us inside without preaching."
Trethewey, who is currently working on a memoir, will take up her yearlong duties in the fall, opening the library's annual literary season with a reading of her work on Thursday, September 13.
Photo: Jon Rou
---
Riders win big at Nationals
Hollins won big at last spring's Intercollegiate Horse Show Association's national championships in Raleigh, North Carolina. Sarah Brown '13, from Troy, Virginia, won the Intermediate Equitation Over Fences (individual) competition. Her victory represents the first time a Hollins rider has won a national title in this class. Catherine Hensly '14, from Virginia Beach, won the Walk Trot Canter Equitation (individual) competition. Emma Lane Poole '13, of Blue Bell, Pennsylvania, also delivered a standout performance, taking third place in Open Equitation Over Fences.
Photo: Elsa Gehring '15
---
Three student winners in Hollins' first annual student conference
Seniors Sarah Stone, Sarah Jarosinksi, and Kayla Oelhafen won their respective categories (podium, poster, performance) in last spring's Hollins Student Conference, coordinated by Assistant Professor of Communication Studies Jill Weber and Dean of Students Patty O'Toole. Students from all disciplines were invited to submit scholarly and creative work, which was reviewed by a committee of faculty and staff. The plan is to make this an annual event.
Photo: Olivia Body '08
---
Goodnight Margaret, goodnight festival
It started at Reunion 2011 with a lecture by budding children's author and newly minted children's literature M.F.A. Rebekah Manley about Margaret Wise Brown's stories. It concluded in the summer of 2012 with seasoned children's author Candice Ransom M.A. '07 (children's literature) lecturing on the quirky life and times of Margaret Wise Brown '32.
In between, Hollins celebrated one of its most famous writing daughters with twenty-one events, including story hours, a full-scale production of the musical version of Goodnight Moon, two orchestral productions, a treasure hunt, a bug workshop, and an exhibition of original illustrations from GNM. Guest readers included a weatherman, a biologist, Santa Claus, a school superintendent, a children's author who knew Margaret, a radio personality, and a group of local writers who regaled each other with spoofs of Brown's stories.
It seemed only fitting that as our yearlong celebration of Margaret Wise Brown came to a rousingly successful end, the news came that Goodnight Moon had made it onto the Library of Congress' list of eighty-eight "Books that Shaped America": "This bedtime story has been a favorite of young people for generations, beloved as much for its rhyming story as for its carefully detailed illustrations by Clement Hurd. Millions have read it (and had it read to them). Goodnight Moon has been referred to as the perfect bedtime book."
Just a few weeks earlier, the Library of Congress had named another writing Hollins daughter, Natasha Trethewey M.A. '91, poet laureate of the United States.
Goodnight, Margaret. It's been a good year.
—Brenda McDaniel, executive director of alumnae and donor relations, served as chair and guiding light of the Margaret Wise Brown Festival. She was named an honorary Hollins alumna at the reunion celebration.