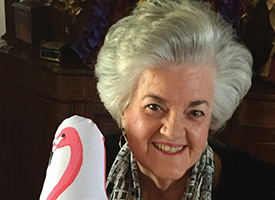 Focus on Philanthropy
Donor Spotlight
Suzanne McCormick Taylor '64: "How to live a purposeful life"
Our lives unfold in phases over which we have little control. If we are fortunate—and I am surely that—we are blessed with people, experiences, challenges, and trials that make us more loving human beings.
Learning who we are is an endless process. In the last third of my life there is so much left to do. When he was a bit older than I am now, my father told me that he had "figured it out." When I asked him to explain, he said, "You do the most that you can, the best that you can, for as many as you can, for as long as you can. That is it."
That is how he taught me to live a purposeful life. The other huge lesson Papa hammered into my head and heart happened when I was about to graduate from Hollins in 1964. He reminded me that I was a truly blessed individual and therefore would "owe" in this life. He explained that I was born to two parents who wanted and loved each other and me, that I had good health, intelligence, and creative abilities. Therefore, I would be obligated always to give back.
I asked him how I would do that. He said, "At least four years in the classroom in appreciation for those four years at Hollins," which included 1962 at the Sorbonne in Paris. With this encouragement, I became a teacher and spent many years at that before morphing into a professional fundraiser. My husband, Bob, and I raised four sons.
Giving back to Hollins has come naturally. My gift from my IRA will be the last of many gifts made to my beloved alma mater. I encourage you to make your own gifts and to remember that Hollins is an ever-changing, dynamic place that educates women to be their best selves and to make a difference in the workplace, community, at home, in the studio, or wherever we find ourselves. Levavi Oculos.

1907 Scholarship awarded for the first time
Funded by ADA, scholarship has school spirit component
The 1907 Scholarship was funded in the fall of 2017 by a group of ADA alumnae and is is awarded annually to a rising second-year undergraduate student. The recipient of the award, which references the year in which ADA was founded, must demonstrate exceptional leadership, character, and initiative in school affairs. Because the scholarship is funded by ADA, a group known for its school spirit and frivolity, the application process requires students to submit interpretations of their school spirit.
The scholarship's first recipient is Tori Carter '21, a native of Halifax County, Virginia, who learned about Hollins when she was in elementary school. One of her cousins was applying to Hollins at the time. When Carter was old enough to begin her own college search, she knew she only wanted to go to Hollins. The 1907 Scholarship allowed her to continue exploring her interests, open doors, increase access, and branch out. She plans to major in creative writing, and after graduation wishes to continue her experimentation with writing in a graduate program.

Sandra Boatman Scholarship Challenge
Honors retiring chemistry professor
An anonymous alumna has pledged to match dollar for dollar up to $250,000 to fund a full scholarship ($500,000) in honor of Sandra Boatman, professor of chemistry. Boatman retired in June after 51 years of teaching excellence (see tribute on page 5). As of July 1, $100,000 had been pledged to the challenge, which means to date a total of $200,000 (with the match) has been committed. If you are interested in making a gift or pledge, please contact Suzy Mink, vice president for external relations, at minks@hollins.edu.

New student village project moves ahead
Gifts received to date toward $10 million goal

Planning and preparing the site for the new student apartment village continues at a strong pace. Demolition of the East Campus Drive houses took place in July to make way for the construction of 10 apartment buildings designed to house 96 students. The cost of the project is $10 million. To date, Hollins has received the gift of a full house, the village green, several bedrooms, porches, and common rooms. The following opportunities are available:
Name a building:                 $500,000
Name an apartment:          $200,000
Name a common room:    $100,000
Name a kitchen                   $ 50,000
Name a porch                      $ 35,000
Name a bedroom:               $ 25,000
For more information, please contact Suzy Mink, vice president for external relations, at minks@hollins.edu or (202) 309-1750.

Suzy Mink '74 has been named vice president for external relations, a position she has committed to for the next two years. Mink will concentrate on setting the strategic direction of the Office of Institutional Advancement and on external advancement efforts on behalf of the university.

Reunion 2018 Class Gift Totals
Includes gifts and pledges for all purposes made between July 1, 2017, and June 2, 2018.
1953
Reunion Gift Chair: Jean Fabish
Total Commitment: $99,411
40% participation
1958
Reunion Gift Chair: Wyndham Robertson
Total Commitment: $2,757,363
62% participation
1963
Reunion Gift Committee
Susan Barth Dobbs, chair
Anne Cross Cooney
Sally Dukes Folcher
Amelia "Mimi" Ridenhour Fountain
Carolyn Wilson Long
Florence Cabaniss Parnegg
Total Commitment: $194,830
47% participation
1968
Reunion Gift Committee
Louisa Condon Barrett, cochair
Cathy Strause Plotkin, cochair
Tricia Thrower Barmeyer
Clark Hooper Baruch
Page Trout Ciordia
Terry Jones Eddy
Susan Farley Ferrell
Diana Gibson Garner
Joan Livingston Guzzetti
nne Hipp Habeck
Twig Whitmore Hickam
Ibby Seale Jeppson
Zelime Gillespie Matthews
Ginny Mann Maye
Charlotte Kelley Porterfield
Courtney Goode Rogers
Vicky Watt Sheldon
Julie Greenfield Six
Cameron McDonald Vowell
Sally White
Pam Jackson Winton
Total Commitment: $1,951,247
54% participation
1973
Total Commitment: $229,208
23% participation
1978
Reunion Gift Chair: Alexandria Stathakis
Total Commitment: $702,450
26% participation
1983
Reunion Gift Chair: Susan Arnesen Hammock
Total Commitment: $23,030
25% participation
1988
Total Commitment: $51,336
18% participation
1993
Reunion Gift Committee
Sindhu Hirani Blume, chair
Valerie James Abbott
Punky Brick
Christina Flores Dimacali
Mollie Eller Garrett
Suzanne Rushton Harper
Total Commitment: $69,298
25% participation
1998
Reunion Gift Chair: Sara Dettmer Blakeney
Total Commitment: $19,935
17% participation
2003
Reunion Gift Committee
Lindsey Mann Field, chair
Lindsey Fitts Copeland
Maggie Magdalen Hackett
Total Commitment: $25,816
15% participation
2008
Reunion Gift Chair: Miranda Dennis
Total Commitment: $11,695
19% participation
2013
Reunion Gift Committee
Kelsey Breanna DeForest, chair
Liam Hudson
Claire Mason McCown
Kathryn Michele McDowell
Mollyemma Townzen Teague
Meghan Brown Veal
Total Commitment: $10,320
28% participation
2016
Reunion Gift Committee
Pavithra L. Suresh, chair
Kayla N. Deur
Hailey M. Hendrix
Lela M. Ijames
Jeanne "Scout" Louise Moran
Tayler L. Morris
Wibecka A. Oliver
Haley L. Ortiz
Maya S. Rioux
Caroline R. Rottkamp
Auburn B. Smith
Total Commitment: $1,998
26% participation 
Grand Total: $6,147,937
---
This year's award winners
Hollins Rock Award
Highest participation in giving among the 10 most recent reunion classes
Class of 2013, with 28%
Catherine Orgill West Award
Highest participation in giving to the Hollins Fund
Class of 1958, with 62%
Tinker Mountain Award
Largest total gift to the Hollins Fund
Class of 1968, with $765,368
President Nancy Oliver Gray Award
Highest total giving to Hollins for all purposes
Class of 1958, with $2,757,363