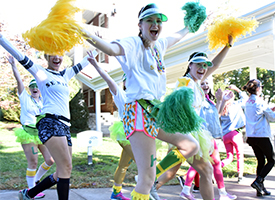 Focus on Philanthropy
Challenge Accepted: Hollins Seeks to Raise $10 Million by June 30
As this issue of Hollins magazine goes to press, we have come very close to meeting the $10 million challenge in response to an anonymous donor's challenge to raise $10 million in new gifts and pledges by June 30, 2017. We are delighted by our progress to date and appreciate the generosity of so many alumnae/i and friends in response to this extraordinary opportunity.
If, and only if, the challenge is met by the end-of-June deadline, the donor has committed to give $5 million to Hollins.
The challenge recognizes Hollins' 175th anniversary this year and is inspired by the November 2016 announcement of the largest single gift assurance in school history: $20 million from Elizabeth Hall McDonnell '62 and her husband, James S. McDonnell III, through the JSM Charitable Trust.
Hollins President Nancy Gray calls the challenge "unprecedented and extraordinary, and a wonderful testimony to Hollins. We share the donor's confidence that between now and June 30, the Hollins community will continue to rise to the occasion and support Hollins to the best of their ability. No gift is too small and every single gift matters."
To make your gift, please visit www.hollins.edu/giving