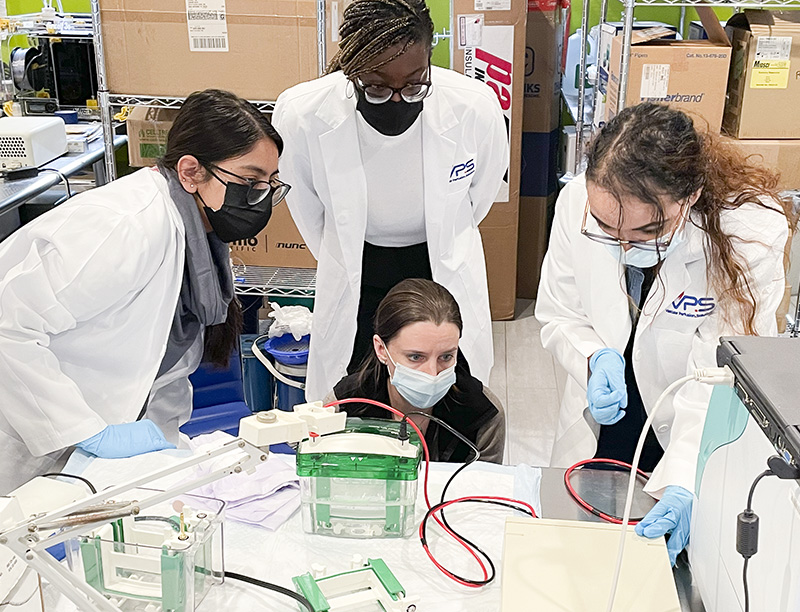 Cutting-Edge Medicine
Hollins' Internships with Vascular Perfusion Solutions Are Changing Lives
Udipta Bohara '21 never thought a J-Term internship would change her life. But never say never. In January 2020, she signed up for a brand-new, one-month internship with a young company called Vascular Perfusion Solutions (VPS), which specializes in new and innovative solutions for the transplantation of organs and other vascularized tissues. In other words, the company develops cool devices for organ transplants.
"I wasn't sure if I was going to do a J-Term, but then this internship came up," said Bohara. "I talked to [VPS] and I liked them and they liked me." So Bohara flew out to San Antonio, where VPS is based, becoming the company's very first intern, and worked on data that eventually got the Hollins biology major published in the peer-reviewed Journal of Trauma and Acute Care Surgery. A very big win for any young scientist! "VPS is great with attention to each person on a very individual level," said Bohara. "Even the CEO sat on a call with me to discuss the results of the data. That's something you generally don't see in companies: the CEO on a call with a student!"
It's all thanks to a relatively new and extended internship program between VPS and Hollins University. Since Bohara's time with VPS just two years ago, five more Hollins students have gone through the month-long research program, which has resulted in everything from contributions to scientific manuscripts that will be published later this year to helping with significant developments in oxygenated medical devices.
"Although women are significantly underrepresented in STEM majors, VPS is happy to host Hollins interns who have chosen multiple paths to a career in science," said Michelle Watt '93, clinical director at VPS and the brains behind this fruitful new learning opportunity. The idea actually emerged about three years ago after a few late-night discussions with classmates at, of all places, a Hollins reunion. "Hollins played such an important part in all our lives," said Watt. "When I was in a position to make this happen, I jumped at a chance to partner with Hollins. It's such an amazing opportunity to not only support women in STEM, and their future career opportunities, but also to give something back to the place that gave me so much."
Though still in its early stages, the program has already given a lot. Just look at Bohara, who is now earning her Master of Computational Biology from Virginia Tech. "If Hollins weren't there, and if Michelle Watt weren't a student back then, I never would've been exposed to the transplantation side of biology," said Bohara. "Hollins is definitely the major pathway that led me to this internship, and that led me to Virginia Tech and computational biology."
The giving hasn't stopped there. VPS and Hollins are currently working on expanding the program to include a summer internship and are also hoping to increase the number of intern positions as the company grows. "The work I'm doing on this technology will allow me to touch more lives than I ever could in my career at the bedside,"said Watt, who's worked in medicine for more than a decade. "Anyone who has ever dedicated their life to helping and saving patients understands what this means both professionally and personally. As a nurse who has lived the clinical side of health care, I know how our devices will forever change the practice of organ transplantation."
By Jeff Dingler M.F.A. '22, a recent graduate of the M.F.A. in creative writing program