Commencements
Hollins had the distinct pleasure of celebrating not one, but two commencements in 2022. Although one, for the Class of 2020, was two years delayed due to COVID-19, both proved unforgettable and all the more moving for those able to celebrate the event's return to Front Quad after a two-year absence. The following are selected excerpts and highlights from words delivered during those two days.
Alexandra Trower '86 2022 Commencement Speech Highlights
Thirty-six years ago, I was sitting in what very well could have been the exact same seat that one of you is sitting in right now. And I don't mean that metaphorically—but quite literally. We keep a tight budget at Hollins, so a 36-year-old chair is not out of the question!
So, I arrived in NYC, and… all I needed now was my dream job. Easy! I knew it might not be, for other people. But I was so sure that my winning personality, my great education, my can-do attitude, and willingness to put in long hours would make things happen for me right away. Well, "right away" became months. And my confidence edged closer to panic. I could not find a job in my chosen field. It was almost as if my field didn't know that I had chosen it.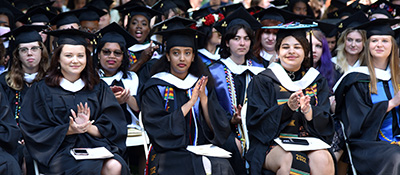 [My first job as a communications assistant at a long-distance telephone company] was my first step on a nonlinear path of a career in communications that would last 35 years, take me all over the world, but more importantly would lead me to do work that would have an impact on the lives of the people we served, on the lives of the people I got to work with—and would help shape me into the person I would become.
Have your dream, your plan—where you want to live; which field you want to be in; which company, organization, or institution you want to be part of; which job you want—but start with the most important thing. Now if I stopped there, I would be committing commencement speaker malpractice, because I have to add one crucial fact—your most important thing will change over time. You still need to figure out what that one most important thing is for you right now, but be prepared for forks in the road as you move forward.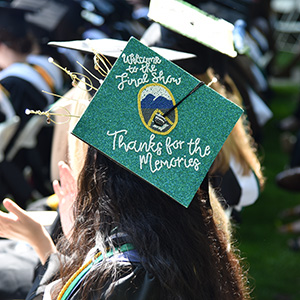 Asking for help doesn't mean that you are weak or that you don't know what you are doing. In fact, it is quite the opposite. Asking for help is a sign of strength and courage. And one of the best parts of Hollins is that Hollins graduates are always there to help each other. Pick up the phone, reach out on LinkedIn, send an email or a text—but ask! There is nothing that makes me happier than to hear from a Hollins student or graduate. And the secret is that being asked for help does something amazing for the other person. For me—and maybe it is because I can be bossy—it lifts me up, makes me feel needed, and gives me such joy to help others avoid some of the many mistakes I have made and mud puddles that I have sloshed through. We can tend to think of asking as embarrassing for us and a burden on the other person. But when we reach beyond that barrier—that impossible goal of always being perfect and strong—we step into a shared space and realize that we are human together.
When you find yourself heading in the direction of your dreams, even if you're not on the actual doorstep just yet—raise your hand for everything. Working on those projects with other departments, stepping in when a teammate was out, and volunteering for things no one else wanted to do helped me learn more about the organization, build my skills, and experience new areas. And it built trust. You will find that accountability matters at all levels of an organization, personally and professionally. I could trust myself to follow through. My teammates could trust me to show up. And that's cocreating a culture that thrives.
Stories can often sound linear. This wasn't linear. The only line was the one I'd drawn from Roanoke to New York. Otherwise, mine was a crooked path. It's only linear in retrospect when I see that each of my experiences was a prerequisite for what came next. And that's the beauty, and the burden. In life, we don't get to decide what comes next. But we can decide how we are going to show up in whatever comes next. And that brings me to the most important lesson I've learned, that is to ask: What do you need from me?
And graduates, this is how change happens. Every single time you expand your thinking to include even one more person, rather than just reacting and retreating—you can change the culture, and the future, for the better. You have increased the chances for more communication, more honesty, more success, and better outcomes for everyone involved.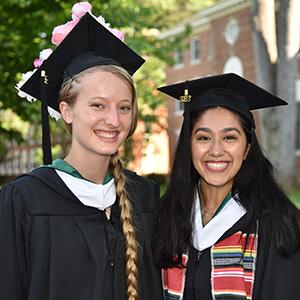 But this is where I'm going to follow in the tradition of 36 years ago and share a quote. It is one that means a lot to me, and it's one that brought me back after every stumble, and it brought me back to Hollins. The quote is from the Talmud and reads: "Do not be daunted by the enormity of the world's grief. You are not obligated to complete the work, but neither are you free to abandon it."
When we say, "You are not obligated to complete the work, but neither are you free to abandon it," we are really asking the world, "What do you need from me?" When we make intentional choices true to our calling, when we raise our hand, and raise each other up, when we take a moment and ask ourselves and the world, "What do you need from me right now?" we take a step closer to becoming the person we want to be, in the world we say we want to live in. But it takes all of us. And that is a relief, because that is what Hollins is. It's all of us. So, class of 2022, cherish that feeling of wanting to bolt—you are ready.
Alexandra Trower '86 full commencement speech
President Mary Dana Hinton 2022 Introductory Remarks
But most of all, students, when your memories feel far away; when your nights are dreamless; and when you cannot find the ones you love and who love you; know that in your hearts you carry all these things and that you are enough. Everything you need is within you. Every warm memory you've had; every dream you've ever held; every person who loves you is an inextricable part of who you are today. Within you is all the strength you need to do great things. Within you is all the joy and purpose you need to shine brightly in the world. That is who you are.
The fact that Hollins University is now a part of you means that wherever you go, whoever you encounter: we are there with you. We believe in you, and we honor you as you are. You are enough.
Class of 2022, on behalf of the trustees, faculty, staff, and administration of Hollins University, it has been an honor and a privilege to serve you. We cannot wait to see the magnificent things you will do in the world.
Full remarks by President Mary Dana Hinton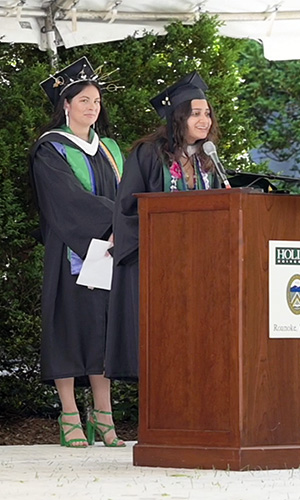 Allison "Ally" Majano '22 Speech Highlights
And now, here we stand, with our cords, serving as a reminder of the successes we've had since arriving here, and we carry them with fulfillment along with a little bit of leftover stress. We carry evidence of our successes with us with pride, and I hope after four years of this institution, we walk away with confidence not just in our victories but in our failures as well. The things we never put on plaques or hang up on the walls or wear around our necks. The job applications and Tinder matches that ghosted us, the tests we bombed, the meetings we missed. We're also here to celebrate that, because in the past four years we've grown, it has led us to where we are standing now, built us up and helped us spread our curiosity to trying new things. That beautiful milestone is what we're celebrating today. I'm proud of all you seniors, and the outcome our four years at Hollins has given us.
Summer Jaime '22 Speech Highlights
If we as a class have taken anything away from the past four years, I hope it's that life is full of the unknown, but that's okay and we're gonna be okay. No matter how many five-year plans we make or how many times we may map out the future, at the end of the day, we simply don't know what tomorrow holds. And no matter how hard we try to control or manifest things, we simply can't. I know Ariana Grande said, "God is a Woman," but some days it really seems like patriarchy is out to get us.
Life is full of constant change, but that change is what makes it so rewarding. Sure, a once-in-a-lifetime pandemic hit, but we're here. Sure, social change rocked our campus and our entire nation, but we're here. Sure, our pipes burst every few weeks, but we're here.
Being here today with all of you has shown me that we are more than capable. Capable of doing anything we set our minds to. For a lot of us, that was being here today. Despite all of the struggles we may have faced, we are here. And we have Hollins to thank for allowing us to grow and become the people we are today. Sure, most of us planned to graduate, but I don't think we expected it to come this fast. But now that it's here, I'm feeling okay.
Full speeches by Allison Majano '22 and Summer Jaime '22

Tiffany Marshall Graves '97 2020 Commencement Speech Highlights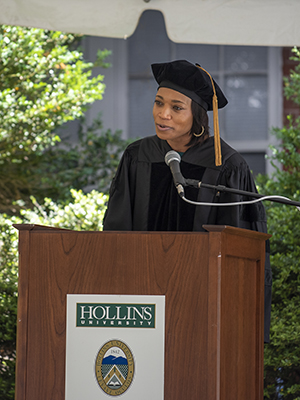 Resilience is defined as the capacity to recover from difficult life events. It is not a trampoline, where you're down one moment and up the next. It's more like climbing a mountain without a map. Sounds fun, huh? Climbing a mountain takes time, strength, and help from people around you, and you will likely experience setbacks along the way. But eventually you reach the top and you look back with pride at how far you have come.
Being resilient does not mean that you don't experience stress, emotional upheaval, and suffering. Rather, demonstrating resilience includes working through emotional pain and suffering….
We all know resilient people. I am looking at a crowd full of them now. I started my remarks by saying that this class is special—and part of that is because all of you are resilient. I cannot imagine the stress of attending college virtually. And, while we have all gotten used to Zoom life, I do not believe anyone will say it is an ideal way to learn or do most anything, for that matter.
Talk about stress, setbacks, and difficult emotions! You had to have had all of them leading up to your original graduation. I bet some of you even contemplated whether you should defer your academic year (or years) until you could return to in-person learning. I feel sure I would have at least considered doing that if it were me. But the fact that you are here today tells me that even if you did consider deferring or even leaving Hollins altogether, you did not. You persevered, you overcame, and you summoned your inner strength using the tools and people around you to keep pressing forward.
I commend you for your resilience. I admire you for it. And I encourage you to continue to tap into it as often as you need to—and you will need to. While I certainly hope there will never be another global pandemic during our lifetimes, life will continue to bring challenges—and many of them will seem insurmountable in the moment. But you have all proven you are overcomers. You have demonstrated tremendous strength and stick-to-it-iveness. So, in those challenging moments, never forget just how resilient you are.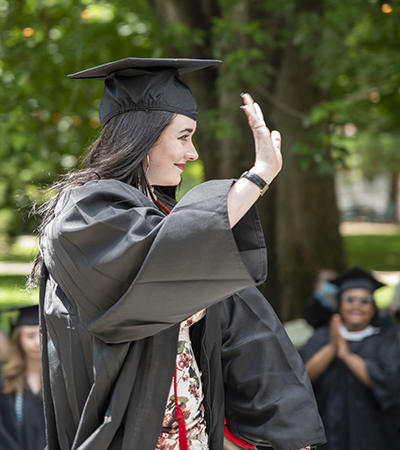 Self-reflection is the process of bringing your attention to what's happening in your life in a mindful and open-minded way. It's all about creating self-awareness. So many of us focus on getting ahead that we don't necessarily take time to reflect on what's going on within us.
We hear a lot about being present—and I want you to know how crucial that is. We have so many distractions around us—and often in the palms of our hands. When was the last time you really listened to a conversation and did not get distracted by an incoming email, text, or other notification, or things that were going on around you at the time?
Being present and aware are essential for examining how you're doing, what's making you happy, what's making you sad or angry, and for helping you decide how to address the cause of each of those emotions.
Self-reflection helps us make sense of things—uncover breakthroughs—challenge our thinking—recognize change and track our progress—increase our self-awareness and self-acceptance— and live with more and greater intention.
We are always doing. And when we aren't doing, we feel like we should be. We greatly undervalue rest. There are just too many things to get done, too many demands, too many responsibilities, and way too much urgency. Nobody can afford to waste time resting in today's results-oriented world.
The problem is, this hectic pace is causing severe damage to our quality of life. We are destroying every sense of our being—our bodies, our minds, our souls. Our lives have become too full and too out of balance. Somewhere along the way, we lost the essential practice of concentrated rest.
Studies have shown that in addition to improving our health, rest can make us less stressed, it can deepen our relationships, it can present opportunities for—wait for it—reflection, it can make us more balanced, increase our productivity, and it can allow us to build up a reserve for when unexpected emergencies happen and rest is not an option.
You have honored me in more ways than you could ever imagine by inviting me to speak to you today. Continue to be your resilient selves—but please make time to reflect and rest.
This world needs you—to quote a familiar pandemic refrain—now more than ever—so please take care of yourselves. You always have a friend in me. Better yet—you always have a Hollins sister in me—so please don't ever be strangers.
Full speech by Tiffany Graves '97

View more photos from 2022 Commencement