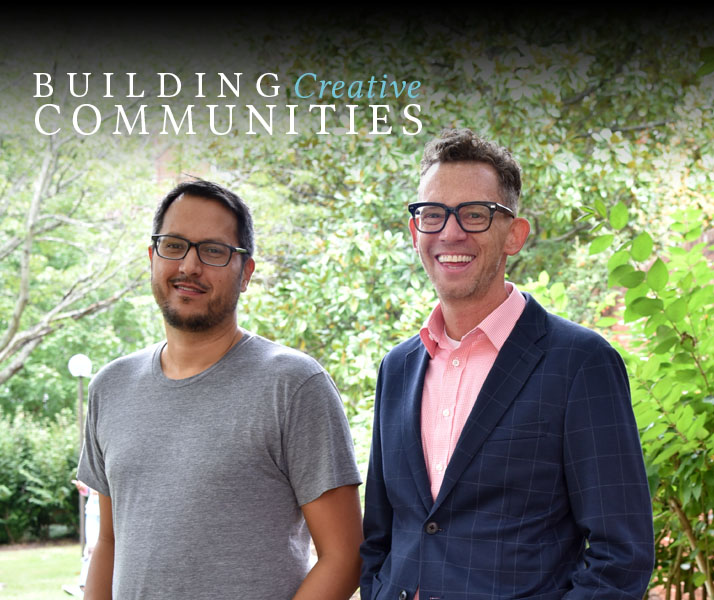 Building Creative Communities
The work of Doug Jackson M.A. '06 is revealing one of Roanoke's previously hidden strengths: a love of books and the desire to talk about them.
By Martha Park M.F.A. '15
Doug Jackson arrived at Hollins as part of what he describes as a "mid-career reboot." He'd spent the previous decade in California, where he earned a master's degree in urban and regional planning and spent five years running leadership, granting, and visioning programs for the Great Valley Center, a policy organization focused on the social, economic, and environmental well-being of the Central Valley. Before that, he'd served as a Naval officer in Scotland and Honolulu, and before that, he'd attended Duke on an ROTC scholarship.
"I grew a lot at Hollins," Jackson says. "I focused on fiction, and I still write. In fact, a novel-in-stories begun at Hollins remains a vessel for much of my thinking and exploration. Hollins is such a supportive environment, and I consider myself fortunate to have spent that time there. I jokingly asked someone recently if we're allowed to do it again."
Professor of English Cathryn "Cathy" Hankla '80, M.A. '82 describes Jackson as "a rare combination of artist/writer, community organizer, leader in the arts, and entrepreneur. That he stayed in Roanoke after being drawn here by the Hollins M.F.A. program means Roanoke is truly the cool city it's been striving to become."
Since graduating from Hollins, Jackson has spent the last 11 years working for the Commonwealth of Virginia through the Department of Housing and Community Development, providing strategic guidance and technical assistance to communities as they work to revitalize their local economies and downtown districts.
"As manufacturing and extraction-based industries diminished, we've had to start again with what's at hand," Jackson says. "A lot of that work requires reinforcing the authentic and distinctive qualities of place in order to attract and create new businesses."
One example of the kind of projects Jackson helped develop is the Crooked Road: Virginia's Heritage Music Trail. "The Crooked Road is as much about recreating downtowns as cultural centers as it is about preserving the heritage of traditional music," Jackson says. "Rivers, historic towns, mountains, handmade crafts, oysters—they can all be building blocks for stronger communities and a more diverse economy. We can celebrate and build upon these elements to create quality places worthy of investment."
Jackson has also stayed engaged in local creative communities. "One of my first actions upon graduation from Hollins was to seek an appointment to the Roanoke Arts Commission," he says. Jackson spent the next 11 years volunteering with the commission. "It helped me become more a part of Roanoke," he says, "and the other way around."
Through the Arts Commission, Jackson met Lucy Lee M.A.L.S. '85, C.A.S. '03, a fellow writer and book lover. Lee was one of the founders of Roanoke Valley Roads (RVR) and helped run the program for several years. Blue Ridge Literacy coordinated RVR for a couple of years and then asked Jackson to take over. Knowing of Lee's earlier involvement, he invited her to join forces with him. For the 2018 community read, RVR chose Sunil Yapa's Your Heart Is a Muscle the Size of a Fist.

As he went about his day-to-day work, encouraging communities to inventory their assets, Jackson couldn't help but take a mental inventory of Roanoke's rich literary resources. This led him to his next project, Book City★Roanoke, an online resource linking local writers, book clubs, conferences, programs, libraries, reading venues, and literary events.
"We really do have a lot here," Jackson says, "from the long-standing excellence of the creative writing program at Hollins to more recent additions like Soul Sessions' spoken-word nights and writing workshops. The work of the Star City Reads collaborative is unparalleled. We've got a lot to be proud of. And there are around 80 writers now listed."
Jackson thought a book-based conversation series would be a good way to demonstrate the value of Book City★Roanoke. "I had met musician Dar Williams through my friend Beth Macy [M.A. '93]," Jackson says, "I'm a longtime Dar fan and I knew that she was working on a book about communities called What I Found in a Thousand Towns: A Traveling Musician's Guide to Rebuilding America's Communities—One Coffee Shop, Dog Run, and Open-Mike Night at a Time.
Williams committed to an event in Roanoke, and Jackson got to work, setting up nine evening discussion events leading up to her visit. Each event focused on a chapter of Williams's book and was hosted by a community partner. "For instance, the discussion on the importance of local foods was hosted by the Local Environmental Agriculture Project," Jackson says. "We held one discussion on coffee shops as community gathering spaces at Sweet Donkey, [a coffee shop] in South Roanoke."
For the culminating event, Jackson brought in sponsorships from the Arts Commission and CityWorks (X)po and hosted 130 people at a dinner with Williams at a local restaurant.
To Jackson, "Book City★Roanoke is really about creating the kind of city I want to live in—a city of readers and ideas. Readers and writers are good for community; a lively book culture in which ideas are batted about is good for a democracy. It's the foundation of a creative community. Things only work in community when we know that our participation matters, that we have a voice and can effect change in our place."

For better or worse, there is a public perception of writers as solitary creatures who retreat from the world for the benefit of their work. Jackson busts that stereotype wide open, allowing his writing practice and his work in community to influence and inform each other.
"There's a mystical component to writing for me, and I seek that to be a better human. I hope the result is that my writing is shaped by the interactions I have in communities. I also hope, in turn, that my work with others, these strategies and engagements, are grounded in a thoughtful approach underpinned with a deeper philosophy. On a very basic level, I love starting a community facilitation with a poem or, in my writing, seeing a character emerge who has some resemblance to a person I've encountered in a community.
"It probably should have felt a little nutty to sell my house and leave what had been a dream job in California. But these big decisions for me tend to be made on instinct—gut; it was the right time. I would do it all over again.
"Roanoke grabs hold of you. I stuck around after graduation largely because I was in a relationship. When that ended seven years later, I asked if I was in the right place. And the response is that there really is no perfect place, or a perfect place for us forever. The question just demands other questions: What can we do to make our place even better? What kind of community do I want? How should I be investing in this place? For me, Book City★Roanoke is an exploration of that."
Martha Park is a writer and illustrator from Memphis, Tennessee. She received an M.F.A. from Hollins' Jackson Center for Creative Writing and was the Philip Roth Writer-in-Residence at Bucknell University's Stadler Center for Poetry. 

The Heart of the Matter
One of the book-loving activities Jackson admires about Roanoke is the Roanoke Valley Reads (RVR) program. It was run by volunteers for five years, then by Blue Ridge Literacy for two. Last fall, Jackson and Lucy Lee M.A.L.S. '85, C.A.S. '03, who originated the program with a friend eight years ago, teamed up to run the 2018 program.
"I had been retired from RVR for three years when Doug called to say he'd been asked by Blue Ridge Literacy to run the project under his Book City★Roanoke umbrella," says Lee. "He asked if I would help, and I said yes because I knew it would be fun working with him. I also knew that he was creative, organized, and could make things happen. Once we selected the book, I pretty much sat back and watched his ideas hatch. It's the easiest job I've ever had."
Even the ever-energetic Jackson looks for ways to work with existing partnerships. "This year we wanted to use RVR to connect with the steady work that the Jackson Center and Hollins do to bring authors into town," he said. Two of the activities featuring Sunil Yapa, the author of Your Heart Is a Muscle the Size of a Fist, took place on campus: an evening lecture followed by a Q&A session the next morning.
"The book takes place during an action that goes horribly wrong," says Jackson. "It's a fictionalized account of the 1999 World Trade Organization action/protest in Seattle," told from the perspective of various participants: protesters, police, a representative to the meetings. "From that launching point, we can ask the question 'What do we stand up for and how?' We thought that the topic is relevant. It's a good time to discuss how we raise our voice to effect change, and how we can better understand each other."