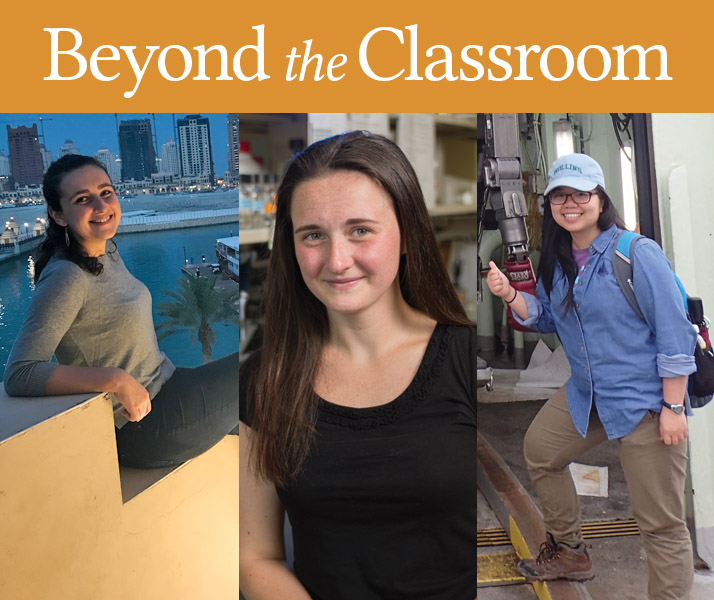 Beyond the Classroom
Research Fellowships Take Students throughout the Country and Around the World
By Jeff Hodges M.A.L.S. '11
Whether it's in political science or neuroscience, on the Cape Cod peninsula or the Arabian Peninsula, Hollins students are growing their capabilities through an impressive range of research fellowships in the U.S. and abroad.
Over the course of two months to an entire year, these opportunities offer experiences that are the building blocks for pursuing a Ph.D. or launching a career.
This spring and summer, students engaged in immersive study that will enable them to not only improve their own knowledge and skills, but also make important contributions to international relations, health care, and the environment.
Persian Gulf Region Study Trip Broadens Understanding
In April, Hanna Strauss '19 spent seven days engaging in the culture, society, and economics of Qatar, one of seven Arab states that border the Persian Gulf.
A National Council on U.S.-Arab Relations fellowship made it possible for Strauss to also learn about government priorities, concerns, and needs as they pertain to U.S.-Qatari relations and Qatar's role in regional and world affairs. She was introduced to a broad range of government and business representatives, academics, policymakers, specialists, and student peers.
This was Strauss' second study abroad experience in the Persian Gulf region in as many years. During the summer of 2016, she studied Arabic in Oman for eight weeks.
"Next year, as part of this fellowship, I'll be working to bring events and outreach opportunities to Hollins," Strauss, a double major in Spanish and political science, said.
Brain Investigation Sets Stage for Medical Career
After the conclusion of the 2016-17 academic year and through the end of July, Gabrielle Lewis '18 moved one step closer to realizing her dream of becoming a physician. She received a neuroSURF Summer Undergraduate Research Fellowship from the Virginia Tech Carilion Research Institute in Roanoke.
"The applicant pool for these fellow positions was extremely qualified and deep," said Michael Fox, director of the VTCRI neuroSURF program.
Lewis participated in hands-on research at one of VTCRI's state-of-the-art neurobiology labs. At the end of the program, she and other fellows delivered presentations based on their investigative work at the annual Virginia Tech Summer Research Symposium.
Lewis is on the pre-med track at Hollins, double majoring in biology and biochemistry. After graduation next year, she hopes to attend an M.D./Ph.D. program at either Georgetown, Ohio State, the University of Virginia, or Wake Forest.
From Hollins to a Global Leader in Ocean Research, Exploration
Lan Nguyen '18 was one of approximately thirty college and university students from around the world to take part in a twelve-week summer research fellowship at Woods Hole Oceanographic Institution (WHOI), a world-renowned marine research organization in Massachusetts.
Nguyen was assigned to WHOI's Marine Policy Center, which performs social scientific research that combines economics, policy analysis, and law with the institution's basic exploration of ocean sciences. "It [was] really helpful to me to get that experience and connect to researchers in the field," Nguyen said.
This was the second consecutive year in which Nguyen, a double major in environmental science and economics, has participated in a prestigious summer program. In 2016, she completed an eight-week residence internship at the American Institute for Economic Research. In addition, she worked with the School for Field Studies' Center for Mekong Studies in Cambodia in 2015.
After graduating from Hollins, Nguyen plans to pursue a doctorate in environmental economics.
Jeff Hodges is director of public relations.