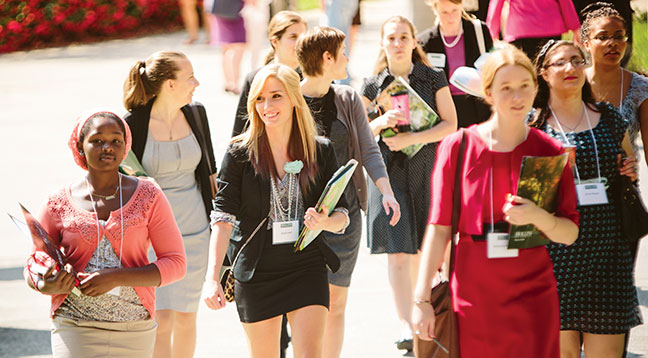 "Best Conference Ever"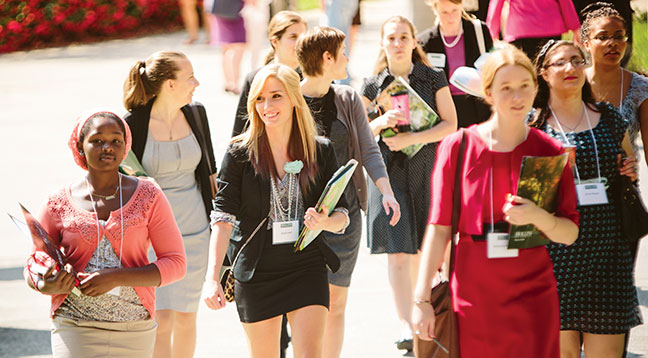 A blog entry by Cecelia Parks '14
The buildup to C3 was tremendous. Ever since arriving on campus, all of the administration, faculty, and staff have been talking about how wonderful it was going to be, how excited the alumnae were, and how helpful it would be for our careers. Well, we were certainly not disappointed! I did not realize just how fantastic an opportunity it was until I arrived in the theatre for the keynote speaker and saw how many students and how many alumnae were present. Then I finally began to understand the underlying theme of the conference: Hollins alumnae want to do whatever they can to help other Hollins women.
After the keynote session, the crowd broke out into smaller sessions led by various alumnae. I could tell that these women were definitely Hollins alumnae by their use of skits—a Hollins woman does love a good skit—and I saw my first of the day in the first session I attended, which was about workplace etiquette. I also attended a session on interviewing, which was jam packed with useful information. I heard really good things about the other sessions as well, including the panel addressing the topic "Can Women Have it All?" and various panels on turning a liberal arts education into a career, one of which I know steered one of my first-years toward a new career path! [Parks was a student success leader for a first-year seminar in the fall.]
I know everyone's favorite part of the conference was networking and talking with alumnae. During Speed Connections I spoke with three women I probably would not have approached otherwise but who were fascinating and so excited to share insight gained over many years of experience in the working world.
Over and over I was blown away by how interesting, accomplished, and willing to help our alumnae are. I know that I am not the only one who felt this way; my friends' impressions included "amazing," "best conference ever," and "the only problem was that it was not long enough." Even my first-years, who I was concerned would not find a career conference helpful at the beginning of their college lives, loved learning what post-grad opportunities exist.
I appreciated Judy Lambeth's ['73] closing remarks in which she said that Hollins alumnae want to do everything they can to help Hollins students. She referred to alumnae as our "big sisters," and that really touched me. I definitely felt the spirit of sisterhood in the room, and it inspired me to help the next generation of Hollins women after I graduate, as these women are helping us.
Related posts:
C3: How to Get Here from There
"You are Being Recruited For a Movement"
Panels of Experts
Cecelia Parks is a double major in history and political science with a long list of accomplishments. A first-year seminar paper she wrote was published in the inaugural edition of Papers & Publications, an interdisciplinary journal of undergraduate research. She's been a standout rider for Hollins, and she's in the Batten Leadership Institute's certificate program. Read her blog here.