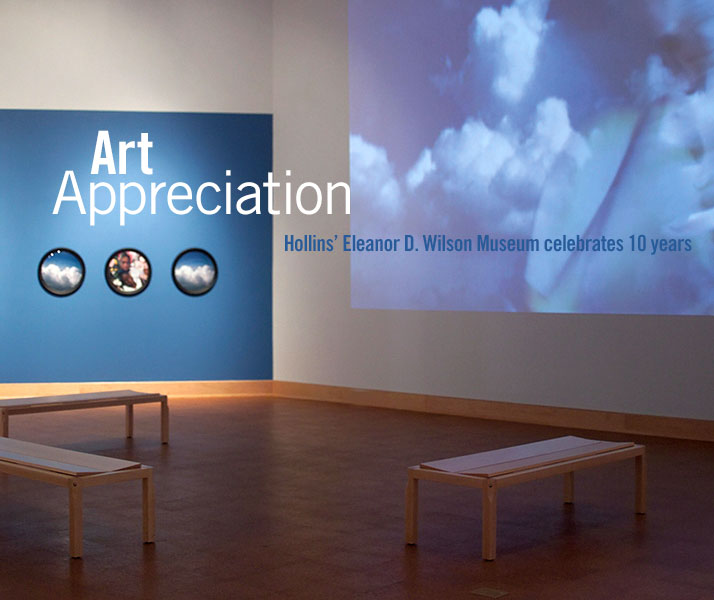 Art Appreciation
Hollins' Eleanor D. Wilson Museum celebrates 10 years
In the fall of 2004, the Eleanor D. Wilson Museum opened its doors with a dedication exhibition featuring photographs by Sally Mann '74, M.A. '75 and paintings by Janet Fish. The museum marked its inaugural year with an exhibition by photographer Carrie Mae Weems, who was recognized with a fellowship from the MacArthur Foundation in 2013.
Ten years after its opening, the museum has a collection numbering more than 1,000 objects. It moves into its second decade committed to honoring the vision of Eleanor D. "Siddy" Wilson '30, who wanted to establish a place where students and the public could view and study art and where a permanent collection could flourish. In addition, the museum provides internships, volunteer opportunities, and courses on curatorial practices in collaboration with departments across campus as well as regional and national arts organizations.
Below are highlights from the past 10 years as compiled by Janet Carty '87, M.A.L.S. '99, manager of exhibitions.
"Carrie Mae Weems: To Be Continued"
September 20 – December 17, 2005
This exhibition featured selections from two bodies of the photographer's work. Weems' 30-year retrospective, "Carrie Mae Weems: Three Decades of Photography and Video," opened in January 2014 at the Solomon R. Guggenheim Museum in New York City.
Curated by Wyona Lynch-McWhite

"Selections from the Ralph Grant Collection"
April 18 – September 9, 2006
In the fall of 2004, Lexington art collector Ralph Grant gave the museum more than 150 works from his personal collection by regional luminaries and internationally famous artists, including Sally Mann '74, M.A. '75. This exhibition showed the breadth and depth of the collection and honored the generous spirit of Ralph Grant.
Curated by Wyona Lynch-McWhite
"FOREFRONT: Chakaia Booker"
September 26 – December 9, 2006
Organized by the National Museum of Women in the Arts, the exhibition showcased the work of Chakaia Booker, who slices, twists, strips, and rivets rubber and radials to create exaggerated textures, prickled edges, and torqued forms. Her work can be found in many important collections, including the Metropolitan Museum of Art.
Curated by Wyona Lynch-McWhite
Betty Branch
"Through the Crow's Eye: A Retrospective"
September 17 – November 21, 2009
The first major retrospective of internationally recognized Roanoke artist Betty Branch '79, M.A.L.S. '87, this exhibition displayed more than 30 of the artist's most significant pieces and included an outdoor sculpture component, a site-specific land work, and video documentation of her performance art.
Curated by Amy Moorefield

"Echo Sounding: With Liz Miller, Younseal Eum, Huguette Despault May"
January 10 – March 2, 2013
"Echo Sounding" explored the work of three artists working with nautical themes. Liz Miller's large-scale assemblage, "Deep Six," made of felt, immersed the viewer in wave-like forms and addressed the fragile nature of the world's oceans.
Curated by Amy Moorefield
"Papercuts"
May 30 – September 14, 2013
Seven women artists from around the world displayed their art, all working with, and transforming, the traditional art of paper cutting. Organized by Reni Gower, professor in Virginia Commonwealth University's painting and printmaking department, Papercuts was sponsored in part by VCU and VCUarts.
Curated by Amy Moorefield
"Susan Seydel Cofer: Draw Near"
May 29 – September 13, 2014
Organized by the High Museum of Art in Atlanta, Draw Near presented the first career survey of drawings by Atlanta-based artist Susan Seydel Cofer '64. The Wilson expanded the exhibition to include many of Cofer's sculptural portraits, which delight in humanity's habits, quirks, and relationships.
Curated by Michael Rooks, High Museum, Atlanta