No one knew quite what to expect last October 4 when Hollins launched the first Career Connection Conference, shortened to the catchy name of C3. In one afternoon, some 500 students connected in various ways with more than 50 successful alumnae, who came back to campus to answer questions, share their experiences, and network, network, network. C3 received such universal praise that plans began almost immediately after the event for this year's conference.
Navigating Your 20s
by Jeff Hodges M.A.L.S. '11
"To a great extent, our lives are being directed by far-reaching, 20-something moments we may not realize are happening at all. Some of those far-reaching moments can happen for you here today."
With those words, clinical psychologist and keynote speaker Meg Jay welcomed a crowd of students to the first Career Connection Conference, aka C3. Jay, the author of The Defining Decade: Why Your Twenties Matter—And How to Make the Most of Them Now, opened C3 by sharing "six simple things you can do now, even today, to make sure your career takes off and you get to where you want to go":
Know the strength of weak ties.
Jay cited research showing "the value of people we do not know well" over close friends and family in launching a career. "Weak ties give us access to something fresh, because they are not just figures in an already in-grown crowd. They know things and people we don't know. New information and new opportunities almost always come from outside the inner circle."
Start with one good piece of identity capital.
Jay defined identity capital as "our collection of personal assets," ranging from items on a résumé (degrees, internships, jobs) to more personal attributes such as how we present ourselves, either personally or through email or social media. "It is what we bring to the marketplace, the currency we use to metaphorically purchase the jobs and other things we want."
Train your brain.
"Never again in our lifetime will we be so quick to learn new things. Never again will it be so easy to become the people we want to be," Jay explained, adding that "the skills we practice, the jobs we have, and the company we keep are wiring our frontal lobes for adulthood."
Whatever it is you want to change about yourself, now is the time to change it.
"We now know that college in our 20s is our best chance for change. These are the years when people and personalities are poised for transformation," Jay said. "We become more emotionally stable and less tossed around by life's ups and downs. We become more conscientious and responsible. We become happier and more confident and less anxious and angry."
Remember the 10,000-hour rule.
"Knowing what you want to do isn't the same as knowing how to do it, and knowing how to do something isn't the same as actually doing it well," Jay said, noting studies have found that working five years on a full-time, focused level or spending 10 years on less-targeted work—about 10,000 hours—is the time it takes to become exceptionally good at a vocation.
Pick your family and not just your friends.
Jay emphasized the need to "partner well" and "recognize that it takes as many hours to build a good family as it does to build a good career. It is never too early to be as ambitious about love as you are about work and school."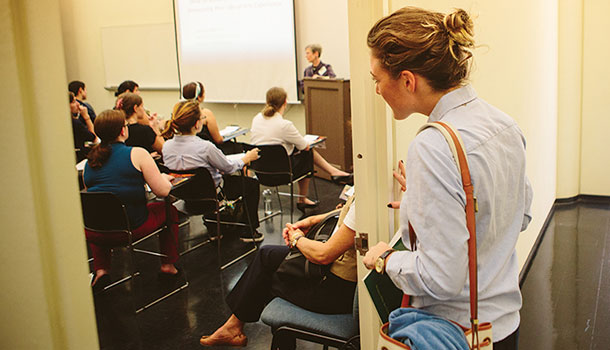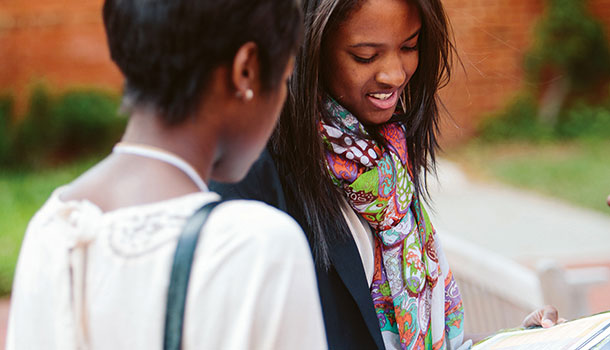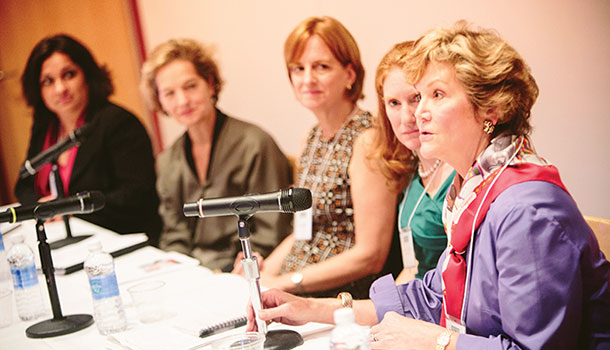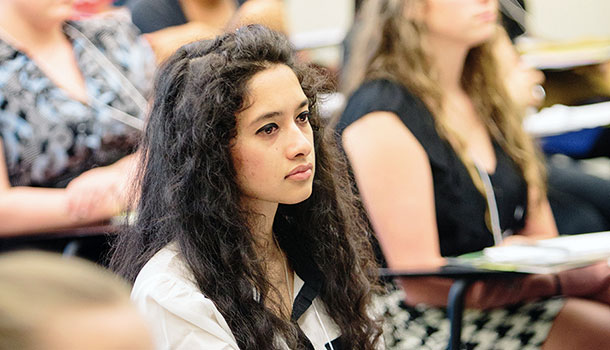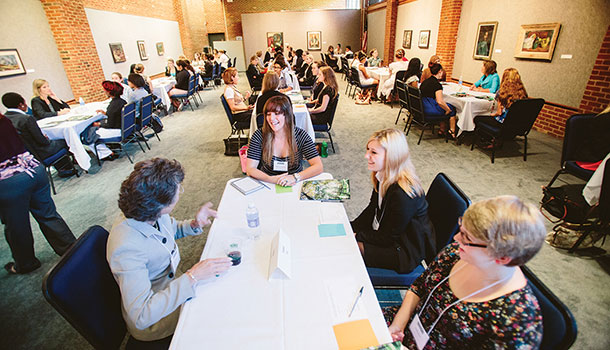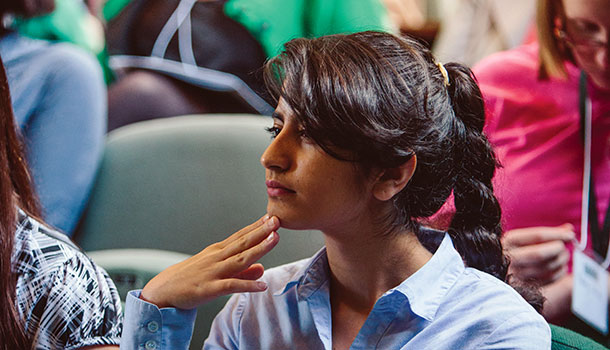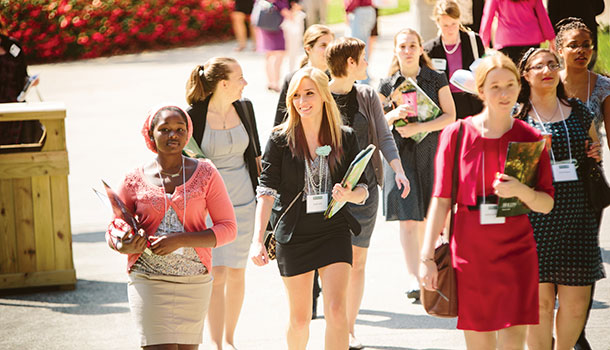 Following the keynote address, students immersed themselves in the conference, attending everything from Speed Connection sessions, which enabled them to network with alumnae in a fast-paced and informal setting, to a wide variety of panels. "[C3 is] a great way for students to interact with alumnae and get good advice," said Savon Shelton Sampson '04 during a break in one of the Speed Connection sessions. "I'm talking to them about real-life experiences, what they need to know before they enter the workforce."
Julie Westhafer Basic '96, who helped lead a panel session on working in the nonprofit sector, said to students, "I was never told at Hollins, 'You can't do that,' and that has served me well. The skills I learned from different disciplines also helped me. I've learned to do what makes me happy and what I am passionate about."
After the afternoon sessions ended, students mingled with alumnae at a reception and attended information sessions on internships available at UBS Financial Services (offered by Holly Hendrix '75) and Estée Lauder (offered by Alex Trower '86). C3 concluded with students participating in one-on-one meetings with alumnae.
"I never felt so energized, happy, hopeful," said Sha-Keara Pinkney '15 at the end of the conference. "Things after Hollins will go well for me."
Horizon student Bertha Craggett praised the "real-life honesty" of the alumnae who took part in C3. "The information they presented was extremely helpful."
In her discussion of the college years and their consequences, keynote speaker Jay summed up what those who participated in C3 may have gained: "It is a pivotal time when the things you do and the things you don't do will have enormous effect across years and even generations to come. Even a small shift can radically change where you end up. …If you can figure out how to navigate, even a little bit, you can get farther, faster, than in any other stage in life."
Related posts:
"Best Conference Ever"
"You are Being Recruited For a Movement"
Panels of Experts
Jeff Hodges is director of public relations.
Photography by Sam Dean.
« The Cure for Nature Deficit Disorder The Civil War in Southwest Virginia »