The Hollins Critic, published five times a year, presents the first serious surveys of the whole bodies of contemporary writers' work, with complete checklists. Upcoming in the Critic you'll find essays on such writers as César Aira (by William Repass), Kay Ryan (by Duffie Taylor), Dashiell Hammett (by R.H.W. Dillard), Luc Sante (by Henry Taylor), Christian Formoso (by Sydney Tammarine), and many others.
The Hollins Critic also offers brief reviews of books you want to know about and poetry by poets both new and established. And every issue has a cover portrait by Susan Avishai M.A. '02.
Excerpt from june 2021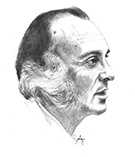 "Robert Duncan's The H. D. Book" by Aram Saroyan
Robert Duncan began writing The H. D. Book in 1959 and finished it except for embellishments in 1961; yet only now, half a century later, has it reached book form. A prose masterwork that begins with the story of Duncan's initiation as a poet, over the course of its 646 pages it morphs into a visionary meditation in which H. D., the American poet born Hilda Doolittle (1886-1961), remains the thematic touchstone.
Writer's Guidelines
Note: The Hollins Critic reads poetry from September 15 to December 1 each year.
The Critic does not accept unsolicited essays. We rarely accept unsolicited book reviews.
The Critic does not publish fiction.