The Hollins Critic, published five times a year, presents the first serious surveys of the whole bodies of contemporary writers' work, with complete checklists. In past issues, you'll find essays on such writers as Ben Lerner (by Sydney Tammarine), Jeanne Larsen (by Marissa Mazek), Ruth Ozeki (by Ellen Louise Ray, Neil Jordan (by Kelly Cherry), Robert Wrigley (by Henry Taylor), and László Krasznahorkai (by Thomas McGonigle).
The Hollins Critic also offers brief reviews of books you want to know about and poetry by poets both new and established. And every issue has a cover portrait by Susan Avishai M.A. '02.
Excerpt from February 2020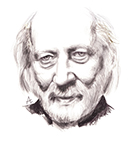 "Nothing Lasts Forever: The Work of László Krasznahorkai"  by Thomas McGonigle
The novel attempts to create meaning on this side of language. How can it do this when it has nothing but language itself. First, language itself was born of a stratum on this side of language and is a derived system of signs referring back to that reality. Second, it is in itself a reality beyond language. For example, we simply retranslate its crude generalizations, its abstract functions, we assemble what it has torn apart and use it in its entirety. In the beginning was not the word but the sentence; it is this we break up into its component parts. In the beginning was not the sentence but the paragraph; it is this we expound into sentences! In the beginning was not the paragraph but the novel, and the novel was preceded only by silence itself. — "On the Novel" by Geza Ottlik
(a last gasping attempt to describe a novel)
Considerations on Baron Wenckheim's Homecoming, a novel translated into English from the Hungarian of László Krasznahorkai.

During the writing of this essay I became a little unhappy with the above title which is a line from a Roxy Music song by Bryan Ferry. I keep thinking a better title would be "All for Nothing" but many readers of this journal are also great movie watchers and they would remember it is the last line a retired marshal says as Gary Cooper goes out to face. . . in the movie

High Noon.
This movie has probably the darkest ending of any of the so-called popular classics: filled with the most awful sense of foreboding as we see the marshal and his wife leaving town after he pats on the shoulder the only person who came freely to offer him help, so we are left to the fate of these three people which can not be anything except grim. No small town would ever forgive that boy!
So be warned as to what is to follow, yet. . . László Krasznahorkai is necessary in order to navigate the world. . . but you will be navigating without a compass. . .led by a person who must recite the English alphabet to remember that r comes before s and then comes t.
Rarely do essays begin with a note, a preface a suggestion, a confession, an excuse but here goes. . .

The essay you are reading began in the Spring of 2016 when I met László Krasznahorkai at the annual party New Directions has in May at the same time as Book Expo in New York City. While not the guest of honor—as these parties are not like that—he was at least for me the center of attention and he turned out to be incredibly easy to talk with and it did not bother him when I asked if he would autograph

Satantango

, his most recently available novel and innovative right down to being issued without a dust jacket.
Writer's Guidelines
Note: The Hollins Critic reads poetry from September 15 to December 1 each year.
The Critic does not accept unsolicited essays. We rarely accept unsolicited book reviews.
The Critic does not publish fiction.