The Hollins Critic, published five times a year, presents the first serious surveys of the whole bodies of contemporary writers' work, with complete checklists. Upcoming in 2022 are essays on Yehoshua November by Liz Rosenberg; Georgi Gospodinov by Thomas McGonigle; Colum McCann by Marissa Mazek; and Angela Carter by William Repass.
The Hollins Critic also offers brief reviews of books you want to know about and poetry by poets both new and established. And every issue has a cover portrait by Rebekah Lowell M.F.A. '19.
Excerpt from december 2022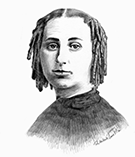 "Whitman Sisters: Hannah Whitman Heyde, Maire Mullins, Karen Karbiener, Jennifer Crandall" by Howard Nelson
There's a new book out by one of Walt Whitman's sisters. Not Mary Elizabeth Whitman, who married Ansel Van Nostrand, a Long Island ship builder, with whom she had five children, and whose home, "a small white house in a small town," represented for Walt "idyllic hearth and home living."
Writer's Guidelines
Note: The Hollins Critic reads poetry from September 15 to December 1 each year.
The Critic does not accept unsolicited essays. We rarely accept unsolicited book reviews.
The Critic does not publish fiction.