All first-year students take a first-year seminar. These seminars allow you to participate in collaborative and active learning and to hone your skills in critical thinking, creative problem solving, research, writing, and oral communication.
Advising
Faculty
Your first-year seminar professor may also serve as your first-year academic advisor and will help you with course selection and academic goal setting.
Note: We are currently updating the information for the upcoming fall term. Please check back later for updated information.
Student Success Leaders
Each seminar also has an upper-class student mentor called a student success leader, or SSL. SSLs attend the seminar, help you with advising, and answer academic questions. Your SSL will be in touch with you over the summer.
O-Team
Each first-year seminar also has an upper-class student mentor called an O-Team Leader to work with you as well. This student focuses on your out-of-class experience and connecting you to others and resources across campus. Throughout the summer and during Orientation, your O-Team Leader will be in contact and will be happy to answer your questions.
Getting Started
Start with the Advising Questionnaire
Review the seminars and fill out the Advising Questionnaire as soon as possible.
We'll let you know through your Hollins email account which seminar you'll be attending. If you complete your questionnaire by June 1, we'll place you in your seminar before July 1. If you complete your questionnaire after June 1, we'll place you in a seminar by August 1. If we do not receive your questionnaire by August 5, we will choose a seminar for you. We fill seminars on a first-come, first-served basis.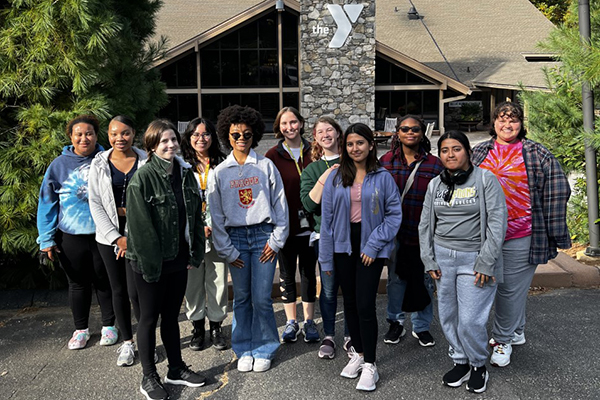 At Ignite Retreat, First-Year Students Embrace How to Create Change
Students from the Hollins first-year seminar "Ask Not What Your Community Can Do for You: Sustainability and Social Innovation" learned how to become social entrepreneurs and spark change in their communities at a three-day event hosted by the Algernon Sydney Sullivan Foundation.