President Mary Dana Hinton urged new and returning students to "recognize that you deserve to be happy and to not allow those things that interrupt your peace" as Hollins University officially kicked off its 182nd academic year at Opening Convocation, held August 29 in duPont Chapel.
The annual ceremony welcomes new students into the campus community and features the procession of seniors in their graduation robes for the first time.
Hinton delivered a special message to the class of 2024, noting that having taken office as the university's 13th president on August 1, 2020, "we started at Hollins together." In the midst of adhering to pandemic precautions intended to uphold Hollins' Culture of Care ("We were masked, six feet apart, unable to eat in community, and holding multiple sessions of programs.") and facing societal challenges ("The world around us was attempting to wrestle with racial injustice and we were doing the same."), Hollins, she said, "despite all the change and fear and loss and grief in that moment, managed to persevere."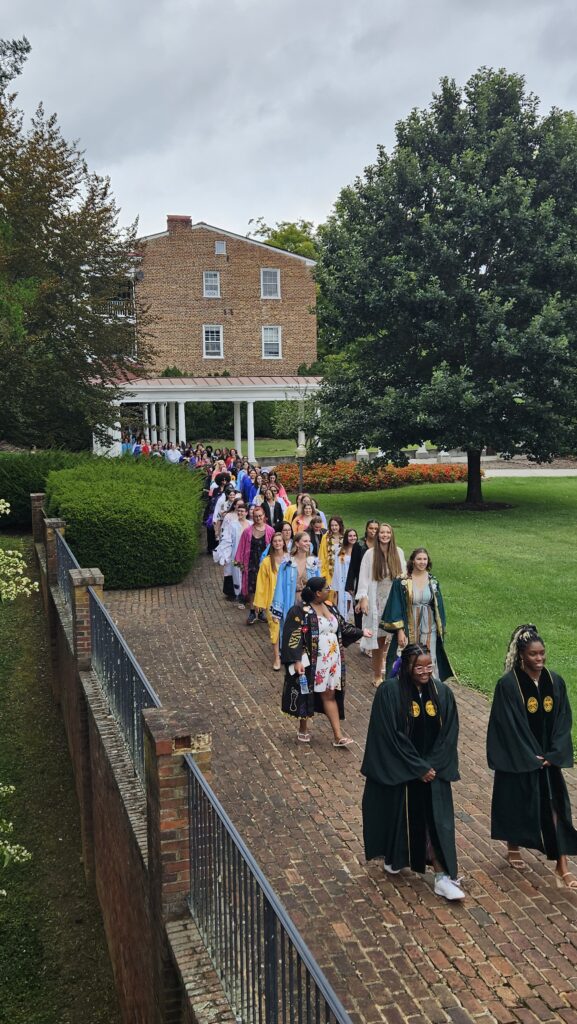 Reflecting on three years together, Hinton shared with the seniors "the three things that have emerged for me with the hope that they will resonate with you and enlighten your year ahead."
First, Hinton asserted that the remarkable circumstances that impacted those years "helped me to have clarity about what matters most in life. There are things that would have once exacted a toll on my well-being that I now am able to just let be. These things sometimes arrive as epiphanies and other times they evolve over time. But I hope that you, too, recognize that you have a right to prioritize what matters in your life and to live into your truth."
Hinton then conveyed her confidence that "you have garnered insight into who and what you want to be in the world, what you will and will not allow. Thanks to each of you and the past three years, I have, too." She summed up that awareness as "saying I am enough, as I am, and holding fast to that knowledge in the midst of pain and trouble."
Finally, Hinton encouraged the senior class to not only ruminate upon where it has been, but also to "take a moment to think through what we want and what we need from our final year together," one that is filled with "a sense of purpose that will equip you to do your very best work this year." She extended that advice to Hollins' newest students, telling them to let their resolve "move you to new encounters and to explore new opportunities," and told returning students to "allow your purpose to sustain you as you tackle big projects, study away, or experience the culmination of many academic experiences."
Addressing all students, faculty, and staff in attendance, Hinton expressed her fervent wish that they "endeavor to make joy your constant companion. We live in a world in which joy is precious and fragile. There are those who are so estranged from it that they want to take yours, too. Don't allow that. The best joy comes from taking care of your mind and your heart. In a world that wants you to conform to their needs, acknowledging, advocating for, and finding joy in your soul is a radical act."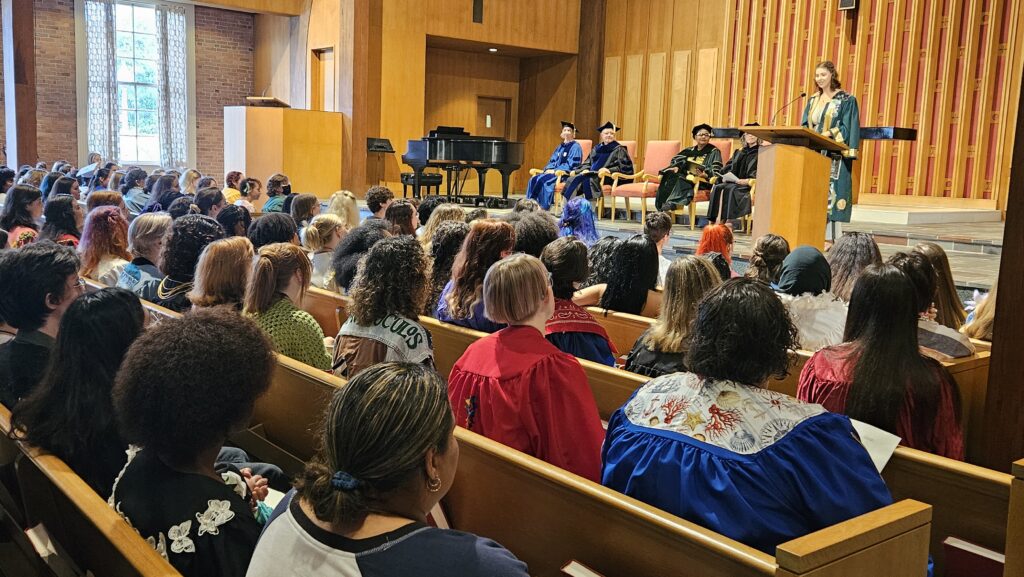 In her remarks, Student Government Association President Israella Freidline '24 saluted her classmates by echoing the advice of physicist Stephen Hawking, who once stated, "Showing up is half the battle."
"While this is an amusing thing to say or take for granted," Freidline explained, "showing up consistently is hard. Showing up day after day takes discipline. Showing up despite there being other options isn't easy. Showing up shows your commitment and dedication to those around you, those you have learned will show up for you as well. And at the end of the day, the class of 2024, we showed up."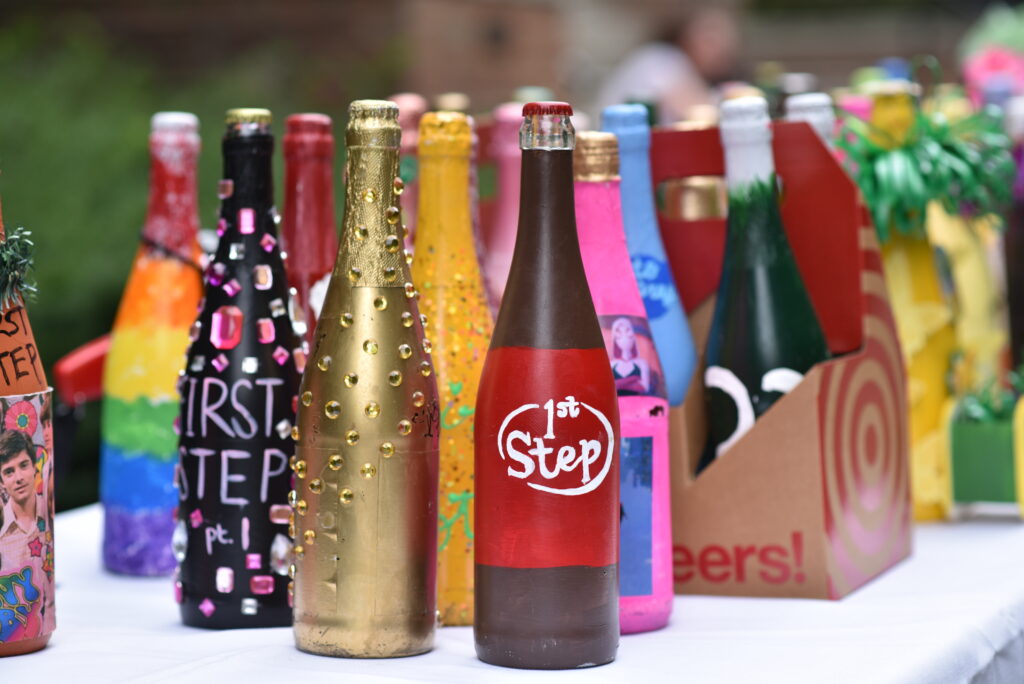 Following Opening Convocation, the class of 2024 took part in the traditional First Step ceremony on the university's historic Front Quad. Each year, seniors line the sidewalks of Front Quad dressed in robes they creatively design themselves. Bearing bottles of cider specially decorated for the occasion, they take their symbolic first steps onto the grass.
Top photo: Hollins' class of 2024 poses in their graduation robes for the first time as they prepare for Opening Convocation.