If you enjoy the outdoors, with some adventure thrown in, then the Hollins Outdoor Program—or HOP—is for you. HOP combines adventure, education, self-awareness, and leadership all into one fun, exciting program.
Hiking, Camping, Climbing, Skiing, Caving, and More
Hollins is a 10-minute drive from the Appalachian Trail, with endless opportunities for hiking and camping.
Students canoe and fish on the nearby James River.
Two hours away, the New River Gorge is home to some of the best rock climbing and white-water paddling on the East Coast.
The many caves of the Appalachian region provide exploring opportunities year-round.
Students ski on the slopes of the Homestead, Wintergreen, and Snowshoe resorts.
HOP hosts the annual National Paddling Film Festival Roadshow, featuring thrilling footage of white-water canoeing and kayaking.
---
Responsible and Safe Practices
HOP bases all trips on the Leave No Trace Center's Seven Principals of Outdoor Ethics. Climbing trips adhere to the stringent standards of the American Mountain Guides Association.
---
HOP director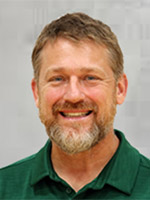 Jon Guy Owens has directed HOP since 2001. He was born and raised in the Great Smoky Mountains near Cherokee, North Carolina, and got his start in adventure recreation as a river guide on the Nantahala River in North Carolina, while earning his undergraduate degree in therapeutic recreation. He is certified as: instructor/trainer from the Wilderness Education Association; wilderness first responder; and single pitch instructor from the American Mountain Guiding Association. He lives in Troutville, VA with his wife, Anna Copplestone '06, and son, Henry.
---
Trips for every interest and skill level
Staff members and trained student instructors lead you safely on a wide range of adventures. We offer exciting trips every month that accommodate both beginners and experienced participants.
Spring 2021 trips:
February 13: Day hike to Carvins Cove
February 17: Wednesday walks with HOP
February 19: Slack lines on Back Quad
February 20: Survival series hike – Fire building #1
February 24: Wednesday walks with HOP
March 3: Wednesday walks with HOP
March 10: Wednesday walks with HOP
March 13: Survival series hike – Emergency shelters #2
March 14: Day hike to Carvins Cove
March 17: Wednesday walks with HOP
March 20: Hike and bike at Carvins Cove
March 24: Wednesday walks with HOP
March 26: Slack lines on Back Quad
March 27-28: Backpacking on campus
April 3: On campus (Forest of Arden) campfire
April 7: Wednesday walks with HOP
April 10: Day hike
April 14: Wednesday walks with HOP
April 18: Constellation hike
April 23: Slack lines on Back Quad
April 24: Survival series hike – Hydration and basic first aid #3
April 25: Hike with SUP at Carvins Cove
April 28: Wednesday walks with HOP
May 1: SUP on the Cove
May 2: Mushroom hike
May 5: Wednesday walks with HOP
May 8: Night hike
May 12: Wednesday walks with HOP
Before you begin your official Hollins adventure, first-year students can have a five-day outdoor adventure with HOP.
Hollins Outdoor Leadership Certificate (HOLC)
The Hollins Outdoor Leadership Certificate is designed for women at Hollins who are interested in outdoor leadership. The goal of the program is to provide training for women leaders in adventure recreation. The certification process includes components of the Wilderness Education Association's National Standards Program, Leave No Trace trainer certification, Wilderness First Aid, leadership hours completed with the Hollins Outdoor Program (HOP) and course work.
This is a two-year process wherein each woman will have the capability to learn and develop her decision making, technical skills, and personal outlook through hands-on experience. Each woman who completes the HOLC program will graduate with at least two nationally recognized certifications and necessary experience if she wishes to pursue an education or career in outdoor leadership.