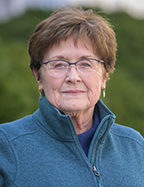 Rebecca Beach, Associate Professor, Biology
Rebecca Beach grew up in Tucson, Arizona, where she spent much of her time exploring the mysteries of the desert and its magnificent array of critters. She attended the University of Arizona as an undergraduate, where she received her B.S. in ecology and evolutionary biology. Following graduation, she worked for a short time in a microbiology research laboratory and became intrigued with genetics and the world of cells. She earned her M.S. in genetics and cell biology from the University of Connecticut and her Ph.D. in molecular and developmental biology from the University of Texas at Austin. Her current research projects include studies on canine athletes and genes associated with performance and learning in dogs. She is an active member of a local dog training club and enjoys spending her free time in the company of her two Australian shepherds.
---
Vladimir Bratic, Associate Professor, Communication Studies
Professor Bratic came to Hollins in the fall of 2006 after receiving his Ph.D. in mass communication from Ohio University. Prior to coming to the United States, Bratic lived in the Czech Republic where he graduated from the Faculty of Pedagogy and Philosophy at the Palacky University. He is originally from Sarajevo, Bosnia and Herzegovina, where he began his research on the role of the media in conflict and peace. He has published journal articles and teaches about how media can help promote peaceful transformation of violent conflict across the world.
---
Matthew Burnside, Visiting Assistant Professor, English
Matthew Burnside is the author of three books and several digital experiments, most recently the serialized hypernovel Dear Wolfmother (Heavy Feather Review). He is particularly interested in literary conceptions that prioritize multimodal playfulness, interactivity, and various degrees of gamification. He is a graduate of the Iowa Writers' Workshop. His favorite Super Nintendo game is Earthbound.
---
Courtney Chenette, Assistant Professor, Political Science and Gender and Women's Studies

Courtney Chenette is proud to be a Hollins alumna. After studying political science and gender and women's studies at Hollins, she earned her J.D. and practiced law in New York City. She began her advocacy as a New York University Revson LSPIN Fellow, representing teenage dating and domestic violence survivors. As a civil rights attorney, Chenette litigated, trained, and counseled clients on novel constitutional questions involving government power and administration, policing, education, employment, and discrimination. She researches and teaches political science courses on constitutional law; civil rights; voting rights; American government institutions; and race, class, gender, sexuality, and the law. Chenette also serves the community as a pre-law advisor. When she is not enjoying our beautiful campus, she is traveling between NYC, San Francisco, and Roanoke listening to podcasts.
---
Peter Coogan, Associate Professor, History
Peter Coogan escaped from the snows of New York to get his B.A. at Duke University and his M.A. and Ph.D. at the University of North Carolina at Chapel Hill. He has taught at Hollins University since 1988, where his specialties include explaining why nations periodically try to slaughter each other and why modern America does the things it does. He is currently completing a book on Franklin Roosevelt's worldview. Professor Coogan became a historian because he was too small and untalented to become the starting free safety for the New York Giants. In his "free time," he watches football and dreams of what might have been, he listens to Howlin' Wolf, Social Distortion, and Gaslight Anthem, and he reads just about everything that falls in front of him.
---
LeeRay Costa, Professor, Anthropology and Gender and Women's Studies
LeeRay Costa is proud to be the first person in her family to attend college and complete her B.A. at the University of California, San Diego. She is passionate about mentoring students and is deeply grateful to her undergraduate advisor, sociologist Bennetta Jules-Rosette, for encouraging her to earn her Ph.D., which she did in 2001 at the University of Hawai'i, Manoa. Trained as a feminist cultural anthropologist, Costa's research focuses on social change and social justice. She has published on women's activism, nongovernmental organizations, and transgender youth in Thailand, where she lived for three-and-a-half years. She has also conducted research on the local food movement in Hawai'i, her family home. She chairs the gender and women's studies program and teaches courses on gender and sexuality, women and social movements, food, culture and social justice, spiritual activism, and girlhood studies. Inspired by her daughter, in 2012, Costa founded the nonprofit organization Girls Rock Roanoke that provides a space for the empowerment of girls and women through music, creative expression, and collaboration. Costa is a student of yoga and meditation, an avid cook and eater, and a lover of pigs.
---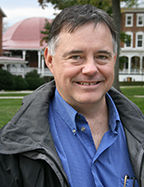 Dan Derringer, Associate Professor, Chemistry; Interim Vice President for Academic Affairs 
Dan Derringer received his B.A. from Kalamazoo College and his Ph.D. from Purdue University. He loves teaching. Among his favorite courses are Inorganic Chemistry, Chemistry and Cooking, and Learning Navigation Skills, a unique Short Term course in which students learn to do navigation planning for a 50-nautical mile trip in a small aircraft and then fly the trip with him in a plane he co-owns. Derringer's research involves making and studying new compounds of the transition-series elements. He enjoys cooking, spending time with his family, and tooling around in his 1953 Piper Super Cub.
---
John Forsman, Technical Director, Theatre
John Forsman would like to be known as the mad scientist of the theatre, though he is more the eccentric Technical Director of it.  Hailing from Omaha, Nebraska, Forsman received his BFA in Technical Theatre at Nebraska Wesleyan University and immediately after found himself at the University of Virginia where he received his MFA in Technical Direction.  Working in theatres across the country, he has continued to educate himself in computers, theatre automation, projections, new construction techniques, and anything else shiny that catches his attention.  One of his other favorite hobbies is cooking, but he has yet to cook an omelet correctly.  He can often times be found swimming laps in the early morning hours and walking his dog, Watson, in the evening, all the time contemplating his next crazy idea or invention.
---
Michael Gettings, Associate Professor, Philosophy; Dean of Academic Success
Michael Gettings is a former physics undergraduate who morphed into a philosopher, receiving his Ph.D. in 1999 from the University of California, Santa Barbara, and joining Hollins in the same year. He loves exploring topics from symbolic logic to the philosophy of fiction and has written philosophical book chapters on pop culture topics from the Grateful Dead to The Daily Show to LEGOs. Outside the classroom, he spends an inordinate amount of time listening to music of (nearly) every sort, including some that many people wouldn't consider music. He loves hiking the gorgeous Blue Ridge Mountains and playing cooperative board games. Ice cream is his kryptonite, and he keeps a list on his phone of unconventional flavors he's tried.
---
Genevieve Hendricks, Assistant Professor, Art
Genevieve Hendricks grew up in Upstate New York but has spent summers in Virginia all her life and is happy to have moved to Roanoke! She is currently an assistant professor of modern and contemporary art history and earned her B.A. in art history and English literature from the University of Pennsylvania and her M.A and Ph.D. from the Institute of Fine Arts, New York University. She teaches courses in modern art ranging from the History of Photography to Feminism and Contemporary Art. Her research focuses on 20th century art and architecture, particularly in France, and she loves to travel, take long walks, and hang out in museums.
---
Pablo Hernandez, Associate Professor, Economics
Pablo Hernandez completed his Ph.D. in economics at the University of Notre Dame. He came to Hollins University in fall of 2007. He has taught introductory and upper level courses in economics, environmental studies, and international studies. Professor Hernandez's research interests lie in development, environmental, and ecological economics with several publications and presentations in these areas. His current research interests center on alternative regimes governing common property resource management in the state of Chiapas, Mexico. Professor Hernandez is an avid listener of classical keyboard music. He enjoys traveling with his family, camping, and hiking in Southwest VA.
---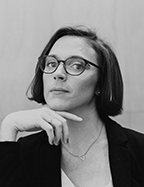 Jeanne Jégousso, Visiting Assistant Professor, French
Jeanne Jégousso left her native country of France in 2011 to complete her graduate studies in the United States. After receiving her Ph.D. in French studies at Louisiana State University, she joined Hollins in July 2019 where she is an assistant professor of French studies. Professor Jégousso specializes in literatures written in French in the Caribbean and the Indian Ocean. She is the codirector of the Library of Glissant Studies (www.glissantstudies.com), a digital bibliography focusing on the work of Martinican author Édouard Glissant (1928-2011). She has published several articles focused on contemporary Caribbean literature and co-edited the volume Teaching, Reading, and Theorizing Caribbean Texts (Lexington Books, April 2020). Jégousso enjoys screening French and Francophone movies on campus, and she attends the French table held in Moody as much as she can. In January 2021, she hopes to travel to the French Caribbean with a group of students to attend a theatre festival held on the island of Martinique. During her spare time, she enjoys listening to vinyl, complaining about the cold, and attending SocaRobics and Caribbean-inspired dance classes.
---
Ed Lynch, Professor, Political Science
Ed Lynch is professor and chair of political science at Hollins. He received his Ph.D. in foreign affairs from the University of Virginia. He has also been a professor at UVA, at the University of Mary Washington, and Villanova University, and has taught part time at Ferrum College and Roanoke College. He is the author of five books, with three more forthcoming, and numerous scholarly articles. Besides his academic accomplishments, Lynch also worked on Capitol Hill for the chair of the Senate Subcommittee on Terrorism and in the White House Office of Public Liaison. Currently, he is an Opinion Contributor to TheHill.com, Washington's most widely read commentary website. He is also political analyst for WSLS-10 in Roanoke, an affiliate of NBC. Lynch has traveled to over 110 countries as a researcher or a tourist.
---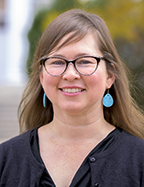 Andrea Martens, Visiting Assistant Professor, Art
Andrea Martens teaches printmaking and drawing in the art department, and after a recent move from Colorado, is excited to be back on the east coast and teaching art at Hollins! Martens received her M.F.A. in printmaking from Colorado State University, and received her Post-Baccalaureate Certificate in studio art from the School of the Museum of Fine Arts, Boston. She holds a Bachelor of Science degree in psychology from Virginia Tech with minors in art and biology. Martens is vested in the role of the artist within our societal context, and uses mixed-media printmaking in her research to examine the human-animal relationship and issues of open space and confinement, as well as physical and psychological space in contemporary industrial society. Martens has been a member of the Boston Printmakers since 2008, and her research has been exhibited nationally and internationally, most recently in Portugal and Cuba. She has received several grants and has enjoyed doing artist residencies in New Zealand, Venice, Italy, and Vermont, USA. In addition to teaching and creating in the studio, Martens' passions include swimming, Nordic skiing, and practicing yoga and meditation in her free time.
---
Thorpe Moeckel, Associate Professor, English and Creative Writing
Thorpe Moeckel believes that poetry is the foundation of all food pyramids and that the poem on the page is a kind of soil and a kind of meal, which makes poetry a lively gateway to exploring how food informs our most intimate relations with ourselves, each other, and the land. He grew up in Atlanta and attended Bowdoin College, where he graduated in 1994 with degrees in English and environmental studies. Along the way, in and out and after college, Moeckel worked as a river guide, in restaurants, on small farms, the building trades, and as an adventure-based counselor. He earned a M.F.A. in creative writing at the University of Virginia. His writings have been widely anthologized and honored with NEA, Javits, Hoyns, Sustainable Arts, and Kenan Fellowships. He is the author of several books of poetry and nonfiction, with two new books, a middle grade novel and lyric nonfiction, forthcoming in fall 2019. He has taught at Hollins since 2005.
---
Rachel Nuñez, Associate Professor, History
Rachel Nuñez remembers first falling in love with history over biographies of Eleanor of Aquitaine and Anne Boleyn and still can't believe she gets paid to talk about history on a daily basis. After picking up a B.A. at Rice University and a Ph.D. at Stanford, she arrived at Hollins in 2008. She teaches a variety of courses on women's history and European history and loves introducing students to the joys of historical research. When she's not teaching (or participating in random Hollins traditions), she enjoys travel, cooking, and movies. Her favorite movie is The Big Lebowski, and she attends Lebowski Fests whenever she gets the chance. She is a native Texan and will always have a soft spot for the Lone Star State. Still, Virginia is gradually luring her in with its beautiful scenery and actual seasons.
---
Julie Pfeiffer, Professor, English
Julie Pfeiffer is professor of English and a member of the Gender and Women's Studies Council. She received her B.A. from Carleton College and her M.A. and Ph.D. from the University of Connecticut. While writing her dissertation on Charlotte Bronte, she had her first two children and began to learn how to balance the joys and struggles of teaching and scholarship with those of family life. Those early years of writing about theory while reading bedtime stories shaped her career, and she continues to think about the ways literature and the academic life affect how we approach our personal relationships and well-being. She arrived at Hollins—her dream job—in 1997; she teaches courses on children's literature, British literature, and women writers. Her research investigates the ways gender structure is exposed and reinforced through literary texts; her current book project looks at 19th-century novels for adolescent girls in Germany and America. She is the editor of the journal Children's Literature, published by Johns Hopkins University Press. Her interests include playing the ukulele, cooking, helping families with birth and breastfeeding, and CrossFit.
---
A
lison Ridley, Professor, Spanish; Interim Vice President for Academic Programs
Alison Ridley grew up in England, Norway, France, and Venezuela, but she completed her university studies in the United States. She received her BA, MA, and PhD in Spanish from Michigan State University where she specialized in the literature of the Golden Age. Her current research interests include 20th century Spanish drama, Hispanic cultural studies, and translation studies. Since arriving at Hollins in 1991, she has taught language, culture, and literature courses, as well as Business Spanish and a Short Term service-learning course on Appalachia. She has led two Short Term trips to Mexico and Costa Rica and is passionate about introducing students to different cultures, languages, and ways of life. When not at work, she enjoys reading, gardening, hiking, working out, eating chocolate, and spending time with her husband, Mark, and her Miniature Schnauzers, Dieter and Poppy.
---
Elise Schweitzer, Associate Professor, Art
Elise Schweitzer teaches painting and drawing at Hollins, and she is remarkably enthusiastic about color and painting. If she's not teaching, you might find her in the barn drawing the horses or on a hill on campus working on a nine-foot wide canvas. She received her M.F.A. from Indiana University Bloomington and her B.F.A. from Pennsylvania Academy of the Fine Arts and University of Pennsylvania.
---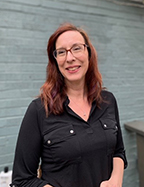 Ami Trowell, Visiting Lecturer, Theatre
Ami Trowell is the founder and creative director of Theatre3 in downtown Roanoke. She has been performing with Roanoke's professional improvisation troupe, Big Lick Conspiracy, for over a decade and directing for the last four years. Trowell has studied improvisation at Second City, Chicago; and Dad's Garage in Atlanta, GA. She has produced and performed in several comedy podcasts including What Just Happened?, All Purpose Cleaner, Purposefully Derpy, and BP & Ami. Trowell received her B.A. in theatre from the College of Charleston and a M.A.L.S. from Hollins. Most importantly, she is the proud mother of three smart, funny, and amazing daughters.
---
Shelbie Wahl-Fouts, Associate Professor, Music, and Director of Choral Activities
Shelbie Wahl-Fouts hails from the Midwest, growing up in Illinois and pursuing higher education in Indiana. She received her B.Mus. from DePauw University, M.Mus. from Butler University, and D.A. in choral conducting from Ball State University. When not in school, she was busy musical directing and conducting for nine seasons with the Indianapolis Civic Theatre. If her work involves conducting, singing, dancing, playing instruments, or any sort of performance, she's happy. At Hollins, Wahl-Fouts leads the Concert Choir, Chamber Choir, and Talmadge Singers, and teaches various other music classes, including Sight-Singing and Conducting. (Psst….Come join the choirs!) On the home front, she loves running and hiking with her husband, Donovan, and their son, James. Their full family includes a St. Bernard named Gatsby and cats, Carmen and Haydn.
---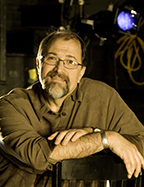 Ernie Zulia, Associate Professor, Theatre
Honored by the Kennedy Center as "Outstanding Teaching Artist."
When I learned I could actually make a living in a field where the most important word is "play," I said "sign me up." Tell me a good story, sing me a song, fill up my eyes with exciting images, and I'm one happy guy. Give me a chance to share it with others, and I'm ecstatic!