Vladimir Bratic, Associate Professor and Chair, Communication Studies
Professor Bratic came to Hollins in the fall of 2006 after receiving his Ph.D. in mass communication from Ohio University. Prior to coming to the United States, Bratic lived in the Czech Republic where he graduated from the Faculty of Pedagogy and Philosophy at the Palacky University. He is originally from Sarajevo, Bosnia and Herzegovina, where he began his research on the role of the media in conflict and peace. He has published journal articles and teaches about how media can help promote peaceful transformation of violent conflict across the world.
---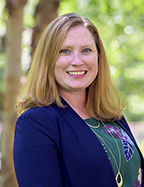 Ashleigh Breske, Visiting Assistant Professor, Global Politics and Societies
Ashleigh Breske is a visiting assistant professor of international studies in the Global Politics and Societies (GPS department). Her research explores how institutions and cultural values mediate changes in repatriation policy for cultural property. During her current project, she is working with students to understand contested sales and repatriation requests of Taíno sacred zemí objects. Her work has been published in the journal, International Journal of Cultural Property. Breske teaches a broad range of courses on cultural heritage and museum studies; globalization and local responses; religious freedom and politics; and, refugees and resettlement, etc. In her free time, she enjoys reading, swimming, hiking, and hanging out with her cats and family.
---
Matthew Burnside, Visiting Assistant Professor, English
Matthew Burnside is the author of seven books. Forthcoming or most recent projects include Skull Kingdoms: An Imaginary Omnibus, Centrifugal: Unstories, and Here is a Little Book to Comfort You During These Unusually Dark Times. He is particularly interested in literary conceptions that prioritize multimodal playfulness, possibility, and various degrees of gamification. He is so grateful to learn from students here at Hollins and first-year seminars are among his favorite courses to teach.
---
Courtney Chenette, Assistant Professor, Political Science and Gender and Women's Studies
Courtney Chenette is proud to be a Hollins alumna. After studying political science and gender and women's studies at Hollins, she earned her J.D. and practiced law in New York City. She began her advocacy as a New York University Revson LSPIN Fellow, representing teenage dating and domestic violence survivors. As a civil rights attorney, Chenette litigated, trained, and counseled clients on novel constitutional questions involving government power and administration, policing, education, employment, and discrimination. She researches and teaches political science courses on constitutional law; civil rights; voting rights; American government institutions; and race, class, gender, sexuality, and the law. Chenette also serves the community as pre-law advisor. When she is not enjoying our beautiful campus, she is traveling between NYC, San Francisco, and Roanoke listening to podcasts.
---
Michelle De Groot, Assistant Professor, English
Michelle De Groot has been a member of the department of English and creative writing at Hollins for six years. She holds a B.A. from the University of Virginia and completed her Ph.D. in medieval English literature at Harvard University. Her research interests include the Middle Ages as well as modern science fiction and fantasy. She found that her professional interest in sci-fi and fantasy equipped her well for long-distance Marvel watch parties with her nieces and nephew when COVID-19 first hit. De Groot's other interests include music, knitting, stand-up paddleboarding, and hanging out with her dog, a snaggle-toothed pug/lab/beagle/pit/pointer/boxer/snugglebug.
---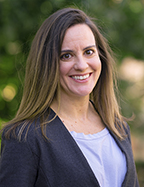 Heather Derrick, Lecturer of Communication Studies, Director of Oral Communication Across the Curriculum
A Norfolk native brought to Southwest Virginia by way of Virginia Tech, Heather Toro Derrick has 20 years in the communications field, from working in print and broadcast media to public relations and marketing. She specializes in communication skills—teaching and training, including public speaking, teamwork, intercultural, organizational, and interpersonal communication. Since 2003, she has shared her passion for teaching with students at Hollins, Radford University, Virginia Tech, New River Community College, and Virginia Western Community College. Outside of teaching, she has worked with small businesses, nonprofits, and governmental agencies as a marketing and public relations campaign consultant.
---
Ángel Díaz Miranda, Associate Professor, Spanish; Chair, Modern Languages
Ángel Díaz Miranda is an associate professor of Spanish and Latin American Literature at Hollins. He received his doctoral degree from Emory University. In 2014, he was Andrew W. Mellon Fellow at Agnes Scott College. His research focuses on contemporary Mexican and Chilean poetry and literature and their relations to violence, trauma, and memory from Modernismo to the present. Díaz Miranda has published journal articles on Mexican and Chilean poetry and fiction. He contributed the chapter "Octavio Paz and Poetic Institutions" to the Cambridge History of Mexican Poetry to be published in 2023. He is the guest editor for a special issue of Trasatlántica: Poetry and Scholarship, on Incurable (1987) by David Huerta. His book project Archives of the Wound traces the cruel modalities of psychological wounding and bodily harm in Mexican and Chilean literature and visual arts from Modernismo to the present. He has presented his work nationally and internationally. He is also a poet. His books Catálogo de inconsistencias and Escala Richter are forthcoming by Editorial del Instituto de Cultura Puertorriqueña and Ediciones Acapulco, respectively. He is one of the cofounders of distropika.com, a space for Puerto Rican and Latin American poetry.
---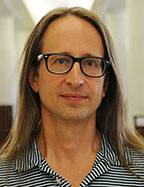 Brian Gentry, Assistant Professor and Chair, Physics, Pre-Health Advisor
Brian Gentry has been teaching physics and environmental science at Hollins since 2013. His path to Hollins, however, has been decidedly nonlinear. After dropping out of college on the first try, his legal activities included studying and teaching kung fu, working as a cook and a carpenter, taking up political activism, fronting several un-noteworthy bands, and traveling in the U.S. and Europe. Eventually, he returned to college and began his graduate training in physics at the Center for Nonlinear Dynamics at UT Austin before being lured to the Institute for Soft Matter Physics at the University of Leipzig, Germany, by the prospects of becoming an ex-pat and a near-infinite supply of German and Czech beer. He completed his Ph.D. in 2009 and subsequent postdoctoral research at the Institute for Atomic and Molecular Physics (AMOLF) in Amsterdam, The Netherlands, in 2012. For some reason he returned to his native Virginia, where he currently annoys both his two children and students at Hollins by always answering their questions with more questions and constantly talking about systems science. As a biophysicist, his research interests are in the self-organization of living matter.
---
Genevieve Hendricks, Associate Professor, Art
Genevieve Hendricks grew up in Upstate New York but has spent summers in Virginia all her life and loves living in the Blue Ridge Mountains. She is an associate professor of modern and contemporary art history and earned her B.A. in art history and English literature from the University of Pennsylvania and her M.A and Ph.D. in art history from the Institute of Fine Arts, New York University. She teaches courses in modern art ranging from Feminism and Contemporary Art to Sustainable Architecture to the History of the Art Market. Her research focuses on 20th-century art and architecture, particularly in France, and she loves to hike, travel, and hang out in museums.
---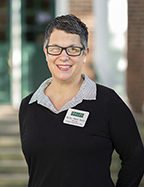 Wendy-Marie Martin, Assistant Professor and Chair, Theatre
Wendy-Marie Martin is a playwright, dramaturg, and director as well as the department chair of the undergraduate theatre department at Hollins. She is a scholar/artist and holds a Ph.D. in interdisciplinary arts/theatre with a focus in playwriting and GWS from Ohio University as well as an M.F.A. in playwriting from Hollins. Over the past 20 years, Martin has taught, directed, and performed in Europe and the U.S. Her work has been produced in Germany, The Netherlands, Australia, Japan, Ireland, and the U.S and published by Smith & Krauss, Theatrefolk, and YouthPLAYS. Martin teaches in the theatre department and has cross-listed classes with the gender and women's studies department. She also directs and/or produces theatre department productions, mentors student dramaturgs, academically advises our theatre majors and minors, and deeply enjoys opportunities to collaborate with students and support the theatrical telling of their stories.
---
Rachel Nuñez, Associate Professor and Chair, History; Batten Chair in Leadership
Rachel Nuñez remembers first falling in love with history over biographies of Eleanor of Aquitaine and Anne Boleyn and still can't believe she gets paid to talk about history on a daily basis. After picking up a B.A. at Rice University and a Ph.D. at Stanford, she arrived at Hollins in 2008. She received her B.A. in history and French at Rice and her Ph.D. at Stanford. She teaches courses on modern European history; the history of women, gender, and sexuality; and the history of empire and nationalism. In recent years, she has integrated role-playing games into several of her courses. She has taught for many years in the first-year seminar program and loves teaching and mentoring first-year students. In her spare time, she enjoys hanging out with her husband and two boys, travel, cooking, and movies (her favorite movie is The Big Lebowski).
---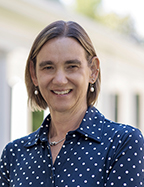 Darla Schumm, Professor, Religious Studies; Interim Associate Provost
Darla Schumm is a professor of religious studies and cross lists many of her classes with the gender and women's studies department. Her particular area of research and interest lies at the nexus of religion and disability studies. Visually impaired since birth, Schumm's research is grounded in the theoretical rigor of disability studies, while also deeply personal. In her spare time, she enjoys knitting, reading fiction, biking (on the back of a tandem), and just hanging out with friends and family. The best part of taking classes with Professor Schumm is that she is always accompanied by her adorable guide dog!
---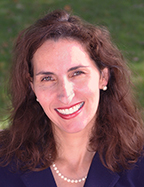 Abrina Schnurman, Assistant Professor and Executive Director of the Batten Leadership Institute
Abrina Schnurman joined Hollins University's Batten Leadership Institute in 2004, following a decade working as a crisis counselor with a local mental health organization, and doing evaluations and counseling in a variety of settings. She teaches BLI classes in the undergraduate Leadership Studies Certificate program and conducts a leadership program for professionals in the community. She holds a master's and Ph.D. from Virginia Tech. She is also a licensed professional counselor with a private practice focused on individuals and couples. At home, she can be found cooking, hanging out with her two kids, and trying to reason with several large rescue dogs and a very fat, but beautiful, cat.
---
Elise Schweitzer, Associate Professor and Chair, Art
Elise Schweitzer teaches studio art at Hollins, and she is remarkably enthusiastic about color and painting. Her paintings depict large-scale figurative action and intimate abstractions of light and form. Equestrians, skydivers, and party crashers populate her figurative canvases, while in her abstractions, architectural units of windows and enclosures are shadowed and illuminated by imaginary lights. She paints from memory and observation.
---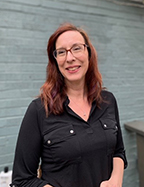 Ami Trowell, Visiting Lecturer, Theatre
Ami Trowell is the founder and creative director of Theatre3 and the founder of Ursula's Cafe. She has been performing with Roanoke's professional improvisation troupe, Big Lick Conspiracy, for over a decade and directing for the last five years. Trowell has studied improvisation at Second City, Chicago; and Dad's Garage in Atlanta, GA. She has produced and performed in several comedy podcasts including What Just Happened?, All Purpose Cleaner, Purposefully Derpy, and BP & Ami. Trowell received her B.A. in theatre from the College of Charleston and M.A.L.S. from Hollins. Most importantly, she is the proud mother of three smart, funny, and amazing children.
---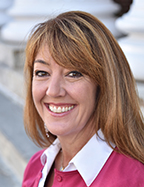 Teri Wagner, Assistant Professor and Chair, Education
Teri Wagner studied psychology and education at Roanoke College and received her M.A. and Ph.D. in curriculum and instruction from Virginia Tech. She taught public school for a total of seven years and also worked as an independent software trainer, consultant, and developer before joining the Hollins faculty in the summer of 2016. Her professional research interests focus on developing active, authentic learning environments through design-based learning, effectively integrating technology into the curriculum, and exploring issues in educational reform.
---
Shelbie Wahl-Fouts, Associate Professor, Music, and Director of Choral Activities
Shelbie Wahl-Fouts hails from the Midwest, growing up in Illinois and pursuing higher education in Indiana. She received her B.Mus. from DePauw University, M.Mus. from Butler University, and D.A. in choral conducting from Ball State University. When not in school, she was busy musical directing and conducting for nine seasons with the Indianapolis Civic Theatre. If her work involves conducting, singing, dancing, playing instruments, or any sort of performance, she's happy. At Hollins, Wahl-Fouts leads the Concert Choir, Chamber Choir, and Talmadge Singers, and teaches various other music classes, including Sight-Singing and Conducting. (Psst….Come join the choirs!) On the home front, she loves running and hiking with her husband, Donovan, and their son, James. Their full family includes a St. Bernard named Gatsby and cats, Carmen and Haydn.