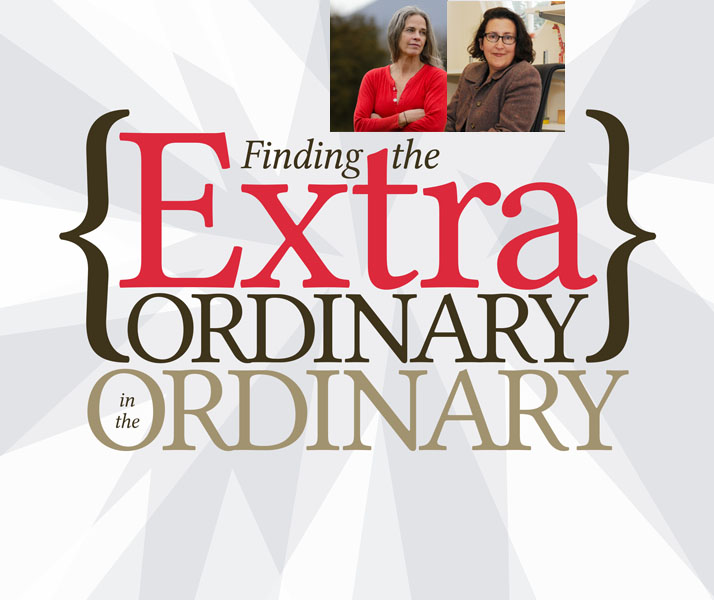 Finding the Extraordinary in the Ordinary
Last fall, Sally Mann '74, M.A. '75 and Distinguished Visiting Professor of Creative Writing Karen Bender both made the shortlist of the National Book Awards—Mann for a memoir and Bender for a book of short stories.
By Martha Park M.F.A. '15
Until the success of her memoir Hold Still, most people knew Sally Mann not as a writer, but as one of America's most accomplished and recognizable photographers. A Guggenheim fellow and the recipient of three National Endowment for the Arts fellowships, Mann was named "America's Best Photographer" by Time magazine in 2001.
In her celebrated career, Mann has published numerous books of photography with wide-ranging subject matter: girls on the cusp of adulthood in At Twelve; Mann's three children on their Virginia farm in Immediate Family; a meditation on the nature of mortality in What Remains; intimate images of Mann's husband, Larry, following his diagnosis of muscular dystrophy, in Proud Flesh; the haunting landscape photography of Deep South and Southern Landscape; and more.
But before Mann became the immensely influential photographer she is today, she was a student at Hollins. She completed her undergraduate work at Hollins in 1974 and earned an M.A. in English and Creative Writing in 1975, for which she completed a thesis comprising her own poems, as well as essays on Ezra Pound.
"When I first met Sally," Professor of English R.H.W. Dillard says of her time at Hollins, "she was young, intelligent, talented, sensitive, strong minded, focused, and a joy to know and with whom to work. She was, in a word, Sally. She is still Sally today, and it is that inner integrity that marks and makes special all of her work, as it did her poetry when she was in our graduate program, as it has done in all of her photography projects, and as it does in Hold Still. Sally is Sally. That's it."
Mann's vibrant, intense, unflinching vision is consistently present throughout her work, whatever the genre or subject matter. She has been working in both photography and writing since she was a young student at Putney, a Vermont boarding school far from her Virginia home. In Hold Still, Mann describes writing and photography as the "twin artistic passions that were to consume my life."
Of these twin passions, Mann says, "Sometimes I envision the scene on the written page and then when I run across such a scene in real life, and when I am photographing it, there is this eerie synchronicity. Woo-woo-ish. And sometimes when I am taking a picture, I fabricate a narrative to accompany it. But usually the two disciplines are kept pretty much distinct."
On publishing a memoir in the midst of a celebrated career in photography, Mann says, "It's entirely different, working in the two disciplines…and writing is much, much harder…The words had to be man-hauled up from inside me."
---
If any readers of Hold Still didn't know that Mann is also a writer, she reminds them in the book's first pages, with her precise and often lyrical explorations of memory: "I tend to agree with the theory that if you want to keep a memory pristine, you must not call upon it too often, for each time it is revisited, you alter it irrevocably, remembering not the original impression left by experience but the last time you recalled it. With tiny differences creeping in at each cycle, the exercise of our memory does not bring us closer to the past but draws us farther away."
Memory was the subject of the three-part lecture series that Mann delivered as the speaker at Harvard University's William E. Massey Sr. Lectures in the History of American Civilization. It is with the writing of these lectures that Hold Still begins: Mann anxiously agrees to the lecture series and turns for material to the boxes in her attic, full of her own photographs and ephemera as well as those inherited from relatives and ancestors.
Looking through the boxes, she "encountered the malignant twin to imperfect memory: the treachery of photography." Once something or someone has been photographed, Mann writes, "whatever you had 'really seen' would never be seen by the eye of memory again. It would forever be cut from the continuum of being, a mere sliver, a slight, translucent paring from the fat of time; elegiac, one-dimensional, immediately assuming the amber quality of nostalgia: an instantaneous memento mori."
It's fascinating to see an artist investigate her own medium in this way. And it is thrilling to be along for the ride when Mann latches onto an image and her writing swells to its full lyric power: "Now Daddy was in his maroon wool Brooks Brothers bathrobe," Mann writes, "thin and moth-eaten in places, the same robe that clothed his body when it was shoved into the crematorium and which I would willingly march back through all the crowded years to roll him out of, if only I could have it."
In Hold Still, Mann displays a keen eye for wonderful, meticulous detail—as in this description of her disheveled appearance upon returning home from a high school dance:
"My hair, trailing bobby pins, would be matted and tendriled against my hickey-spotted neck, and the skirt of my dress would be wrinkled, the taupe toes of pantyhose peeking out from my purse. My swollen lips were now a natural, chapped red, and my cheeks blushed with beard burn. Peering over the angry marks on either side of her nose left by her glasses, my mother, studying the stone fireplace four feet behind me, would ask casually: 'Oh, did you have a nice time, dear?'"
In passages like this one, Mann is accessing—or at least recreating and dramatizing—some of the sensory detail that has been diminished by photography or repeated recollection. Mann says, "Writing and photography are, at best, coarse-mesh sieves for catching memory's particles and as I revisited my past during the writing of Hold Still I found much of substance snagged in the strainer."
Mann found out about Hold Still's place on the shortlist through a phone call from the executive director of the National Book Foundation: "I got a call the day before the finalists were to be announced from Harold Augenbraum, and as soon as he said who he was, I was stabbed with guilt about not having completed the questionnaire for all the longlist authors. So before he could chastise me I blurted out that I would do it, right then, that afternoon I swear, and he laughed and told me why he was calling. I was, to say the least, a bit gob smacked and, OK, thrilled."
In addition to being a finalist for the National Book Awards, Hold Still was a New York Times bestseller and was awarded the Andrew Carnegie Medal for Excellence in Nonfiction. If fans are hoping this success might mean more writing from Mann, don't hold your breath. When asked if she has any plans for future writing projects, she says, "God help me, no. I was asked to write a little 500-word introduction to a catalogue for my next show [September 2016 at Gagosian in New York City], and I felt like the glutton in that Monty Python skit who, after consuming whole cows and gallons of beer and bushels of potatoes, is offered a tiny after-dinner mint and when he puts it in his mouth he explodes."
---
Refund, by Distinguished Visitor of Creative Writing Karen Bender, was also a finalist for the National Book Award. A collection of short stories, published by Counterpoint Press. Refund was shortlisted for the Frank O'Connor International Short Story Prize, made the longlist for the Story Prize, and was a Los Angeles Times bestseller.
Bender is the author of the novels Like Normal People and A Town of Empty Rooms, and her writing has been published and anthologized widely in The New Yorker, Guernica, Ploughshares, Granta, The Iowa Review, and elsewhere. Bender has received grants from the National Endowment for the Arts and the Rona Jaffe Foundation.
Bender says being at Hollins "has been such a gift for me. This is the first time I've taught at a women's college, and I feel so empowered by this, by the energy and warmth. The faculty has been so wonderful and welcoming. The students, both the graduates and undergraduates, have been a dream to work with, and I love the tutorial system of teaching in the M.F.A.—I meet with four amazing graduate students once a week at my house on campus. I really get to know their work and learn so much from them, their perceptions on everything. It is truly one of the best teaching experiences I've ever had."
Bender adds, "The wonderful students in my tutorial gave me a little 'end of semester' gift—which was a pair of socks that said, "Runnin' the world and stuff." I love these socks, and that is the feeling at Hollins—how we can all run the world, how we can all harness that energy in ourselves."
---
Through Bender's prose, each of the stories in Refund homes in on the lives of its characters: distracted, worried parents and neglected, lonely children, Bender's characters move through stressful, unforgiving worlds. Several of these characters have been abandoned by their parents or are themselves struggling to connect with their children.
In 2002, Bender began writing what would be Refund's first stories: "Theft," whose protagonist, the magnetic Ginger, lives as a con artist after being abandoned by her family; "Refund," about struggling married artists in Manhattan who come up with a scheme to sublet their apartment; and "Anything for Money," about a wealthy host of a television whose contestants humiliate themselves in hopes of a cash prize.
As she worked on these initial stories, Bender says, "I thought, Hmm, perhaps I am writing some stories about money. I didn't intend for the book to necessarily focus on this, but there was the recession of 2002 and then 2008, and somehow the theme kept rising up into the work. Another theme that comes up is motherhood–I feel that motherhood is one of the great, dramatic themes that could be addressed more in fiction. Many of the stories address parenting as well."
The title of the book suggests disappointment, expectations not met, repayment expected. Some characters are pushed by their dire financial straits to steal, to run scams, and to abandon their families. These human costs, the resulting tarnished relationships and regrets, are the beating heart of these stories, which often leave the reader on a precipice—on the edge of financial collapse, just before news of a diagnosis, or caught in an impossible relationship. There are no easy answers here, but there are big questions.
"My process of writing," Bender says, "is a form of inquiry… For example, in the story "Theft," which is about an elderly swindler who has spent her life stealing things from people, I wondered what it would feel like to be that sort of person, to take things, what motivated her. Writing fiction can be like acting, and by trying to inhabit the worlds of other people you can find out more about yourself and others."
For Bender, "the process of finding out that Refund was a finalist for the National Book Award happened in two stages. One was seeing it on the longlist, which was announced on the Internet in September. The N.B.A. [National Book Awards] doesn't tell anyone before. So I knew the fiction finalists would be announced on a Thursday and I clicked on the website, curious who was there, and was stunned to see the cover of Refund there. It was surreal and wonderful."
Bender found out Refund made the shortlist in October, she says, "when the director of the National Book Awards called me and told me that I was a finalist. I shrieked so loudly my husband ran upstairs to see what had happened; we jumped around the house, so thrilled. It was a great day. The experience with the N.B.A. has been so nourishing and affirming, really. Many of my favorite, formative books have been N.B.A. finalists or winners, and it is moving being part of this great tradition."
---
As for writing plans, Bender says, "I'm writing more short stories and just starting a surreal novel, which is a shift for me, as I tend to be more of a realistic writer."
This realism is apparent in stories like "Candidate," in which Diane, newly single mother of two, is visited by Woody Wilson, a Republican running for state legislature, when he stops at Diane's door as he makes the rounds through her neighborhood:
Through the open front door the clouds were knitting together in a searing, bright sky. She could see the houses on their lawns, each life parceled out into its plot of land, the determined, clipped order of flowers and shrubbery. There were two registered Democrats on her street that she knew of and five Republicans. They went in and out of their houses, shaving their lawns, picking up their newspapers, remarking on the weather.
This description expands from the immediately local to the global, moving through time to the future costs of today's individual decisions:
 They would all walk into their voting booths, educated and uneducated, intelligent and dumb, and their votes would be worth the same. They sat, diligently filling in bubbles on paper, and, she thought, because of the voters' impulsive, careless yearnings, wars started, debts soared, the land grew barren, and their great-grandchildren would starve.
While talking to Diane, Woody faints in her doorway, and as he recovers they drift into halting but intimate conversation about their relationships and their secret hardships. In this interaction with a political figure representing everything Diane disagrees with most, the story weaves the personal and the public in surprising ways. "Candidate," like many of the stories in Refund, is complicated, startlingly contemporary, and holds an unsettling mirror up to its readers.
The story "The Sea Turtle Hospital" takes place during a school shooting. As Miss Sampson hides with her students in their kindergarten classroom, her mind wanders: "The children were silent; they huddled under the rainbow rug. People in situations like this sometimes say they stop thinking. That was not true for me. I was thinking of everything: the way Hal had looked at me as he walked out the door, the freckle on his shoulder that I watched when we slept, Darryl's expression when he sounded out his name on the page, the sweetness of the cinnamon roll I had for breakfast."
This passage displays a gift Bender and Mann share: capturing the extraordinary in the ordinary through carefully observed details. In both Hold Still and Refund, readers are able to glimpse the world through someone else's eyes, following curious narrators and striving, world-weary characters on wild and transformative journeys.
Martha Park is from Memphis, Tennessee. This spring she was the Philip Roth Writer-in-Residence at Bucknell University's Stadler Center for Poetry.