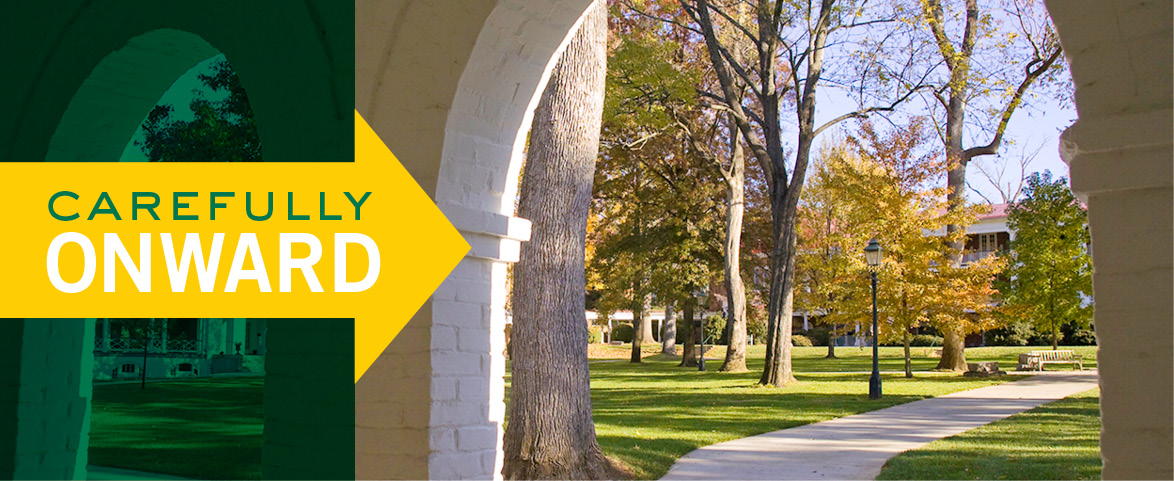 In the fall of 2020, Hollins announced a Culture of Care initiative intended to guide the institution through the challenges presented by the COVID-19 pandemic. More than two years after the first cases required Hollins and institutions across the world to adjust in the interests of public health, COVID-19 continues to be a significant threat to millions of Americans. Hollins created a set of guiding principles (see image) that continue to serve and guide us in this work.
As we enter the summer of 2022, and welcome our summer session graduate programs back to campus, we must continue to hold to the Culture of Care guidelines we established in the closing months of the spring term. To wit:
All members of the campus community, including students, faculty, and staff, must be fully vaccinated as defined in the university's COVID-19 Vaccination Policy in order to be enrolled in classes or work on campus.
Masks are required of all campus community members in the following two circumstances:

In classrooms during instruction, and

In indoor settings or events where more than 50 people are gathered, including in Moody dining hall when not seated at a table in the act of eating and drinking.

Guests are permitted on campus for performances, events, or gatherings, provided the guest(s) are fully vaccinated, including boosters. The burden of confirming this is on any Hollins student or employee hosting a guest.
We are guided by trust that you will respect the mutual accountability of and collective responsibility to the campus community in abiding by these requirements.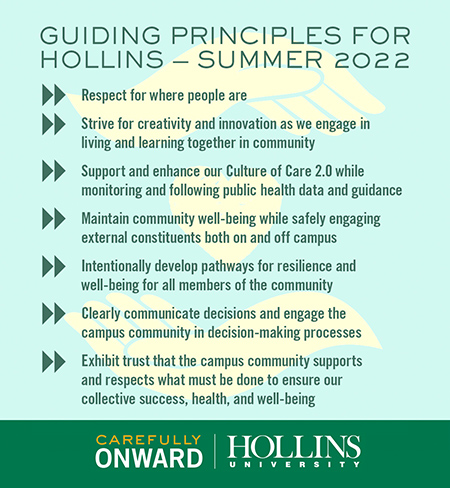 We ask that all of us respect those around you and where they are at this time. Many students and employees are still wearing masks indoors and out, and it is perfectly understandable if you choose to continue doing so. If you are in a one-on-one meeting or small group meeting/gathering where someone requests the use of masks, we ask that you honor their request in collective support of each other. Our aim is to provide a reasonably protective environment for our community while respecting individual concerns and needs.
We are carefully "stair-stepping" our way to a more open campus environment, but we want to move with care and at a deliberate and appropriate pace for our campus community. We continue to monitor the situation in our region and to follow guidance from the CDC and VDH. As we have shared throughout the last two years, if circumstances and public health guidance change, additional changes could take place during the term.
---