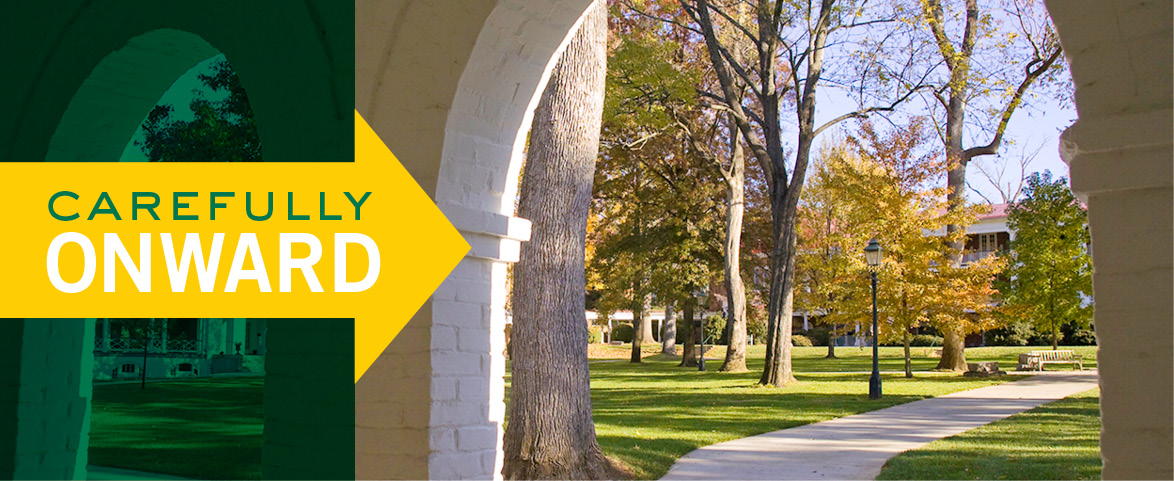 Thanks to an unwavering commitment to what Hollins University coined a "Culture of Care" during the 2020-21 academic year, a vast majority of our students and employees were able to enjoy an in-person learning environment on the campus and in our classrooms, with only 21 positive cases of COVID-19 (13 in the fall; eight in the spring) reported through our weekly randomized testing protocol or self-reported.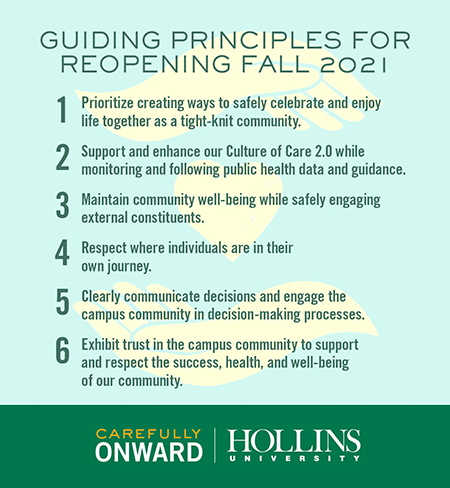 Entering the 2021-22 academic year, Hollins will adhere to a Culture of Care 2.0 approach, established on the baseline of being a fully vaccinated campus community (see our Vaccination Policy announcement as well as FAQs around this policy), and adapting to the changes in the pandemic as needed and instructed by the  Centers for Disease Control (CDC), the Virginia Department of Health (VDH), and the Virginia governor's office.
President Mary Dana Hinton announced on August 13 the guiding principles Hollins will use in its decision-making process regarding our Culture of Care 2.0 approach this year. These guiding principles are:
Prioritize creating ways to celebrate and enjoy life together as a tight-knit community
Support and enhance Culture of Care 2.0 while monitoring and following public health guidance
Maintain community well-being while safely engaging external constituents
Respect where individuals are in their pandemic journey
Clearly communicate decisions and engage the campus community in the decision-making process
Exhibit trust in the campus community to support and respect the success, health, and well-being of our community
On August 18, our initial Culture of Care 2.0 requirements were announced, including an indoor masking requirement, limitations on visitors to campus, and guidelines around special guests and speakers in support of academic programs. A series of frequently asked questions are included in this announcement. FAQs will be added or updated as needed.
All guidelines/protocols to mitigate the impact of COVID-19 will be reevaluated regularly. We will seek input from within and outside the community and updates will be shared as soon as any change in protocol is made. Reevaluation criteria include COVID-19 cases, hospitalization trends, and vaccination rates in the Roanoke Valley region, as well as updated guidance from the CDC, the VDH, and the governor's office.