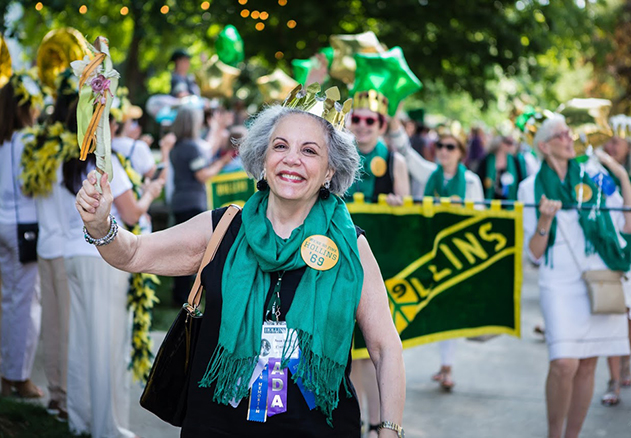 Celebrating all classes ending in 0 or 5 and the class of 2018!

COVID-19 Update:

Reunion is one of the most cherished traditions at Hollins. We love when alumnae/i come back to reconnect with friends and bask in the beauty of the Hollins campus. Like you, we were looking forward to Reunion 2020. We have been closely monitoring the rapid spread of COVID-19 in the U.S. and taking the necessary actions to keep our community as safe as possible.
Currently, the state of Virginia is under a stay-at-home order until June 10, 2020. This means our intended plans for Reunion, originally scheduled for May 29-31, must change. While coming together on campus is not going to be possible this spring, we still plan to keep the celebration going!
Virtual Reunion
Join us for Virtual Reunion on Saturday, May 30, 2020! We're condensing the Reunion weekend to a one-day-only digital experience. No matter where in the world you are, relive, reconnect and revisit all the best parts of our beloved tradition while practicing social distancing.
On May 30, you will receive an email with YouTube links to your favorite reunion  activities:
Conversation with Interim President Nancy Gray and President-elect Mary Dana Hinton
Reflection and reminiscing on your Hollins story with Hollins Chaplain Rev. Dr. Jenny Call
Student Apartment Village tour
Historic walking tour of favorite sites on campus with Suzy Mink '74
Yoga with hatha yoga instructor Becky Swanson
Live Award Ceremony
Join us on Zoom for a Live Award Ceremony! The ceremony is scheduled for 12 p.m. EDT on May 30. You will receive an email on the morning of May 30 with the Zoom link to the ceremony.
Celebrate our wonderful volunteers and hear an update from Alumnae Board President Barbara "Duck" Duckworth '72. We will also reveal combined class gift totals and which classes are taking home the awards!
Vice President for External Relations Suzy Mink '74 and Assistant Director of Hollins Fund Syreeta Combs-Cannaday '02 will announce class totals and share the winners of the class giving awards.
The session will be recorded and shared with all reunion classes, in case you are not able to join us live.
Check out current class giving and participation totals here: https://hollins.edu/alumnae/giving/why-give/reunion-class-giving/.
Don't Wait Another Five Years For Reunion
You don't have to wait another five years to visit campus for the next Reunion. All reunion classes will be welcomed to attend Reunion 2021 on June 4-6, 2021. Stay tuned for more information.
If you have any questions or concerns, please do not hesitate to contact us at reunion@hollins.edu or 1-800-TINKER1.