Students enter Hollins with goals and dreams as unique and varied as their fingerprints. Regardless of whether or how those goals evolve over your time here, the people and programs at Hollins are ready to support you.
Meet some of our students and recent graduates who are using their Hollins experience as a springboard to personal and professional fulfillment.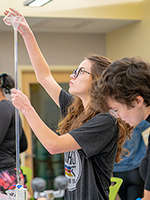 Aqsa Fazal '23, Olivia Sacci '24, Jessica Willebeek-LeMair '23
Through the Hollins Partnership program, Aqsa Fazal '23, Olivia Sacci '24, and Jessica Willebeek-LeMair '23 will gain undergraduate research experiences this summer in collaboration with faculty at Virginia Tech.
Their story
---
Charvi Gangwani '24
Charvi Gangwani '24 is among the 34 young people representing 23 countries announced as the 2022 Three Dot Dash Global Teen Leaders (GTLs) by the We Are Family Foundation (WAFF). The WAFF selected the GTLs based on their social good innovations, organizations, projects, and promise for a more just, equitable, and peaceful future.
---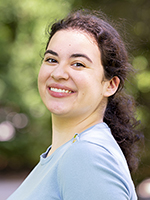 Margarite Fisher '22
Margarite Fisher '22, a business major and French minor, will pursue a master's degree in digital marketing beginning this fall at the Rennes School of Business in France.
---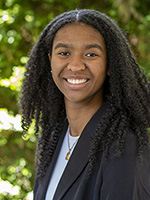 Tyler Sesker '22
Tyler Sesker '22, who is majoring in gender and women's studies with a pre-law concentration, will enter the Master of Public Policy program at the University of Virginia's Frank Batten School of Leadership and Public Policy this fall.
---
Hana Olof '22
Hana Olof '22, a biology major and psychology minor, intends to become one of the scientists who unlocks the mysteries of the gut microbiome and harnesses its potentially considerable impact.
---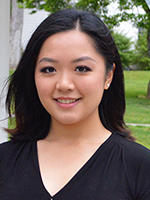 Rosie Wong '22
After coming to Hollins, Chin Wai "Rosie" Wong '22 found that she could "study communication in a more systemic and scholarly way that just opens paths and makes me want to keep pursuing it.
---
Mollie Davis '22
Mollie Davis '22 is described as someone who "advocates for something bigger and beyond themselves." She has demonstrated that kind of activism throughout her Hollins undergraduate career and is now preparing to start a new chapter in bringing impactful change to a community's quality of life.
---
Emily Lauletta '22
Emily Lauletta '22, who is majoring in GWS and minoring in social justice, was accepted at four graduate schools and this fall will be attending Claremont Graduate University in California, where she will pursue an M.A. in applied gender studies.
---
Emma Thomas '22
For the past three years, Emma Thomas '22, an English major and communication studies minor, carried a full course load at Hollins while working as a supervisor at UPS in Roanoke.
---
Faith Clarkson '22
As she wrapped up her high school career, Faith Clarkson '22 wasn't sure what she wanted to study in college. But, after visiting Hollins University's website, she was convinced she had found the perfect school to guide her.
---
Zahin Mahbuba '22
During the 2021-22 academic year, Zahin Mahbuba '22, an international studies major and economics minor from Bangladesh, participated in the University Innovation Fellows program sponsored by Stanford University's Hass Plattner Institute of Design.
---
Alea Rodriguez '23
Alea Rodriguez '23 is a self-described "go-getter," and that quality is a major reason why the biology major and chemistry minor is on her way to achieving her goal of a career in women's health and the treatment of infertility.
---
Hollins Student-Athletes
The National Strength and Conditioning Association has presented nine Hollins student-athletes with its 2022 All-American Strength and Conditioning Athlete of the Year Award.
---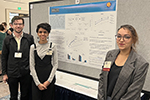 Hana Olof  '22, Soha Monir '23
Hana Olof '22 and Soha Munir '23 joined Visiting Assistant Professor of Psychology Alex Wooten in representing Hollins at the 68th Annual Meeting of the Southeastern Psychological Association (SEPA), held March 23 – 26 at Hilton Head Island, South Carolina.
---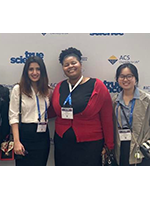 Nupur Sehgal '23, Megan Brown '23, Tram Nguyen '24
Three Hollins University students and their professor were among the presenters at this spring's national meeting of the American Chemical Society. Megan Brown '23, Tram Nguyen '24, Nupur Sehgal '23, and Assistant Professor of Chemistry Son Nguyen attended the event, which was held March 19-22 in San Diego.
---
Hannah Slusser '24
For Hannah Slusser '24, being a part of FLI's year-long programming and activities during her first year at Hollins meant "instant friends. You meet these people and they have the same background as you. I definitely was a shy person before I came here, but now I definitely talk a lot more and I know how to express myself to other people."
---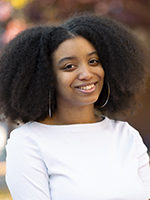 Kayla Richardson '24
Kayla Richardson '24 and Professor of Political Science Edward Lynch recently presented a paper on Catholic social thought and free market theory at the annual conference of the Society of Catholic Social Scientists.
---
Carlia Kearney '23
Carlia Kearney '23 wasn't part of Hollins' FLI program for first-generation, limited-income students during her first year at the university, but that didn't disqualify or discourage her from eventually becoming an enthusiastic participant.
---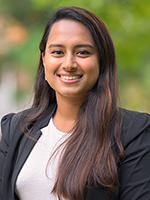 Zahin Mahbuba '22
Zahin Mahbuba '22 is passionate about becoming a force for building experiential and entrepreneurial learning in the educational programs of developing nations. This academic year, the international studies major and economics minor from Bangladesh is participating in a Stanford University program that she hopes will help her in establishing a basis for achieving that goal, while at the same time promoting initiatives for students at Hollins.
---
Summer Allison '23
As a leader in Hollins University's program for first-generation, limited-income students, Summer Allison '23 focuses on helping first-year students build relationships, connect with valuable resources, and learn important tips for success.
---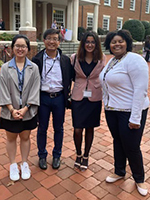 Megan Brown '23, Nupur Sehgal '23, Tram Nguyen '24
Two research projects conducted by three Hollins chemistry majors received honors at the 2021 Virginia Academy of Science Fall Undergraduate Research Meeting, held October 2021 at Hampden-Sydney College.
---
Faith Herrington '22
Herrington, an art history major who is also completing a certificate in arts management at Hollins, is this year's recipient of the Washington County Museum of Fine Arts in Hagerstown, Maryland's Jean Cushwa College Internship. She will assist with curatorial research, exhibition installation, and more.

Faith's story
---
Claire Cook '21
Contending in the National Association of Teachers of Singing's musical theatre category, Cook reached the national semifinals as a sophomore. She returned this year as a Virginia honors recipient to the NATS Mid-Atlantic Regional competition, which features vocalists from Maryland, North Carolina, South Carolina, Virginia, and Washington, D.C.
---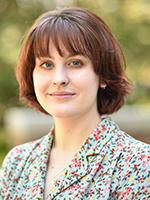 Aysia Brenner '21
Beginning in October, Brenner will spend seven months with the Teaching Assistant Program in France, which is managed by the Cultural Services of the French Embassy in the United States. She'll teach at the primary school level in a school or schools near Paris.
---
Hanna DeVarona '21
After graduating this spring, DeVarona will begin her Master of Public Health degree with a concentration in communication and marketing at The George Washington University in Washington, D.C. She plans to become a health communication specialist.
---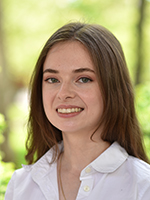 Geneva Waynick '21
During her sophomore year, Waynick began research on the human oral microbiome, which plays a key role in supporting the body's health and well-being. She completed the project as her senior thesis and plans to pursue research opportunities after graduation.
---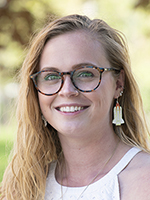 Megan Bull '21
Bull embarks on a ten-week virtual internship, June 7 – August 13, with NASA Headquarters in Washington, D.C. The mathematics major with a concentration in data science will be participating in the Enrich Knowledge Graphs Through Graph Data Science project.
---
Jonea Mathis '23
The Hollins sophomore so impressed her supervisor during her 2021 J-Term Signature Internship that she was asked to stay on virtually with the nonprofit, nongovernmental organization headquartered in New York City this spring.
---
Maria Vest '21
Vest joined the Troutville, Virginia, Volunteer Fire Department in March after earning her Wilderness First Responder designation, one of the many highlights of her four years of involvement with the Hollins Outdoor Program (HOP).
---
Leah Wilkins '23
The political science major is one of only 185 scholars competitively selected nationally by the Law School Admission Council to attend an intensive five-week summer program at one of seven partner institutions. Wilkins will work with law school faculty at the University of Houston Law Center.
---
Aditi Sharma '23
"This is where I have had the most experiences, where I've been myself the most. I've been challenged, and I've challenged myself. It all happened here. It all happened at Hollins."
---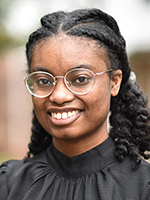 Te'ya Mitchell '21
Throughout her time as a Hollins undergraduate, Te'ya Mitchell '21 has been guided by a passion for transformative change. She launches a new chapter in that commitment this July when she embarks on a four-year fellowship with Urban Teachers, an inclusive organization whose mission is preparing educators to improve the lives of children in urban schools.
---
Anna Johnson '21
Anna Johnson '21 recently earned first place awards from the Kennedy Center American College Theatre Festival Region IV and the Southeastern Theatre Conference. Both honored her for her sound design work on Hollins Theatre's "The Curious Incident of the Dog in the Night-time."
---
Ming McDonald '22
During January Short Term, Hollins' Center for Career Development and Life Design teamed up with alumnae and nearly 30 organizations and enabled students to safely and successfully complete an internship while mitigating the spread of COVID-19.
---
Tyler Sesker '22
Tyler Sesker '22 is one of only six undergraduates from across the nation chosen for pre-law positions this summer in the Investigative Internship Program at the Georgetown University Law Center's Criminal Justice Clinic.
---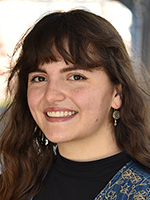 Carly Lewis '21
While studying abroad in London during the 2019 Fall Term, Carly Lewis '21 worked with a global digital creative and marketing company specializing in promoting talent in the music and entertainment industries.
---
Alex Lesniak '20
Alex Lesniak '20 shares how the experience she acquired and connections she made as a Hollins undergraduate led shortly after graduation to a rewarding opportunity with the American Institutes for Research.
---
Casey Mahan '20
The biology major/chemistry minor, who also served as captain of the Hollins volleyball team her senior year, is attending the Salus University Pennsylvania College of Optometry.
---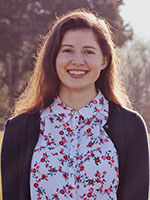 Katie Grandelli '20
Grandelli is the newest student programs coordinator for NCUSAR, a non-profit, non-governmental, educational organization dedicated to improving American knowledge and understanding of the Arab world.
---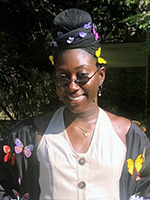 Kiki Speights '20
The environmental sciences major/social justice minor wants "to gain more knowledge in international issues, the progression of human rights, and environmental degradation" as she prepares to work in the human rights career field.
---
Meika Downey '17
Downey explored the desegregation of the Women's Army Corps in the late 1940s and early 1950s at Fort Lee, Virginia, in pursuit of her M.A. degree in history at Virginia Commonwealth University. Her work received the 2020-21 VCU Graduate School Outstanding Master's Thesis Award in the Humanities and Fine Arts category.
---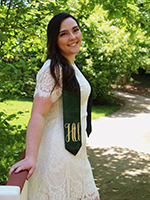 Mary Offutt '20
This fall, Offutt will begin pursuing her Juris Doctor (J.D.) degree at the Charleston School of Law in South Carolina. After law school, she intends to take the Virginia state bar examination and join a family law firm as an associate.
Mary's story 
---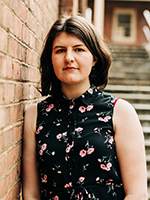 Claire Tourigny '20
"It was through the Entrepreneurial Learning Institute that I finally defined social entrepreneurship. It's the idea that a small startup can create powerful change just by fulfilling a need in the community. I realized that anyone can be an entrepreneur."
Claire's story
---
Hannah Byrum '20
As a Hollins undergraduate, Byrum interned with two government relations firms, a U.S. Senator, and a member of the Virginia House of Delegates. At the University of Virginia's Frank Batten School of Leadership and Public Policy, she will "get to tackle the most pressing issues of the world in a variety of ways."
---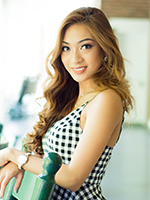 Epa Cabrera '20
Cabrera wants to engage in public health projects on a global scale after she completes the Master of Public Health program at the Ivy League research university.
---
Monica Osborne '20
As part of the organization's Global Corporate Citizenship and Sustainability department, Osborne will spend the next 18 months engaged in customized professional rotations while receiving continuous leadership development, coaching, mentoring, and hands-on practical experience.
---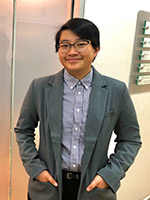 Laura "Mitch" Mitchell '20
Mitchell will become development coordinator for America Needs You (ANY), a New York City-based agency that seeks to improve college completion and employment rates for first-generation college students. The business and economics double major interned with ANY during January Short Term this year.
---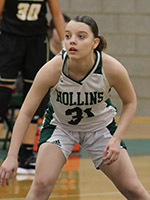 Kayla Surles '22
The sophomore guard and communication studies major from Raleigh, North Carolina, ranked second in the Old Dominion Athletic Conference this season in scoring and tied for first in assists.
---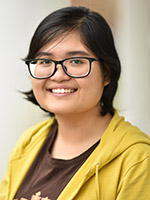 Tien Nguyen '22
The Hollins sophomore and Chanmolis Mout '23 both competed at this year's statewide Scholastic and College Chess Championships, which drew players from six universities.
---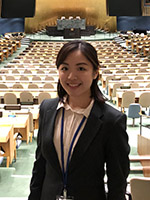 Rosie Wong '22
"I wasn't just an individual working for Peace Boat US," Wong explained. "I was actually a representative of the organization, which cultivated a greater sense of responsibility in me. I felt this honor whenever I wrote, talked, or even walked on the street."
---
Kacie Shifflett '22 
Shifflett, a biology/pre-med major, earned approximately 20 scholarships by mostly exploring resources in and around her hometown of 1,100 residents.
---
Sami Makseyn '19
The political science major completed three internships in Washington, D.C., another with a member of Parliament in London, and was active in Model UN and Model Arab League. She is attending The George Washington University Law School.