When you feel grateful for your time at Hollins, you want to ensure that generations of women experience the same great friendships, traditions, and education that you did. A gift to Hollins is an opportunity to show your gratitude for Hollins and for us to show our gratitude for you!
Read stories of philanthropy in our new "Gratitude Spotlights," a series in which we profile our wonderful alumnae/i donors and honor gifts of all sizes. Make your gift to the Hollins Fund and you could be our next featured donor.
---
Abby Hargreaves '14
---
Megan Stolz Rogers '09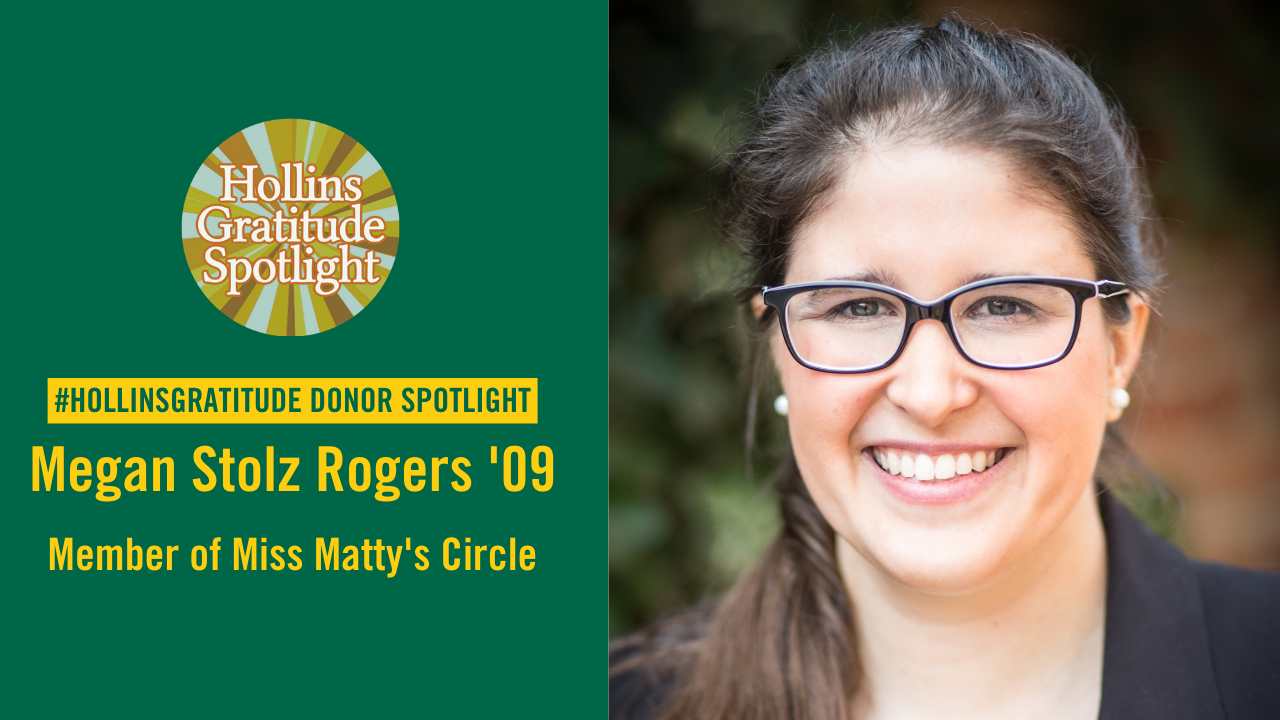 How did you find your heart at Hollins?
I was outside of my comfort zone when I came to Hollins – I'm from California, so I knew no one and moving to Virginia was a bit of a culture shock. But I really thrived in the small, liberal arts, communal atmosphere. I made a great group of friends, many of whom I still keep in touch with, and it was a great place to learn and experiment. My Hollins experience challenged many of my childhood preconceived notions and made me a more thoughtful person.
In what ways has your Hollins experience influenced you since graduation?
I was in a writing seminar once where one of the women panelists mentioned she'd had to learn she had the right to use her voice, even in the classroom, and I realized how valuable being at a women's college had been for me. I took for granted that, if I had a contribution, I should share it. Although I also learned in one of Professor Coogan's classes that it's important to bring something of value to the conversation, rather than talking simply for the sake of talking.
I also continue to find value in the online Hollins alumnae/i community, including on social media. There's more support and respect for each other, I think, between people who have that Hollins connection, even if we don't agree on everything. Conversations with other alumnae/i continue to make me think and grow.
Why do you give to Hollins?
Keeping Hollins as a women's college is one of the main reasons I give. I think women-focused education, especially at the college level, is still very important.
I have also given directly to the Jamaica Service Project, which I participated in during my senior year. I love the work that Jeri Suarez is doing, and I've been interested in seeing how that program has grown. I think it's important to realize that alumnae/i can also donate directly to programs that they particularly enjoyed or valued while they were a student.
Do gifts of all sizes REALLY matter to the Hollins Fund? What about a gift of $10? $25?
The percentage of alumni who donate to their alma mater is important, not just how large a university's endowment is, and I want to contribute to that stat. I love that the Miss Matty's Circle program has been reevaluated so that newer alumnae/i can more easily participate. Alumnae/i don't need to feel like they have to be in a certain income bracket to give. I wasn't making much money for a while after I graduated in 2009, but I could spare a little for Hollins. I've also taken advantage of breaking up my annual pledge into automatic monthly installments – it can be a lot easier to give a monthly small amount than one large donation annually.
---
Maya Rioux '16
My name is Maya Rioux, I am currently living in Knoxville Tennessee, thanks Covid. 🙂
I am class of 2016, majored in international studies with a double minor in communication studies and French. Currently, I am working remotely for Robert Half which is a staffing agency located in Washington DC.
How did you find your heart at Hollins?
I knew Hollins was the place for me sophomore year of high school. I did the HollinSummer program. It really brought me on the path to Hollins itself.
How has your Hollins experience influenced your life since graduation?
I would say my Hollins experience since graduation has really come into play with how I interact with business partners, friends. One of the high points of my Hollins career was getting my Batten Leadership Certificate through the four year program. Those experiences at Hollins alone, studying in Batten, have come in so handy when it comes to interacting with my peers, my managers, and even people that I now manage in my supervisory capacity. Batten really was the high point, for me, of the Hollins particular experiences that play out in my day-to-day nowadays.
Why do you donate to Hollins?
I give back to Hollins because, throughout my career at Hollins, whether it was simply as a student who was there on scholarship, or when I worked as a phonathon caller calling alumns, it was hugely important for me to continue that. Whether they were giving $10 or $1000 or any number in-between or over that, they were making an impact on my journey at Hollins. And I wanted to do the same for the future generations to come.
What does the future hold for Hollins?
Current Hollins is this exciting, exciting place. The future of Hollins is so so bright and I can't wait to see what happens with it because I think if it continues to mirror the students, Hollins can only go up from here.
---
Brenna Rivett '15
Hello my name is Brenna Rivett, Hollins Class of 2015. I was a double major in environmental studies and international studies. Currently, I live in Washington D.C. and I am a research program manager for the National League of Cities.
How did you find your heart at Hollins?
I found an incredible community of people at Hollins. People I've been talking to most during this very difficult year are people that I met at Hollins. I came to Hollins not really being super sure of what I wanted or where I was going. I really found myself at Hollins, and figured out what my values are and where I wanted to go, and what I wanted to do with my life. And Hollins gives you both the space to discover that, but also the support to ask yourself those difficult questions, and to go through this intense period of growth. Learning how important it is to have a community around you, but also how important it is to figure out what you want for yourself and to really go for that!
What lessons have you learned about relationships and friendships at Hollins?
I definitely learned how to form friendships with people who are very different than me. I definitely very much grew up in a bubble, in Northern Virginia and everyone I went to High School with has the same background. And then I came to Hollins, people from, not just all over the country, and all different backgrounds, but all over the world, really.
Why do you give back to Hollins?
I was super fortunate to receive the Batten Scholarship and that paid my tuition for four years. Which, honestly is really what made my education possible. And so, for me when I graduated I knew that I wanted to give back so that other students could have that opportunity.
I think it's incredibly important to think about the things that you got from Hollins. And think about the fact that your donations, however small could make that experience possible for someone, who otherwise, wouldn't have it, and maybe wouldn't even be able to go to college. I think that that is a really crucial point that we have to remember. You take those lessons that you learned [at Hollins] and the friendships that you made, and the connections that you built with you into your adult life. Even if all you can afford is $5 or $10 a month that adds up! If everybody is donating $5 or $10 a month, that can fund education for a lot of women.
What the best advice you got at Hollins?
I learned from my professors at Hollins, really, how important it is to care about what you do. And to be passionate about what you do, and that it's not just about the paycheck. I really took that with me. And when I realized that I wasn't happy in my first job, I really doubled-down and I wanted to find something that would feel like a good fit and that would make me happy, and excited to do the work. I just remember Renee Godard saying that even though her job is exhausting and she never has enough hours in the day, she never feels like she's really working because she loves what she does so much. And so that was always my goal, to find that. And I think I really found that, at the National League of Cities, and just in public policy in general.
Working with mayors around the country, you start to see how, nobody becomes a mayor because they're going be famous or rich, it just doesn't happen. You're a mayor because you see a problem in your community and you think you can do something about it. And so working with those kinds of people, who have a genuine interest in making the place that they live better, for the people around them, for their community, is really inspiring. And I think that was a lesson that I learned at Hollins, that you give to the community what you get from the community, right? And I think that I saw that every day, of professors just bringing their knowledge and expertise and putting so much into us, their students, and seeing us be able to grow and be successful, and so I kind of wanted that in my career, and that's sort of what led me to where I am now.
---