Thursday, April 23
Join us to lift Hollins higher!
---
Hollins Day of Giving 2020 Goals

875 Unique Donors
$184,200 in honor of our founding year

As of 8:30 p.m., we have met the $184,200 goal! Let's keep the momentum going!
---
Preliminary totals*: 691 Donors and $220,182
*as of 9:00 a.m. Friday, April 24.
We are still receiving and processing all gifts. A final figure will be shared next week.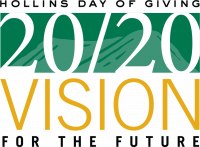 This year marks the 6th Day of Giving for Hollins, a 24-hour period in which the entire Hollins community comes together to reflect on our Hollins memories, connect with classmates, and "lift Hollins higher" by investing in the vision for the future. We envision a Hollins that remains strong for the next generation. Join us for Day of Giving on April 23 to turn this vision into a reality!
matches and challenges
Your gift helps us unlock additional support!
$100,000 Match- Match met!
Every gift made on Day of Giving 2020 (up to $100,000) will be matched dollar-for-dollar thanks to a group of alumnae/i and Trustees.
Rise and Shine Challenge- Challenge met!
We surpassed 135 donors by 9:00 a.m. to unlock $2,500.
Moody Lunchtime Challenge- Challenge met!
We surpassed 325 donors by 2:00 p.m. to unlock $5,000 from Margaret Ross Schultze '80.
Sharing Challenge- Challenge met!
Share this post on Facebook! We have surpassed 50 shares and unlocked $2,000 from Beth Pankey Lotspeich '56.
Teatime Challenge- Challenge met!
We surpassed 440 donors by 5:00 p.m., to unlock an additional $5,000.
Last Call Challenge- Challenge met!
We surpassed 600 donors by 9:00 p.m. to unlock $10,000.
---
About the Hollins Fund
Did you know the Hollins Fund represents 11% of the operating budget and provides significant scholarship support? The Hollins Fund is the critical difference in our ability to fulfill our educational mission by providing unrestricted dollars that enhance nearly every aspect of the student experience, from the scholarships that make it possible for students to attend Hollins, to the academic and leadership opportunities that make their Hollins experience so distinctive. When you give to the Hollins Fund, your gift strengthens and helps transform the lives of students today. Now more than ever, securing support for the Hollins Fund remains critical as we address unprecedented needs.
---
Leaderboard
Top Ten
Thank you to our top ten classes (by number of donors) on Day of Giving 2020.
Check out the full leaderboard for the day.
Class Year or
Hollins Affiliation
Donors
Class Year or Hollins Affiliation
Donors
2002
41
1969
21
1992
40
1970
17
1997
23
1968
16
1974
22
1964
14
1989
22
1982
14